'Encounters' just to suppress opposition: BNP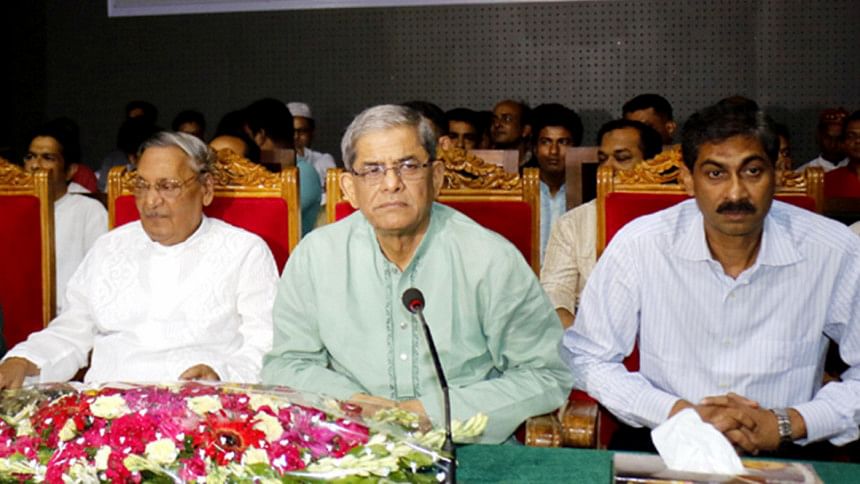 BNP Secretary General Mirza Fakhrul Islam Alamgir today denounced the government for the recent incidents like "encounters" and said those have been done only to conceal facts and to suppress the political oppositions.
"The government is covering up facts behind the encounters in order to spread out lies and to hold opposition parties responsible for this," the BNP leader made the allegation while addressing an iftar party organised by Jatiyatabadi Chhatra Dal's Dhaka University unit at the Institution of Engineers, Bangladesh (IEB) today.
He said his party has been urging the government for holding a national convention comprising of all political parties to bid the militancy and extremism in the country.
But, without putting any heed to the issue, the government is heading towards eliminating its political oppositions, he alleged.
Coming down heavily on the government for this, Fakhrul said, "Enough, it is enough, just stop it."
He said the country's existence is in the face of a crisis, alleging that democracy has been strangulated to death.
"We have no rights to hold rallies. Even, we have no right to think freely," the BNP leader lambasted the government for curbing such rights of freethinkers and political parties.
Meanwhile, BNP Standing Committee Member Khandaker Mosharraf Hossain urged the government to reach a national consensus on the same issue.
"The government is indulged in politics of blame game after the secret killings began," Mosharraf told reporters while visiting Ramakrishna Mission in Dhaka today, adding that formation of a national consensus would make it possible to curb these killings.
He also alleged that the government is not initiating any effective and united effort to root out militancy from the country.