DHAKA CITY POLLS
Stay aside from using EVM: BNP to EC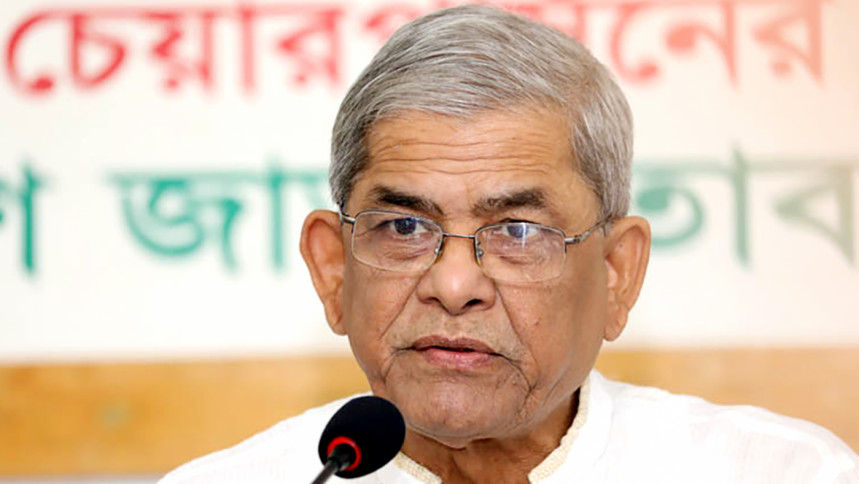 BNP today urged the Election Commission to stay away from the decision of using Electronic Voting Machines (EVMs) in the upcoming Dhaka north and south city corporation elections.
"We think the decision of using EVMs in the elections is a part of the conspiracy to snatch people's voting rights permanently," said BNP Secretary General Mirza Fakhrul Islam Alamgir.
Fakhrul was addressing a press conference at party Chairperson Khaleda Zia's Gulshan office in Dhaka this afternoon.
"From the sense of responsibility to protect people's voting rights, we condemn the decision of using the EVMs in the election and urge the constitutional body to cancel its decision immediately, paving the path of ensuring people's voting rights through ballot papers," he said.
Taking a side, the Election Commission, government and the ruling Awami League have made BNP their opponent part and destroyed the country's all electoral system, the BNP leader alleged.
Practically, they [Election Commission, government and the ruling Awami League] have defeated the people, who are the country's sole owners, indulging in misdeeds, he said.
"As a fascist force, Awami League has stamped down people's rights and the Election Commission has played a naked role as its main associate," he said.
Claiming that EVMs is not a vote-friendly system, Fakhrul said the country's people are not trained and habituated in casting vote through the system and thus the Election Commission does not have any moral rights to implement its decision unilaterally.
"We believe that the use of soundless vote-rigging method like EVM under the management of such nontransparent and unacceptable Election Commission can't be effective at all," the BNP leader said.
Citing several instances about demerits of voting through the EVMs, Fakhrul said the EC's move to use the electronic device in the election scheduled for January 30 is nothing, but a project of killing people's voting rights silently.
When asked what BNP will do if the EVMs are used, Fakhrul said, "We urge the Election Commission to reject the total system. We will see how the commission reacts and then we will undertake our next step."
Responding to another query, he said, "We in principle don't want the use of the EVMs."
The elections to Dhaka South City Corporation and Dhaka North City Corporation will be held on January 30.
The last date for submitting nomination papers was December 31. The EC scrutinised nomination papers on January 2. The last date for withdrawal of candidacy is January 9.