Special drive against militants from tomorrow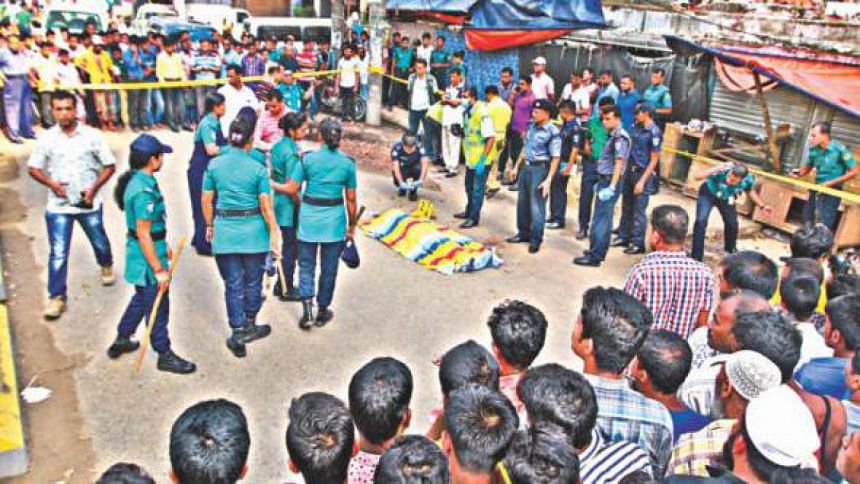 Police will launch a weeklong clampdown on militants and criminals across the country tomorrow in the wake of recent murders which seem to works of militant elements.
The decision was taken at a meeting chaired by Inspector General of Police AKM Shahidul Hoque at Police Headquarters in Dhaka today.
Campaign against militancy and criminal activities should be strengthened, said the IGP.
ALSO READ: Militants seem to have settled a score
He suggested that community police should be engaged to collect information on the militants and criminals.
IGP ordered the police officials to carry out their duties with strong morale and professionalism.
ALSO READ: Militants grow in silence
The meeting decided to update the list of militants, strengthen watch on religious institutions, making ward community policing effective, increase watch on tenants and strangers, provide security to the foreigners.
On Sunday, assailants first hacked and then shot Mahmuda Khanam Mitu to death before her six-year-old son. Three alleged attackers were seen fleeing by a motorcycle later. The murder took place happened just 200 yards from their house near GEC Intersection in Chittagong around 6:35am.
Mitu, 30, was on her way to put her son Akter Mahmud Maheer on his school bus. The couple also has a four-year-old daughter.
Over the last two years, suspected militants have attacked and killed university professors, writers, publishers, secular bloggers, gay rights activists, foreigners, cops and members of religious minorities, including Shia and Sufi Muslims, Christians and Hindus.
But this is for the first time that a family member of a top cop has come under such an attack.
Reportedly, terror group Islamic State claimed responsibilities for many of the past attacks. But the government maintains the group has no presence in the country, and blames it all on the opposition parties such as the BNP and Jamaat.