PM vows to uphold value of vote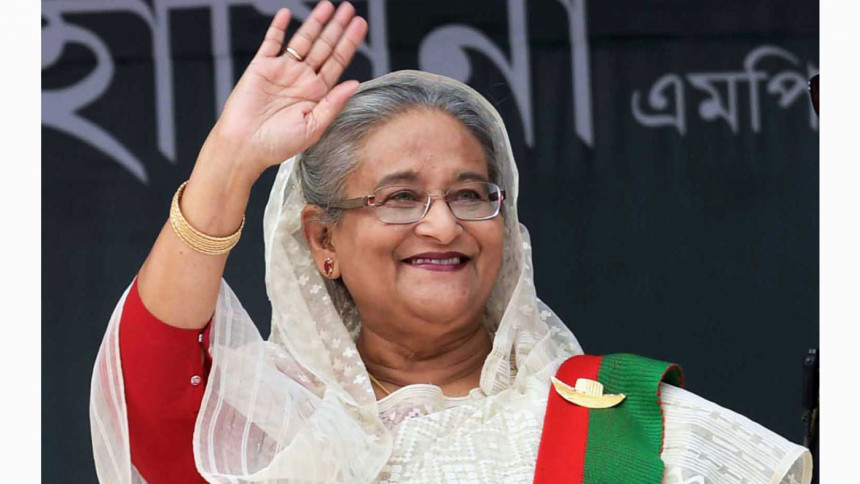 Prime Minister and Awami League President Sheikh Hasina today vowed to protect people's dignity as they voted for the party in the December 30 national election to build the country with the spirit of the Liberation War.
"The countrymen voted against corruption, terrorism, militancy and drug, and to build the country following the spirit of the war of liberation. I will sacrifice my life, if necessary, to protect their dignity," the premier said addressing a rally at the Suhrawardi Udyan in Dhaka this afternoon.
Hasina, also the fourth time prime minister of Bangladesh, said her government will implement the pledges made in the election manifesto to build the developed and prosperous country.
"Please remember, retaining victory is harder than earning it," Hasina said adding that her government will work for the betterment of people irrespective of political identities.  
Hailing her party's landslide victory in the election, Hasina also expressed gratitude and extended thanks to the people who elected Awami League casting their valuable votes in the December 30 election.
Claiming that people cast their vote for Awami League with trust, Hasina said, "I have nothing to lose. I am a political worker. I think, it is not a vital issue what I get, rather, I am ready to sacrifice my life to ensure betterment of the country and its people showing respect to their votes," she added.
Clearing her firm stance against corruption and drug in the country, she sought support from people of all sections and professions to build a developed and peaceful country. 
She also extended thanks to the law enforcers of different law enforcement agencies including intelligence branches for their tireless efforts to hold a "free, fair and credible election".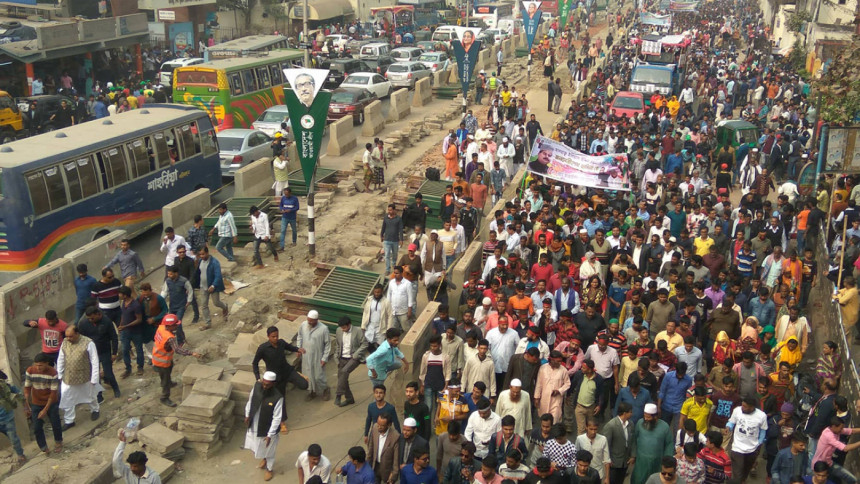 Hasina also extended thanks to the Election Commission for its efforts to hold the national election in a participatory manner.
All political parties have also been thanked by the prime minister as they took part in the election to make it participatory. 
She also sought eternal peace of the people who were killed in the previous arson attack.
Awami League organised the grand rally to celebrate the landslide victory in the December 30 general election.
The prime minister started her speech around 4:35pm as the chief guest of the programme, reports our staff correspondent from the spot.
Top leaders of the party including Tofail Ahmed, Amir Hossain Amu and Obaidul Quader also addressed the rally while thousands of its leaders and activists from different part of the capital and its adjacent areas thronged the historic Suhrawardy Udyan to make the rally successful.
Hundreds of people with banners, posters, festoons and placards with portrait of Prime Minister Sheikh Hasina were seen marching towards the rally venue from around 10:00am.
In Shahbagh, roads in and around the area were experiencing heavy traffic jam as supporters were gathering for the rally with huge processions.  
Meanwhile, a number of law enforcers from different law enforcement agencies were deployed in and around the rally venue to avert any untoward incident.
GUIDELINES DETAILED BY DMP
The Dhaka Metropolitan Police has put in place elaborate traffic guidelines to ensure smooth flow of vehicles during Awami League's election victory celebration rally today.
People coming from Gabtoli via Mirpur Road-Science Lab-New Market will have to get off at Nilkhet and move towards the venue on foot. Their buses will be parked at Mall Chattar of Dhaka University and by both sides of the Nilkhet-Palashi road.
People coming from Uttara via Airport Road-Mohakhali-Moghbazar-Kakrail Church-Rajmoni crossing-Nightingale-Paltan-Zero Point or via Khilkhet flyover-Badda-Gulshan-Rampura Road-Mouchak flyover-Malibagh-Shantinagar-Rajmoni Crossing-Nightingale to Paltan-Zero Point will have to get off at Paltan-Zero Point and move towards venue on foot via Doyel Chattar. They will park their buses in Motijheel area.
People coming from eastern regions via Jatrabari and southern regions via Postogola and under the Mayor Hanif flyover will have to get off at Gulistan and go to the venue on foot via Zero Point-Doyel Chattar. They will park their buses in Motijheel/Gulistan.
Those taking Mayor Hanif flyover will disembark in Chankharpul and move towards the venue on foot via Doyel Chattar. Their buses will be parked on the Gymnasium field of DU.
People coming via Babubazar bridge will get off at Golap Shah Mazar and walk to the venue via High Court-Doyel Chattar.
They will park their buses in Gulistan area.
The road from Shahbagh to Matsya Bhaban will be off-limits to general people and traffic will be regulated around Suhrawardy Udyan.
Diversions may be implemented for the movement of prime minister and other dignitaries from the morning till the end of the programme at various intersections like Banglamotor, Shahbagh, Katabon, Nilkhet, Palashi, and some others.