Urban spaces can promote empathy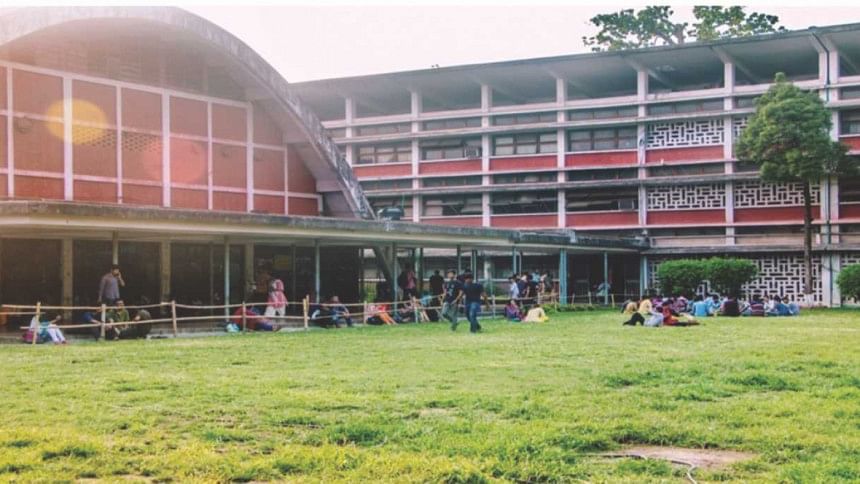 Dhaka is the most populated city in the country. It is also one of the most populated cities in the world with a density of 23,234 people per square kilometre within a total area of 300 square kilometres. The greater Dhaka area (Dhaka and the municipalities) has a population of over 18 million as of 2016, while the city itself has a population estimated at about 8.5 million (World Population Review, 2016). According to UN World Urbanization Prospects 2017, the population of Dhaka was only 336,000 in 1950. 
The city of Dhaka has always been a centre of cultural vibrancy and has a long history and tradition of both tangible and intangible cultural heritages. The cultural vibrancy and heritage that have glorified Dhaka city for centuries often get obscured under different kinds of modern-day civic problems. As an ever-expanding megacity, Dhaka is continuously losing its cultural spaces to religious and ruling coteries. Many of the city's prime spaces are now earmarked for various businesses (public and private), commercial (shopping and private education) or military purposes. The situation was not as deplorable even during the Pakistan era. 
The cultural properties of Dhaka city include all those things which have value for history, science, and culture. They are both manmade artifacts and natural objects and include ancient mosques, Christian churches, Hindu and Buddhist temples, historic colonial buildings, forts, art galleries, national parks, Eidgahs, museums, zoos, stadiums, lake and river fronts, graveyards and cemeteries, playgrounds, botanical gardens, monuments, cultural academies or centres, public gathering places and other places of public interest. Different agencies of Dhaka are responsible for maintaining all these which constitute the city's cultural properties. For example, the Public Works Department maintains 302.5 acres of land, Dhaka City Corporation maintains 85.25 acres and the Housing and Settlement Directorate maintains another 5.71 acres. A number of other open public cultural spaces are maintained by different institutions and authorities, where use is reserved or restricted. 
The newly built Hatirjheel project is a symbol of one such relationship between culture, social cohesion and development and has emerged as an example of rehabilitating neighbourhoods and development of a degraded area for public use. It has brought a kind of harmony among the people of surrounding neighbourhoods even with their differences of religion and class identity. This multi-purpose project has also had economic, socio-cultural and environmental impact. It has already started benefitting city-dwellers by providing them with a healthy environment and breathing space to relax, and spend time with families and friends. The 302-acre Hatirjheel project scheme offers an aesthetic public space with wetlands, stylish eye-catching bridges, overpasses, walkways, leisure benches, gardens, plantation, and viewing decks.
Hatirjheel has created an atmosphere for peaceful coexistence of a diversified group of people for whom this serves as an escape from their fast-paced, exhausting lives. It has also become a hangout place for nature lovers. Increasing more such facilities, e.g. lake cruising, arrangement of cultural performances, selling souvenirs, dining facilities, etc., will attract more city-dwellers and tourists from home and abroad. 
Developing the Hatirjheel area as a large regular public space is a good example of taking an initiative for developing an inclusive metropolitan city. The dynamics of gathering in or passing through these types of public spaces reflect the impact of these places on the culture of consumption, practices of negotiations with the urban environment, and social responses to others. It also helps city-dwellers to adjust to the changing political and cultural atmosphere and shape civic culture. 
The recent tensions among people of different religious and ethnic communities accentuate the responsibility of this country to embrace diversity through creating various common cultural and public spaces. The increasing political, social and economic transformation in Bangladesh essentially emphasises on building a non-communal society in a democratic way. It is an important responsibility of the state to build more social and cultural spaces and promote our heritage in different areas of the city to bring together people of various social, political and religious identities and for greater social cohesion. 
As one of the largest megacities of the world, Dhaka has a very small number of public social and cultural spaces which reflect the commonness of practices and celebrations of people from all walks of life. Urban administrators, planners, architects and, most importantly, the urban communities must work together to create more common urban cultural and social spaces. Such public spaces have the potential for social communion. 
In present day Bangladesh, the changing political landscape, cultural and social public spaces can play a significant role in shifting people's engagement to cultural and social activities from various existing conflicts. If such types of urban public spaces are built in different areas of the city and are organised, it may open up a pathway to develop social empathy among city-dwellers. Restoration and regeneration of urban intangible cultural heritages are required for creating a socially inclusive multicultural urban community with a sense of national rights and obligations. Thus urban planning of Dhaka city must embrace cultural enrichment. By recognising heritage as a dynamic and transformative force, we need to explore intangible cultural heritage as an indicator and facilitator of social development and as an active agent of social transformation.
In addition to the ecological and aesthetic value of urban cultural properties to city-dwellers, open spaces, including green network, water bodies and heritage sites, are important elements of urban recreational facilities. Like Dhanmondi and Hatirjheel Lake, retention of more open areas and prevention of more canals from encroachment are needed for creating more recreational areas in the city. Relocated Central Jail area can be further developed as an open space in Old Dhaka city for recreation, while the development of Gulshan Lake, like Hatirjheel or Dhanmondi Lake, is an excellent opportunity for the development of water-based recreational facilities.
The writer is Professor of Anthropology, University of Dhaka. 

E-mail: [email protected]
Follow The Daily Star Opinion on

Facebook

for the latest
opinions, commentaries and analyses by experts and professionals.