Rajuk's grand plan to ease commute
Gulshan-Banani-Baridhara lake and Hatirjheel to be connected; water-buses, new road to facilitate travels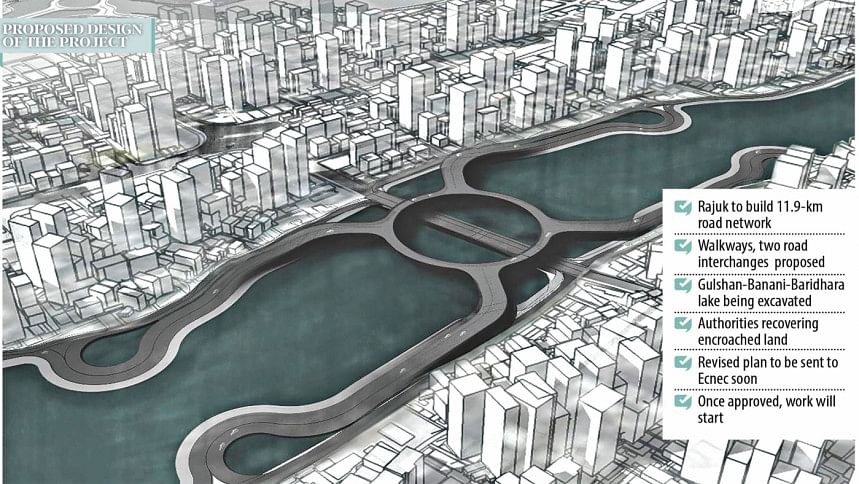 The waterbodies of Gulshan, Banani, Baridhara and Hatirjheel are set for a transformation.
If everything goes according to Rajdhani Unnayan Kartripakkha's (Rajuk) new plan, the two waterbodies  -- Gulshan-Banani-Baridhara lake and Hatirjheel -- will be connected, with water-buses freely moving from one place to another. A new circular road along the lakes will further ease commutes.
Rajuk is aiming to construct an 11.9 km road network along the banks with grade separation in Baridhara and Banani, to ease traffic congestion in the areas.
Currently, water buses are operating in Hatirjheel but cannot go through Gulshan-Banani-Baridhara lake due to no connection between the two waterbodies.
A revised development project proposal (DPP), which has already been prepared, will be sent to the ministry concerned soon and then to the Executive Committee of the National Economic Council (Ecnec), said Saber Ahmed, immediate past director of the lake project.
Once approved, the work will start.
"Earlier, the DPP was submitted in an Ecnec meeting [in 2018]. It was sent back to Rajuk along with some observations, and we have already complied with the points raised," he said.
Prof Mizanur Rahman, a member of the Buet team tasked with conducting a study for the project, said after finishing the study, they proposed walkways, two interchanges above the lake, and an integrated road network. He said the 11.9-km, one-way circular road will be constructed around Gulshan-Banani-Baridhara lake along with walkways. If this is done, traffic congestion would not be a problem there even after 20 years.
This circular road will also ease pressure on Gulshan Avenue. Suppose, if anyone wants to go to Baridhara from Gulshan's Police Plaza, they will be able to via the new road, he said.
Responding to a question, he said the lake's water flow will not be intercepted because of the project. The road will remain elevated, and they will just install pillars.
"We also proposed operating water-buses after connecting the two waterbodies, and eight bridges above the lake," he added.
"We further recommended taking an initiative to protect the banks on both sides of the lake, as waves will increase due to the water-buses, and this may cause erosion on the banks," he explained.
"We had suggested taking some land from Korail slum through re-settlement, and we proposed an amphitheatre by cleaning those places," he said.
Mizan said there are three points from where household sludge is being directly dumped into the lake, and Rajuk will have to take another integrated project to prevent this.
After the project is implemented, the sludge would be taken to Dasherkandi waste treatment plant of Wasa through pipelines, and water pollution would go down significantly, he said.
The depth of the lake has decreased due to the accumulation of sludge over the years. So, Rajuk will have to remove that sludge during winter to increase its depth, he added.
PROJECT BACKGROUND
Aminur Rahman, superintending engineer of Rajuk, said when they started the lake development project, there was no masterplan, but later on, one was prepared.
Based on the master plan, Rajuk started excavation work in Gulshan-Banani-Baridhara lake, which stretches for 8.8 km, in 2017.
"We have re-excavated 3.2 km after recovering 15 acres of land, and had a plan to recover a total of 82 acres  from encroachers, which is very challenging for us," said Aminur.
"We have already recovered 10 acres so far [from the back of Police Plaza to the Indian embassy] and constructed roads after eviction. Rest of the land is beside Korail slum," he said.
"When we submitted the master plan to the planning commission in 2017, it decided to get Buet's opinion through a thoroughly conducted study,'' he said.
Hatirjheel is 300 acres and Gulshan-Banani-Baridhara lake is also 300 acres, he said.
Buet estimated the cost of this project to be Tk 4,886 crore, of which Tk 2,000 crore is for acquiring land, he said. It submitted the details to Rajuk.