An Asian success story?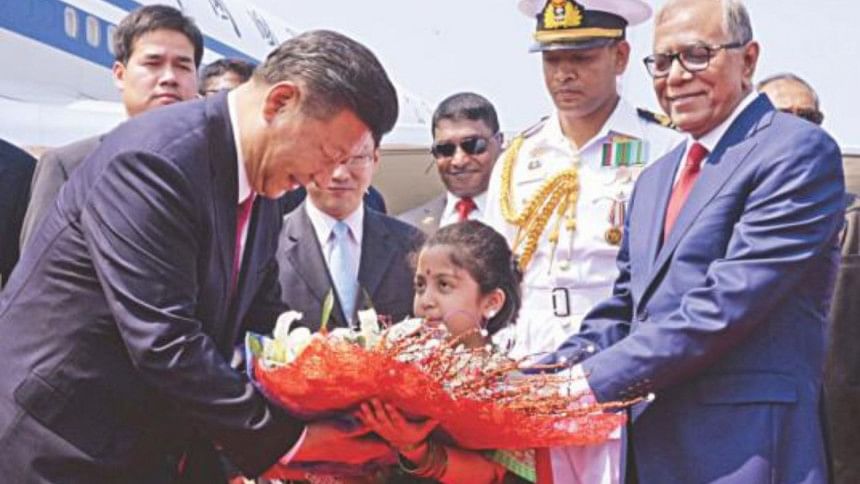 Much was expected prior to the Chinese President's visit to Bangladesh, and surely enough, he did not disappoint. The milestone visit — the first to Bangladesh by a Chinese President in 30 years — was capped off by the largest ever pledge of assistance to Bangladesh by any single country. 27 deals worth USD 24.45 billion in soft loan to Bangladesh were signed for various key development projects. On the sideline, 13 joint venture agreements involving USD 13.6 billion of Chinese investment was agreed upon by 13 Bangladeshi and 13 Chinese companies.
The Chinese media's extensive coverage of the visit and statements from official Chinese sources also showed its significance. But while one can easily understand the weight of the visit and its resulting outcomes for Bangladesh, what does it mean for China? And why did China agree to invest so heavily in Bangladesh? For one, if we take the comments of Chinese officials at face value, then it is partially because China sincerely wishes to assist Bangladesh grow and develop as its close partner. And if we look at recent Chinese endeavours across the globe, we can see that it has indeed helped many countries around the world, with large sums of investments and similar assistance, true to its words, in a most friendly way.
But then there is another reason. And that is that China is thinking long term towards implementing successfully its Silk Road Economic Belt and the 21st-century Maritime Silk Road initiatives, collectively known as One Belt, One Road (OBOR). And as explained by a Chinese diplomat in Dhaka, "Bangladesh's location in between South Asia and Southeast Asia is highly important" in regards to connectivity and the OBOR as the northern part of South Asia is key to the Silk Road Economic Belt and the southern part is vital for the 21st Century Maritime Silk Road.
Its strategic location between China, India and ASEAN countries also make Bangladesh key to the realisation of the OBOR initiative which encompasses 60 countries representing 30 percent of the world's gross domestic product, 63 percent of global population, and most of known energy reserves (Interview: China's Belt and Road Initiative to stimulate Asian, global economic growth: Bangladesh economist, Xinhua, September 7).
Furthermore, as President Jinping said during his visit, "The China-proposed Belt and Road Initiative can dovetail with Bangladesh's cooperation strategies" well as the "Sonar Bangla dream of national strength and prosperity [of Bangladesh] is in perfect harmony with the Chinese dream of great national renewal", and "heralds new opportunities for win-win cooperation between" the two countries. If looked at from an economic perspective in particular, Mr. Xi is absolutely correct in his assertion.
The greater connectivity promised by the OBOR initiative is essential for Bangladesh in increasing its access to foreign markets and reducing transport costs for its goods and services, making them more competitive in international markets. For China, it will ensure stable access to resources badly needed to support its rapid development and maintain its productive capabilities. So, again true to President Jinping's words, cooperation between the two countries can only result in 'win-win' outcomes.
But now the question arises; how capably and quickly can Bangladesh absorb this investment? At a recently held roundtable organised by The Daily Star, a major concern — one of Bangladesh's major weakness — was mentioned in that regard. That is, the numerous delays and cost escalations that is often seen when it comes to the implementation of development projects in Bangladesh. After Bangladesh's success in attracting such high Chinese investments, can it now translate that success into pragmatic actions by abandoning its past habit of inefficient implementations? One can only hope that it will.
Another question that remains to be answered is how will India react to the increased cooperation between Bangladesh and China? Bangladesh is, of course, conscious of the long standing rivalry between India and China. The increased cooperation with China, however, does not mean Bangladesh is looking to move more towards China by moving away from India, but rather that it seeks to grow with both towards the win-win cooperation that the President of China described.
As far as Bangladesh's growth is concerned; given that its relations with India is at an all time high, India can only benefit from the rapid development and economic stability and security that Bangladesh is aspiring for. Meanwhile, the growing business links of recent years between India and China, which have ushered in increased prosperity for both countries, again illustrates why these two regional powers should cooperate even more on all fronts.
And their cooperation is particularly important in the realisation of the OBOR initiative which India is also a part of. With the two regional powers leading by example, other countries of the region will definitely step up their efforts and be more willing to cooperate in projects that are mutually beneficial. Bangladesh too, will surely benefit from such cooperation, as can the entire Asian region. With that in mind, both countries should consider Bangladesh as the perfect platform where they can work together, invest and help develop, as they should, in relation to the entirety of Asia. Considering all of this, the recent success of Bangladesh in attracting such high levels of Chinese investments should be seen as a success for all of Asia.
There has been much talk about the 21st century being the 'Asian century'. But given that the 21st century is now well underway; the time for talk should now be over. And instead, it is time for us all to walk the talk, side by side, towards peace and prosperity, for all our nations, and for all our peoples. It is time to write a new chapter in the story of Asia, one which its people eagerly hope, will be one of individual successes and collective prosperity. The idea of increased connectivity that was moved forward through the Asian Highway Network by India and Bangladesh, with the addition of Chinese help, cooperation and initiatives, can now take us all a long way towards fulfilling that hope.
The writer is a member of the Editorial team, The Daily Star.