Is there an architecture for marginal communities?
Our experience of designing Brac regional offices across rural Bangladesh
In 2017, Brac – widely considered the world's most effective anti-poverty development organisation – offered its namesake university's Department of Architecture, which I was chairing at the time, a commission to design eight next-generation Brac offices across rural Bangladesh. The first-generation offices were built during the 1970s and 1980s after the organisation's founding in 1972 by its visionary leader Fazle Hasan Abed (1936-2019).
The task of designing new Brac offices posed a philosophical question: how do we create buildings that offer its primary clients – poor rural communities who come to Brac offices to receive different services – an experience of hope? We reckoned the new Brac regional office prototype could not simply be an efficient and eye-pleasing corporate edifice. It had to shoulder deeper obligations: an architectural language that would strengthen the poor's self-esteem, while also emboldening them to see and think of themselves as partners in the country's development journey.
In our endeavour, understanding what Brac is has been immensely important. Two pivotal and interrelated occurrences are believed to have inspired Brac's founder – popularly known as Abed bhai. An accountant trained in England during the 1960s, Abed bhai devoted his life to serving the downtrodden in his country. First came the devastating tropical cyclone that hit Bhola on November 12, 1970. Between 3,00,000 to 5,00,000 people were estimated to have perished during this cyclone. The response from Pakistan's power base in the western wing was criminally negligent. Meanwhile, having returned from London in 1968 after his studies, Abed bhai was working in then Chittagong as an executive for the oil company Shell. As part of a civilian effort to help the people of the cyclone-hit region, he found himself within the inner circle of a robust relief effort. During his visit to Manpura, he was reportedly haunted by the sight of countless bodies of adults, children, and livestock on the shore. This tragic experience provided him with lifelong insight into the helplessness of the poor, and a drive to serve those on the periphery of society.
Designing buildings in rural areas presents peculiar challenges that differ from those in cities. For us, one of those challenges was how not to essentialise rural architecture as timeless, traditional, or vernacular, so that pastoral Bangladesh's ongoing socioeconomic transformations and their broader cultural meanings could be both contested and reflected in the architecture of Brac offices.
Secondly, the refugee crisis and the task of rebuilding the war-torn nation in the aftermath of Bangladesh's bloody liberation war combined as a moment of awakening for Abed bhai. He left his secure executive job to help rehabilitate refugees and begin basic development work with a handful of volunteers at a small village called Shalla, in Sunamganj District of Sylhet.
This is how Abed bhai's life's work began. Brac – originally called the Bangladesh Rehabilitation Assistance Committee – was born in February 1972 with a modest local aspiration: to assist the poverty-stricken people of Shalla. The goal was to empower individuals to change their destiny on their own terms, not by the ones imposed on them by the ruling class or development experts. Abed bhai would later reflect on how poverty dehumanises the people, robs them of their dignity, and traps them in a mindset of powerlessness and fatalism.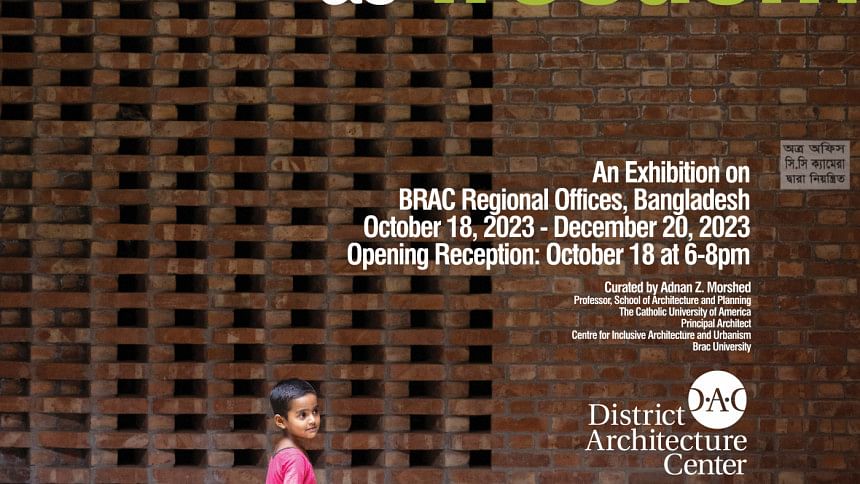 Abed bhai often cited Brazilian educator Paulo Freire's book Pedagogy of the Oppressed as an inspiration. This radical book was first published in Portuguese in 1968 and was later translated into English in 1970, just two years before Abed bhai founded Brac. Parallel to Freire's, his philosophy of development from below and the field, co-working with the people, is reflected in his statement: "Oppressed people have got their own way of thinking about life and if you can somehow mobilise them, make them critically aware of their own condition, and get them to act on their own behalf, make them an actor in their own history, then things become much easier." Abed bhai continued to advocate a bottom-up, grassroots, and co-working attitude to development throughout his life.
As I came to know Fazle Hasan Abed closely from 2017 onward, I gained insight into a few foundational aspects of his worldview. The poor must not be told how to develop their lives. Instead, what they need are minimal tools (such as microcredit, basic healthcare, or basic education) to transform their lives from misery to financial and social independence. People can help themselves when they acquire the right skills. Poverty is not fate. It boils down to people not having access to the right opportunities. Meaningful development empowers people with a sense of freedom that helps them build their lives as best as they can based on their own needs and of their own accord.
This understanding of freedom and its significance in terms of poverty alleviation was central to Fazle Hasan Abed's world. In 2018, I shared with him an op-ed, "Unequal City," that I had penned the previous year. In it, I wrote: "The poor shouldn't be abstracted as a social category – a binary opposite of the bourgeois self – to be quarantined for research and experimentation. While empirical research is essential, without human compassion it bureaucratises the concept of poverty and dehumanises the poor… It is time policymakers, municipal administrators, and urban planners rethought urban poverty as a problem of social justice, not just as a problem of economic development. The issue of urban poverty should be examined with a bit of moral quandary and introspection into how the class-conscious bourgeoisie defines itself as the opposite of the poor. This very definition constitutes the central problem of urban poverty… The poor must be seen with a human face, not as an abstraction." Abed bhai had agreed that the poor were people who simply did not have the freedom to access opportunities.
When Brac asked us to design its regional offices, the most difficult philosophical quandary for us was how to spatialise the idea of freedom that Abed bhai had imagined as a fundamental right of all people, particularly women, to shape their destinies. We also had a unique opportunity to conceive a sustainable office building typology suitable for Bangladesh's rapidly changing rural environment – a New Rural powered by agricultural modernisation, improved road infrastructure, communication technology, a spirited entrepreneurial culture, and the rise of a rural aspirational class. The combined result of government policy support, the fieldwork of nongovernmental organisations, and the resilient spirit of the people, we reckoned the New Rural warranted new types of rural architecture that are modern, traditional, democratic, climate-responsive, cost-effective, and accessible – all at the same time. Designing buildings in rural areas presents peculiar challenges that differ from those in cities. For us, one of those challenges was how not to essentialise rural architecture as timeless, traditional, or vernacular, so that pastoral Bangladesh's ongoing socioeconomic transformations and their broader cultural meanings could be both contested and reflected in the architecture of Brac offices.
A second challenge in our search for a sustainable office prototype was how to harness minimal local resources to maximise positive impact on all categories of users of our architectural intervention. A third difficulty was to figure out how to avoid imposing on Brac office buildings an image of "rurality" or "poverty" that would somehow reflect the socioeconomic deprivations of Brac beneficiaries. Instead, we wanted to be liberated from entrenched dogmas about village life and its purported social immobility by examining the nature of rural modernity, the complexities and contradictions of the New Rural, and how the notion of freedom may intersect with that of pastoralism. We found inspiration from archetypal imageries of pastoral Bengal – the horizontal sweep of green paddy fields, the peasant's hut, the tree, the homestead courtyard – with which we sought to weave a Brac tapestry in the form of a prototype building. This story, we argued, needed to be seen, heard, felt, and experienced by Brac's protagonists: the rural poor who would rise against the tyranny of misfortune.
We wished to explore spatial dimensions of freedom, in the theoretical sense of Abed bhai and Nobel Laureate Amartya Sen. Both advocated ideas of development that expand people's freedom as a fundamental condition in which fights against poverty, social injustice, and all other deprivations could be most effectively waged. For us, architecture plays a transformative role in spatialising that kind of freedom by ensuring people's unobstructed access to buildings, ease of movement, functionality, thermal and social comfort, gender-friendly spatiality, climate adaptability, and safety. Freedom also implies how not to fall into the trap of gentrification by creating a "high-end" aesthetic product, one that would have intimidated Brac's impoverished beneficiaries. Instead, our goal was to create honest spaces where they would feel both welcomed and inspired, spaces where trust-building between service providers and service receivers could become a natural option.
The opportunity to design Brac's regional offices felt like a sacred calling. Once a thorough site analysis was done, we instituted a collaborative and consultative method among the faculty and multidisciplinary external experts to develop the design of eight prototype offices across different climatic and geographic regions of the country. From the outset, design development has been a collaborative team effort – from conceptual design to architectural working drawings. All eight Brac offices were constructed between 2019 and 2021.
During this time, a core design challenge for us was to capture a minimal-resources-maximum-yield ethos in the ways the offices performed in their socioeconomic contexts. The allotted plots for these regional offices were relatively small, but the functional programmes for each office were extensive, including 14 or more Brac programmes for the communities the organisation serves. Our endeavour therefore centred on creating a highly compact yet light- and air-filled office typology that people across Bangladesh can readily associate with Brac's mission of social inclusiveness.
Built using locally sourced bricks, local construction techniques, and local labour, our office buildings were a humble architectural effort to respond to the changing nature of rural Bangladesh and treat the organisation's beneficiaries with the human dignity they deserve. The projects were envisioned as architectural prototypes that sought to narrate how the language of architecture can symbolise the agency of poor communities and their pursuit of social justice.
The US lawyer and social justice activist Bryan Stevenson once stated: "The opposite of poverty isn't wealth. It's justice." Justice is a complex undertaking. What does "justice served" look like, architecturally? This question was not only central to our design journey, but also the reason why we chose to organise a major exhibition, named "Architecture as Freedom," in Washington, DC, to be inaugurated next month. The exhibition showcases our effort to examine the spatial dimensions of such complex ideas as freedom and justice in our design of Brac offices.
We had a dream of taking Sir Fazle Hasan Abed to one of the offices upon their completion. This would have been the perfect homage to this giant who had espoused a people-centric and grassroots development philosophy that changed the lives of millions. But he passed away on December 20, 2019. "Architecture as Freedom" is dedicated to him. Meanwhile, we are truly happy to share our work with the development, diplomatic, think-tank, and design communities in the US capital.
'Architecture as Freedom' opens at the District Architecture Center in Washington, DC, on October 18, 2023, and runs through December 20, 2023. The contributions of all architecture faculty members at Brac University and Ci+AU architects are acknowledged with deep gratitude. 
---
Dr Adnan Zillur Morshed is an architect, architectural historian, urbanist, and a professor at the Catholic University of America in Washington, DC. He also serves as executive director of the Centre for Inclusive Architecture and Urbanism (Ci+AU) at Brac University.
---
Views expressed in this article are the author's own.
---
Follow The Daily Star Opinion on Facebook for the latest opinions, commentaries and analyses by experts and professionals. To contribute your article or letter to The Daily Star Opinion, see our guidelines for submission.
---