World Cup revealed our media's vulnerability to fake news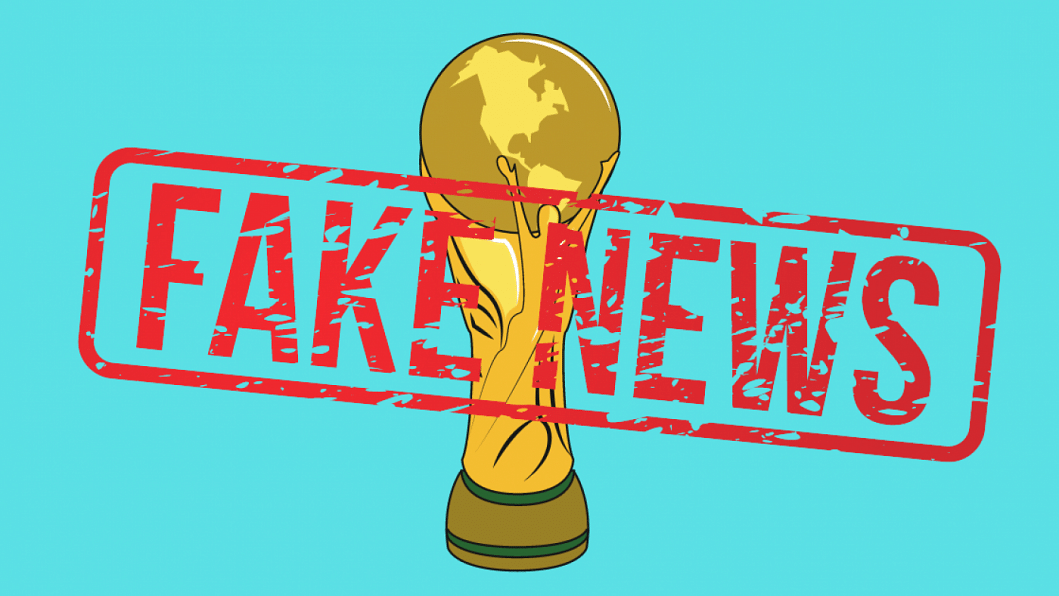 The FIFA World Cup 2022 in Qatar proved to be a challenging ground for traditional football giants, with Germany dropping out of the tournament in group stage and Brazil, France, Spain and Argentina losing matches against weaker opponents. Some underdogs emerged as tough contenders towards the beginning. But there was no way to predict a possible winner before December 18.
However, several Bangladeshi media outlets, on December 1, prophesised that Messi's penalty miss in Argentina's third group-match against Poland was actually a "good sign" and indicated the GOAT could win this World Cup. They claimed to have discovered a "remarkable pattern" in Messi's penalty miss and in Argentina's two previous World Cup triumphs.
A report by a leading newspaper on Messi's "historic penalty miss" being a "good sign" says: "Mario Kempes missed a penalty in Argentina's third match against Italy in the 1978 World Cup. Argentina was the champion of the service and Kempes was the top scorer. Diego Maradona missed a penalty in Argentina's third match against Bulgaria in the 1986 World Cup. Argentina were also champions and Maradona won the best player award. This time again, Messi missed the penalty in Argentina's third match in the World Cup. So what… let's see, time will tell."
Unfortunately, the missed penalty of Lionel Messi does not hold any pattern – notwithstanding the fact that Argentina, indeed, went on to win this World Cup. Rather I, as a fact checker, have found a pattern lately in deshi (local) media's reportage: it is flooded with misinformation and sometimes outright fake news when it covers international stories.
Mario Kempes did not miss any penalty shot in 1978 World Cup; neither did Diego Maradona in 1986. In fact, Argentina was not awarded any penalties in those two matches against Italy and Bulgaria, respectively, according to the FIFA website records.
A few clicks on the FIFA archive can lead anyone to the information and even a video record of the full matches held in those tournaments.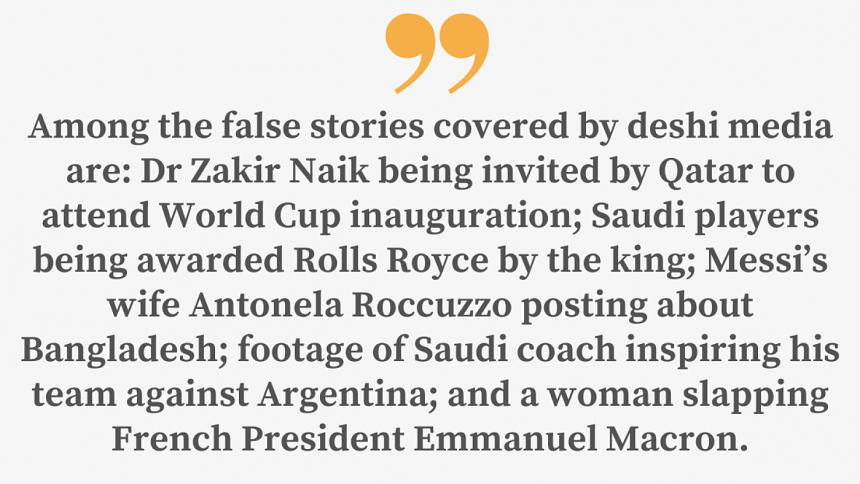 Later corrected silently by some outlets following fact checkers' reports, this story is not the only instance of Bangladeshi mainstream media publishing false information or unverified rumours as "authentic news." 
In the first two weeks since the World Cup kicked off in Qatar, fact-checkers in Bangladesh debunked at least 10 different fake or misleading news stories, eight of which are related to the football tournament, in top newspapers and TV channels.
Among the false stories covered by deshi media are: Dr Zakir Naik being invited by Qatar to attend World Cup inauguration; Saudi players being awarded Rolls Royce by the king; Messi's wife Antonela Roccuzzo posting about Bangladesh; footage of Saudi coach inspiring his team against Argentina; and a woman slapping French President Emmanuel Macron.
Why is our media so vulnerable?
I analysed nine false and misleading stories that were published in the media to get an idea of possible factors contributing to deceiving the newsroom gatekeepers. In most cases, Bangladeshi newspapers solely relied upon the reports of foreign news sources like the Daily Mail, Daily Mirror, The Express, and some other websites that are well-known for clickbait journalism based on unreliable sources. Oftentimes, these websites quoted a dubious Twitter or Facebook account as the only source of the claim. No one seemed to have bothered to authenticate the accuracy and reliability of the sources. In some instances, Bangladeshi media outlets themselves picked social media posts from imposter accounts of celebrities and failed to identify them as such.
On one particular occasion, media outlets in Bangladesh – and also in India – sourced, from New Delhi based agency Asian News International (ANI), a story of a viral video that allegedly shows a woman slapping the French president in late November this year in France. In reality, nothing like this happened this year, and the video was related to an incident reported more than a year ago. After fact-checkers debunked it, ANI apologised and removed the report.
But here the question arises: why would the news of an incident claimed to have taken place in Europe have to be sourced from a Delhi-based news agency? Why would one not cross-check it with sources from France itself? An attack on the French president is not a trivial issue that could be overlooked by the European or Western media. 
Secondly, a responsible Bangladeshi newsperson is expected to have the general knowledge of the media ecosystem in this region. ANI has been identified in 2020 by a top European research organisation as one of the prime players in a vast disinformation campaign that promotes the Indian government's interest. There are examples where ANI repurposed fake news related to Bangladesh, quoting dubious websites in recent years. So a credible media outlet should not pick up news stories from it without cross-checking with other sources.
Lack of willingness for or understanding of online verification, which is considered an essential skill for modern-day journalism, leads to such disasters. When you see a claim on social media or on a random website that is deemed newsworthy, you have to have the mastery of verifying its authenticity using online tools. 
Bangladeshi media's role in proliferating misinformation has been a topic of discussion lately. Statistics show that the media has been, for years, among the actors that pollute the online information ecosystem in the country. For the sake of not damaging the already diminishing trust in the media, we need to put a halt to this trend. News managers should urgently consider training their manpower in online verification techniques. These skills – which includes advanced search methods, reverse searches for images and videos and more – are must-haves for all journalists nowadays, but particularly important for those who work in the international desks and online sections of the media houses.
In an exemplary move, the Press Institute of Bangladesh (PIB) has taken initiatives to train newspersons on fact-checking and verification. But as a trainer for the institute, I feel there is more to do.
Bangladesh is approaching a national election and the days ahead will be crucial for journalists who will have to deal with waves of political fake news from every corner of the spectrum. Hence, it's high time for the local newsrooms to invest some time and resources to make themselves impervious to online misinformation.
Qadaruddin Shishir is Bangladesh editor of AFP Fact Check.