Messi, Messier, Messiest
Drink it all in.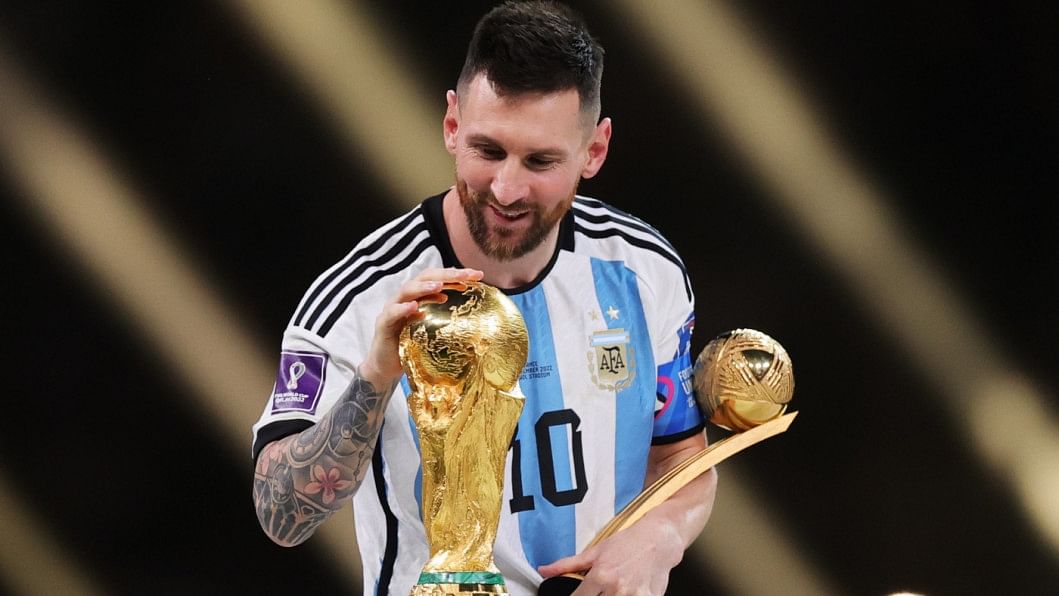 It was, quite frankly, the most extraordinary final in the long history of the World Cup. A nail-biting, end-to-end game, full of goals, early leads and dramatic comebacks. A cliffhanger, really, in a tournament full of cliffhangers, as the staggering intensity with which it was played stretched absorbingly into extra time, and then some more, to be finally decided through penalty shootouts.
As a football fan, you couldn't have asked for more. Because more doesn't exist. Usually, in a World Cup final, the stakes are so high that it inhibits performance. The final showdown between Argentina and France – equals in every way, each vying for that third star on their jerseys – defied that logic. It didn't just live up to its billing; it surpassed it by some distance. And Argentina winning it is perhaps footballing justice, for what it means to them, the entire region of South America, and their World Cup-starved fans across the globe, including in Bangladesh.
But let's face it: in a few years, as moments melt into memories and narratives, the FIFA World Cup 2022 will be remembered less for what happened on or off the field than for what it eventually came to represent – the crowning moment for a certain Lionel Messi.
Without taking away from the heroics and achievements of other players and teams – of which there were plenty – it can be said that this World Cup will mostly be remembered as one in which Messi has finally become a world champion, and "completed" football. It will be a World Cup of Messi, by Messi, and for Messi.
There are some moments in history when hyperboles do not sound like hyperboles. This is perhaps one of them. On Sunday, Messi rewrote his – and his country's – history as he hoisted the most-coveted trophy in football after singlehandedly guiding his team to World Cup glory, matching the feat of his idol Diego Maradona who last won the cup for Argentina in 1986. "Singlehandedly" might be a bit of a stretch, as he had capable lieutenants to support him, but there is no doubt that he was the general that held them all together, leading them from the front. In so doing, he made or broke 15 records.
For Messi, it must be said, such performance is nothing new. This is what he has been doing for the last 16 years or so, with a level of consistency that few can or could rival. This is what he did when he reached the 2014 World Cup final, which he lost. He had won the Golden Ball then as he did on Sunday again. He had an average supporting cast then. By most standards, what he has in his winning team now is also an average supporting cast, made up largely of World Cup debutants. What worked for him this time, then?
If you're a romantic, you could say this was fated to happen. You could say the stars had aligned for Messi to finally lift that trophy – that it was "already written," as Zlatan Ibrahimovic said before the World Cup semi-finals.
But there is a more plausible explanation. 
This is where we must take note of Messi's evolution, as a player, as an Argentine, and as a captain – a progression we can call "Messi, Messier, Messiest." For most footballers, being just Messi would be more than enough. Just Messi is calm Messi, demure Messi, brilliant Messi. This Messi appears to be self-absorbed, aloof even. Messier is when we see him in terms of his relationship with Argentina, a country he chose to represent over Spain, one that gives him a greater purpose beyond the pleasure of breaking records. He is equally deadly in that role, if not as impactful in terms of results. But you could still detect a sense of detachment, as if something was inhibiting him.
It is his transformation as a leader, a leader-like leader, that really made all the difference. This supreme version of Messi, ironically, is more fragile but also more determined, more responsible, more emotionally invested in what is happening in his team, and therefore more responsive to their needs. This Messi knows you are only as strong as the weakest member of your team. This Messi is not afraid to get down and dirty for them.
As Gabriele Marcotti, a senior writer for ESPN FC, has noted: "Messi watchers place the turning point at the 2019 Copa America. Argentina lost in the semi-final to host Brazil, and after the game, Messi was decidedly un-Messi-like. He railed against the referee and showed an obvious, outward edge that few had seen before. He had taken over the captaincy a few years earlier, but this was a different Messi: This was angry Messi, snarly Messi, street Messi. (This was the Messi who would materialise after the game against the Dutch, hissing at Wout Weghorst: 'What are you looking at, Bobo?')"
What won this World Cup for Argentina is Captain Messi. After the final, Argentina goalkeeper Emiliano Martinez, when asked to explain his Golden Glove-winning performance, said: "I did my thing." Messi could have said the same thing, and it would have been wrong. Leadership was not his thing. He grew into it over time. The reward is three major international trophies in just a little over one year – a World Cup, a Copa América, and a Finalissima.
This new Messi is beautiful to watch, both on the field and off. Who knows what else Captain Messi, if he continues to play, can achieve for his team in the coming years.
Badiuzzaman Bay is assistant editor at The Daily Star.