The trials sportswomen have to face to get justice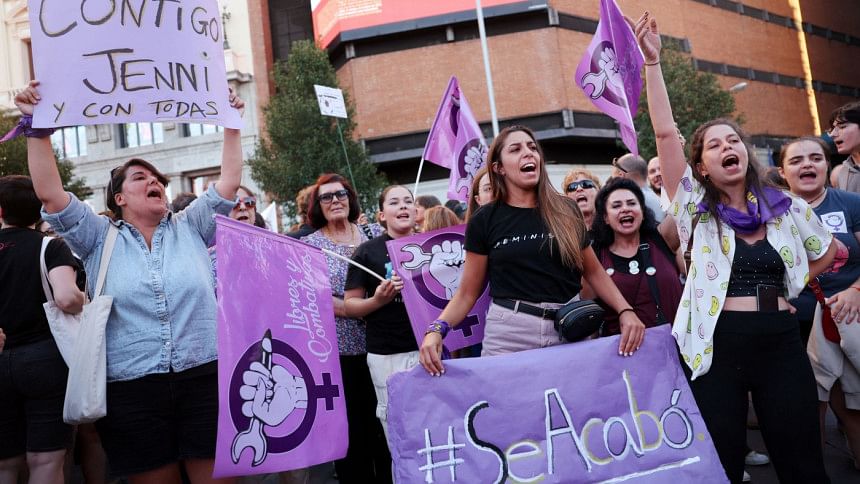 Imagine a player winning a World Cup for their nation. As they walk to the podium to collect their medal and commemorate the crowning achievement of a sporting career, a bizarre scenario unfolds. Their boss hugs them, grabs the back of their head with both hands, then suddenly and non-consensually kisses them.
That was the scenario that took place after the FIFA Women's World Cup on August 20, when Jenni Hermoso was sexually assaulted by Luis Rubiales, president of the Spanish Football Federation (RFEF).
Incredulity and outrage followed. But as in many cases of such assault, the perpetrator brushed things aside. Rubiales labelled those behind the outrage as "idiots and stupid people."
In the immediate aftermath, Hermoso was captured on video saying that she "did not like" what had happened but would prefer to focus on the triumph.
As the voices grew louder, Rubiales attempted to manipulate the situation. The RFEF boss and the women's team manager Jorge Vilda attempted to coerce Hermoso to appear in an apology video alongside captain Ivana Andres. When that request was denied by both players, the RFEF disseminated a statement on Hermoso's behalf, which was since indicated to have been fabricated, which quoted her as saying that the gesture was "mutual."
Rubiales then held a defiant press conference attended by RFEF officials and called the whole malestrom a symptom of "false feminism." He went as far as to assert that he had sought consent for a kiss during the hug.
In another nation, one with a less progressive political and social climate compared to a first-world European country, the incident could have been swept under the rug then and there, especially considering that most such incidents do not occur on the biggest of stages and in front of cameras broadcasting to millions.
Just across our borders, in India, a revolt has been stirring in its rich wrestling community since the start of the year, after multiple female wrestlers, including a minor, alleged that they were sexually harassed and assaulted by BJP MP Bhushan Sharan Singh during his tenure as the president of the Wrestling Federation of India.
The wrestlers' protest has seen gold medals being put at stake at one end of the spectrum and the famed protesters being brutalised by law enforcement at the other. The protests have stopped after assurances on more than one occasion, only to relaunch after inaction and empty gestures.
As it stands, a charge sheet has been filed, but allegations are rife that law enforcement was manipulated from behind the scenes for more than a decade.
One allegation recounts a complaint of sexual harassment against Singh, made to police in 2012 by six wrestlers, which "disappeared within 24 hours."
This time, the police refused to file FIRs until the intervention of the Supreme Court. When charges were finally filed against Singh in June, they were alleged to have been softened.
All the while, India's ruling government maintained a deafening silence. Meenakshi Lekhi, Indian state minister for external affairs and culture, was seen fleeing on foot from a reporter who asked her what message she had for the wrestlers.
In a less hostile climate, despite unwavering support from her counterparts and from political offices as high up as the Spanish prime minister's, Hermoso's words have resulted in the same inaction from authorities.
Alongside the news that 81 professionals, including the entire World Cup-winning squad, would no longer play for the national side under the current leadership, came a statement from Hermoso that laid bare the universal situation of victims in such cases: "I have to state that I have been under constant pressure to come out with some sort of statement that would justify the acts of Mr Luis Rubiales. Not only that... the RFEF has pressured my close circle so I would give a statement that had little or nothing to do with how I felt."
Even more remarkable is the fact that, despite the support and overwhelming evidence in her favour, the narrative continues to be twisted in ways that cast doubt on Hermoso's story and character.
If a world champion can be assaulted so brazenly, if she has to watch the perpetrator and the organisation she represents dismiss and distort the incident, is it any wonder why women, in societies and structures around the world that behave in these exact patterns, are often left with no choice but to stay silent?
---
Samama Rahman is a sub-editor at The Daily Star. 
---
Views in this article are the author's own.
---
Follow The Daily Star Opinion on Facebook for the latest opinions, commentaries and analyses by experts and professionals. To contribute your article or letter to The Daily Star Opinion, see our guidelines for submission.