The many tactics of climate change deniers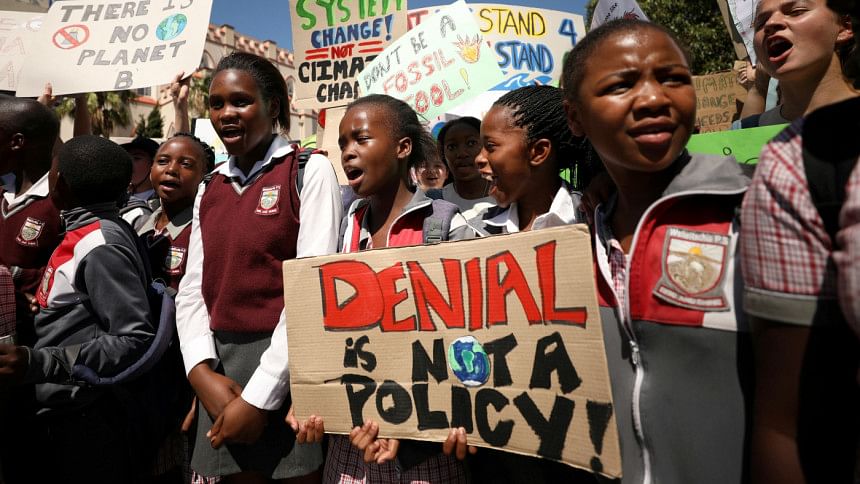 After my article "Can we steer climate change out of overdrive?" was published in The Daily Star on July 10, a "retired academic" sent me a condescending email with the following comments. "As a Professor of Physics you should know that humans have a very tiny footprint in the timescale of Nature. Humans cannot change Nature and Earth will dry up like others and possibly will become habitable again in billions of years." He advised me to "know the science better before you write something. I want you to look at the bigger picture and take a more realistic understanding instead [of] jumping on the political bandwagon."
My reply was: "Yes, millions and billions of years from now, we expect our planet to recover from the havoc created today by anthropogenic climate change. But should we be concerned about recovery billions of years from now, or should we be concerned about whether our future generations will have a liveable planet before the end of this century? Any right thinking person will be concerned with the latter." There was no rebuttal from him.
But the retired academic is not alone in denying human-induced climate change. During the first Republican presidential primary debate on Fox News, which frequently promotes climate disinformation to its large cable audience, the moderators asked a question on behalf of young conservatives. "How will you as both president of the United States and leader of the Republican Party calm their fears that the Republican Party doesn't care about climate change?" Former President Donald Trump may not have been at the debate, but his parrot Vivek Ramaswamy, the entrepreneur turned politician, brashly called climate change a hoax. His answer triggered boos and jeers from an otherwise handpicked friendly audience. He nevertheless followed up by saying that the "anti-carbon agenda is the wet blanket on our economy," and farcically argued that "the reality is more people are dying of bad climate change policies than they are of actual climate change." If elected, he will unlock American energy, drilling, fracking, and burning coal. Unsurprisingly, his remarks align with the rhetoric of many Republican lawmakers. 
Governor Ron DeSantis of Florida sidestepped the climate change question altogether. He rejects the "politicisation of the weather" and dismisses the view of scientists that the once-in-a-lifetime hurricane Idalia, which recently battered his state, was amplified by climate change. Other Republicans, including former vice president Mike Pence, avoided the question too. Only Nikki Haley, former ambassador to the UN, and former New Jersey governor Chris Christie acknowledged that climate change is real. However, Haley clarified her position by saying, "If you want to go and really change the environment then we need to start telling China and India that they have to lower their emissions, that's what our problem is." Clearly, Republicans are interested in advancing their political ambitions at the expense of public interest. 
A conservative group called the Prager University Foundation likened climate activists to the Nazis. The group posits that wind and solar power pollute the Earth and make life miserable. And recent heat waves reflect natural temperature cycles. Based on these themes, the foundation produced videos for school children, which have been approved by Florida's education board for use in classrooms of public schools. According to the CEO of the foundation, the videos will rebalance schools that have been "hijacked by the left." 
Along with the Republicans and other climate change deniers, a growing contingent of scientists and economists are calling into question the overwhelming scientific consensus that climate change is driven by human activities, primarily by burning fossil fuels. They say that the temperature data show no clear indication of global warming. One of their outrageous arguments is that scientists who believe in climate change fudge the data to not reflect reality, but to push their agenda and flawed theories of global warming. Moreover, some of them are questioning whether temperatures are being measured properly, alleging that the media are confusing air temperature with ground temperature, which is generally higher. They further profess that carbon taxes and decarbonisation of our economy to prevent global warming will not result in a cooler planet, but rather will lead to mass poverty and lower standards of living for all.
Furthermore, some far-right opponents of the existence of climate change contend that the unusually intense flooding all over the world is caused by cloud-seeding, and not by torrential rains. Especially ludicrous is their assertion that the devastating wildfire in Maui, Hawaii in August resulted from a "directed energy weapon." Just like DeSantis, they insist that greenhouse gas emissions do not affect hurricanes. 
A novel concept for reducing car traffic, and hence air pollution in European cities, called the "15-minute city" – where essential establishments and services can be reached by a 15-minute walk or bike ride – is being egregiously described by climate change deniers as a communist-style lockdown on personal freedoms. A far-right German politician who is a member of the European Parliament said that people in 15-minute cities would be assigned QR codes so they can be tracked by the government.
Unable to contradict the preponderance of scientific evidence, some powerful interest groups have changed their modus operandi in order to delay the implementation of climate policy. They have switched from "science denial" to "solutions denial," claiming that solutions to slow climate change will not work. 
Where is the money behind these false propaganda coming from? Although outright climate deniers are a minority, their tactics and tenor are supported by the fossil fuel industry, which spends billions of dollars to wage a coordinated campaign to influence public opinion against climate science and climate action. Some donors of the deniers are Donors Capital Fund, the Exxon-Mobil Foundation, Vanguard Charitable Endowment Program, American Petroleum Institute and Koch Affiliated Foundations. 
So what can be done to counter the cock and bull stories of this breed of climate change deniers? In order to counteract their irrational arguments, social and traditional media could do more to broadcast the views of experts, who are generally trusted by the public. Also effective will be preemptively refuting their falsification of proven scientific facts. These will help the public develop analytical skills to detect misinformation on their own.
---
Dr Quamrul Haider is professor emeritus at Fordham University in New York, US.
---
Views expressed in this article are the author's own.
---
Follow The Daily Star Opinion on Facebook for the latest opinions, commentaries and analyses by experts and professionals. To contribute your article or letter to The Daily Star Opinion, see our guidelines for submission.