The devastating shades of intimacy after assault
Trigger warning: This article may be upsetting for survivors of sexual assault.
I need to take a shower. Every night, the same thought barges in unannounced and unwanted. It crawls under my sheets, makes its way into my toes and writhes into the pit of my stomach, quickly and cancerously spreading to all my extremities, turning them cold and blue. It dyes my heart and head with shades that are replete with horror, panic, and shame. The thought presents itself with such authority and obstinance that I have no choice but to comply. And so I drag the weight of my thoughts to the washroom, and put myself in the shower.
Hot will not suffice – the water needs to be scalding. It needs to be red, scorching, and boiling with anger, enough to burn his sins away, enough to leave no trace of it on my skin. Sins that I've been carrying in my thoughts, my throat, my prayers, my nights, and my relationships for 22 years. Sins that have only become more stubborn with the passage of time. The water needs to burn me so that I know that, just like me, it is also on fire. A fire that can set ablaze and turn into ash the filth and dishonour that demand to be washed away from my back, arms, and legs. It has seeped into the fluids in my spine, broken into the ligaments that hold me together, and poisoned the blood that keeps me alive.
My skin is raw, with splotches of scarlet travelling from my thighs to my ears. My feet give away and my hair can't handle the heat or my trauma – it falls out in lumps. I turn the tap off for now, knowing that, albeit only a fugitive ease, I'll be back under this shower tomorrow, the next night, and the night after to wash his touch off of me.
I'm tracing my steps back to how I ended up here tonight, again. I know the answer: It was sex. Physical intimacy that was consensual, respectful, safe, one of the purest forms of love between my partner and myself, but nonetheless sex. It was the trigger because my introduction to physical intimacy was at seven years old, and because it was assault, an act of violence, the most infernal form of evil. And it will continue to provoke me in debilitating ways, because this violence has pillaged my authority over my body, my strength, and spirit.
Over the years, my relationship with my body has been a contentious and shame-ridden one. I've always felt the need to hide my curves and cover my skin, and before I had even hit puberty, I took on the onus to fend off unwelcome stares by making sure there was quite literally nothing to see. I stopped wearing skirts after these incidents, because skirts had been easiest for him to access, and where's the guarantee it will not be the same for others? That's the first marker of when I lost autonomy over the most important thing that was physically mine: My body.
The foundation of my relationship with my body was laid on volatility, dishonour, mistrust, and a need to constantly and destructively hide myself. And until now, that has robbed me the pure joy and freedom that comes with intimacy. Not only the physical kind between partners, but the ones that are platonic, built on years of trust and friendship. The type of closeness that hides in the nooks of life, over strands of hair tucked behind your ears, over sleepovers and endless cups of cha, over whispers under the stars where you bare your heart, over the smallest and most beautiful gestures that make life extraordinary, spectacular and worth living.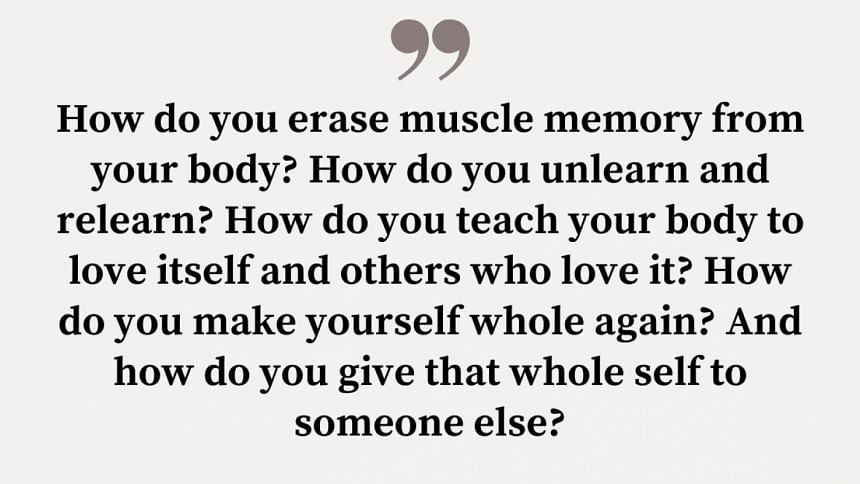 There is an ocean of difference between the sexual abuse I endured as a child and the physical relationship I have with my partner today – they live on the opposite ends of the orbit. If the first induced the ruin of my childhood and sense of self, then the other is what protects me; it's my redemption and connection to the person I love the most. But the body has a language of its own. Its memory is powerful, unforgiving and constantly in remembrance of the injustice that was carved on it. How difficult must it be then, to treasure an act of intimacy whose shades are woundingly similar to the ultimate crime committed against it.
On my worst days, any type of physical intimacy ends in hellish claustrophobia; I'm buried under layers of shame, wrapped in an endless cycle of revulsion at my body, and I can't escape. I'm submerged in a primal need to peel off my skin, as if physically discarding the layers he touched is the only thing that will give me solace and set me free. Every time someone touches me, it sets my spine aflame; I fail to register who I'm with and the safe space I'm in. It leaves me seething and exasperated, because it seems like the more time has gone by, the more I have lost. I'm frustrated at the nagging thought of being left behind, and am constantly looking for answers as to why 22 years have not been enough to address what happened and move on. What am I doing wrong? And what should I be doing so as not to be stuck in an endless cycle of regression?
The answers fail me. I've attempted to implement every solution, each time with renewed vigour, and each time it ended in more heartbreak and frustration. I'm in quicksand. I've been with my partner for 15 years, and we've been married for seven of them. Fifteen years is half my life; half a lifetime of love, respect, kindness and trust has not been able to overpower the diabolical violence against me and my childhood. It has and continues to cost me so much of my relationship that should be pure and protected.
I've learnt that more than sex, intimacy lives in whispers and murmurs, in the most unassuming and quiet moments of life, ones you share with your lovers, your friends and parents. Sexual assault has rampaged those corners of my life. There's no respite. It shows up as jolts when someone taps my shoulders, a cloud of paranoia when I'm in the lift alone with a man or need to stay someplace that's not my own house, an inherent distrust of people. Bouts of unease at compliments, ridiculous panic when I'm not fully covered, distress from a peck on the cheek. Smiles from a stranger, an act of kindness, walking back home, opening the door for delivery boys are all unreasonable, unjustifiable triggers. The little things that mean the most are all lost to me. 
The decision to have children is also an act of intimacy. I've run away from this decision my entire marriage. The responsibility of another life is the biggest, most daunting and exciting one anyone can take, but to top it off with a parent who is incessantly plagued by a fear of sexual abuse? That type of inherent, primal dread destroys not only the parent, but also the child. How can I protect a child if my unbelievably precautionary and incomparably vigilant mother couldn't protect me, and her mother couldn't protect her? The cycle is generational, systemic, endless and rigged. There's no running, no escape. Another shred of intimacy taken away.
How do you reconcile the guilt and shame? How do you demarcate between right and wrong? How do you let go? How do you erase muscle memory from your body? How do you unlearn and relearn? How do you teach your body to love itself and others who love it? How do you make yourself whole again? And how do you give that whole self to someone else? How do you prevent the past from terrorising your present and future? How do you end the grief that is always waiting for you? How do you recover? How do you escape the trauma, forgive yourself and move forward? How do you let love in?
As of now, all the shades of intimacy are dark, pitch black. They are coloured with tones of dread, shame and an endless palette of horror. They are devoid of earthy scents, the cool breeze of winter mornings, the safety of home, a flicker of hope. The shades are broken. But the broken cracks are where the light comes in. And it is for the promise of this light, however faint, and for the hope that this is not the end, that there will be better days and brighter shades, that we move forward.
Sara Rashid, based in New York, is interested in how religion and politics shape art in South Asia.