My love-hate relationship with Eid natoks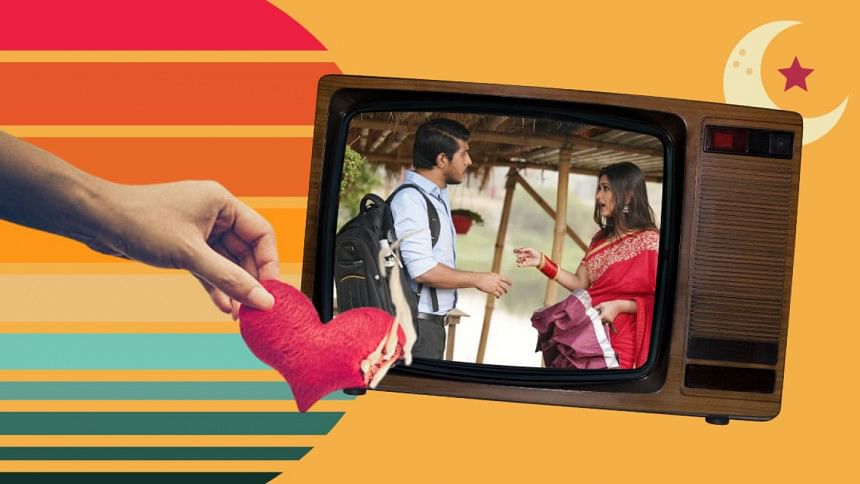 If you tune into a Bangladeshi TV channel this Eid, chances are you'll come across a natok with poor audio, subpar dialogues, and odd-edit choices - nothing too surprising. But a great script can dwarf all these flaws, because after all, it is the story that stays with us.
So, are these stories actually good?
Humayun Ahmed's works in the 90s and 2000s had set the bar for natoks as a form of entertainment. From a technical perspective, the filmmaking was rudimentary, but the stories left a lasting imprint. And that is why his natoks are fondly remembered to this day.
For years, writers and directors rode on Humayun's cultural wave, trying to emulate his style, producing thought-provoking content. I have a blurry memory of a late-2000s natok in which a dead man residing in a white room, was trying to look back upon his life – the many trials and tribulations, lost love, new joys and all the mundane things that make up life itself. And then there was the one where people trapped in a lift started sharing their deepest, darkest secrets, thinking that they would die soon anyway. Surprise, surprise - the lift started working in the end after all.
Even though there were some duds, those really were the "good old days" for lack of a better word.
But then one telefilm Bhalobashi Tai depicting multiple parallel romantic storylines that aired in 2010 changed it all. It was all the rage back then. It gave birth to the "Valentine's Day on Eid" phenomenon. Bhalobashi Tai Bhalobeshe Jai, the sequel, helped the wave of romantic natoks gain further momentum. Producers were quick to jump on the bandwagon, heralding an end to the era of thought-provoking natoks. The youngsters were the target audience and all they want (according to content creators) is to be loved. This is what brought the boom of "modern" romantic stories showcasing the youth, their beloved social media and with dialogues heavily interjected with hip lingo like "bro", "dude", and "swag".
As a teen back then, it did appeal to me because of their novelty and I, too, wanted to be loved. But soon enough, the novelty wore off.
And then came another telefilm, All Time Dourer Upor, where three friends embark on an adventurous trip outside Dhaka. After this aired in 2013, Eid and Valentine's Day were both full of natoks centring the misadventures of a group of friends where they do "cool stuff" like riding on top of trucks and face dangerous (with the right dose of comedy) situations. Oh, and don't forget about romance; that can't be excluded.
And how can I forget the hundreds of natoks where men with regional dialects were the only source of jokes, along with dialogues dominated heavily with cuss words to pander to youngsters. By now, we all know that it's all about the money; whatever sells gets produced. And rehashing the same formula is the easiest way to rake in the cash.
I don't want to criticise the technical side of natoks. In a conversation with a director, I learned that budgets of mid-tier natoks are so tight that they have little money left to focus on lighting and quality sound recording. Many of these natoks are completed in mere days, because more days equals more costs. But what I want to criticise are the unoriginal concepts, writing, and editing, which largely depend on skills.
Around 2017, I stopped watching natoks, although I didn't want to. But I couldn't bear going through hundreds of generic romantic adventures to find one or two gems. On YouTube, there are natoks with hundreds of thousands of views, some even millions, and yet you can't trust the numbers.
But after all these years, is everything still the same? I'm glad to say that the winds of change have arrived.
Over-the-top (OTT) content has heralded in a new era. Right now, the second season of Mohanagar is the talk of the town. The first season, which showed the dark underbelly of Dhaka, received great response. Other noteworthy contents include the first season of Karagar which was loved by many, and my personal favourites are the anthology series Unoloukik and Jaago Bahey.
These shows have great writing and film making, high-quality production since they have bigger budgets and better talents. Most importantly, they make you think; you don't need to turn off your brain anymore. Other than that, the good news is natoks that air on TV have also improved since they are also trying to keep up with the content being pushed through OTTs.
Natoks have gone from the enlightened era to the dark ages, and now here, to a period of experimentation and proper storytelling. And I'm glad to be part of this wild ride.
Shoaib Ahmed Sayam is a sub-editor of City Desk at The Daily Star. He can be reached at [email protected]