Bangla natok and chill
How streaming can change our media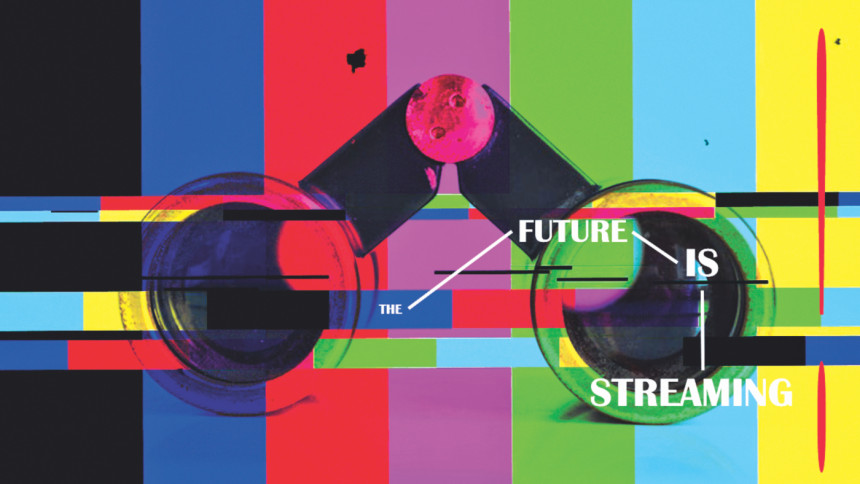 For the longest time, I've been hearing people's complaints about the Bangladeshi media industry. There are too many channels with too little quality content, the artists aren't treated fairly, and there seems to be no end to the commercials. But the industry is slowly evolving with the advent of the digital medium, which does not plague viewers with ads and brings in quality content, albeit with a higher price tag. Will digital platforms be able to transform an industry that many think is broken beyond repair?
There are over 40 privately run TV channels in the country, of which four are news channels, one music channel, and one is for children. The rest are all the same—a gruesome mixture of news, drama, films, reality TV, celebrity talk shows, political talk shows, and "phono live". The lack of originality is shocking. For example, if you turn on the TV late on a weeknight, you'll find some middle-aged men arguing over the state of the country. You might find that too stressful, so you decide to switch channels. You'll see that every channel is broadcasting a similar show. The only variety is in the men's hairlines.
Frustrated with the repetitive content on local channels, people found a multitude of alternatives. One segment turned to Netflix and Amazon Prime. Afifa Tabassum Tinni, a PhD student in the UK, says she was once a big fan of local television. "I grew up watching Humayun Ahmed's sitcoms and in the early 2010s, I really enjoyed watching telefilms that leaned on the side of comedy. Watching Eid-er natok with family was something we all used to look forward to," she said, "Then one fine day there was a sudden increase in quantity and a huge drop in quality. I had to resort to foreign content, to be honest."
Nazia Rifat, teacher at a private university, echoes this sentiment. "I used to eagerly wait for Ekanno Borti and 69 episodes back in the day. Nowadays, I hardly ever turn on the TV unless there's a Bangladesh cricket match." She adds that she gets most of her entertainment from YouTube on her mobile, and sometimes watches movies on Netflix.
"The last Bangladeshi drama I watched was on the YouTube app. It was an Eid special someone recommended," she said, "I think my smartphone is the reason I stopped watching TV altogether. Social media apps and YouTube are enough to pass the time."
Tinni, however, mentions that she still tries to find good Bangladeshi content on YouTube, like many other viewers I spoke to. "I think there will always be a fanbase for Bangla natok, especially in my generation. There are thousands of telefilms on YouTube, yet I see only a handful of actors rotating on each show. My friends and I try to filter out the good ones, we're still loyal to deshi content."
YouTube is simply convenient for the audience—they can find makeup vlogs, cat videos, and Bangla telefilms, all in one place for free. Director Ashfaque Nipun weighs in on this, "I don't think you will find another media industry as dependent on YouTube as ours. People want to watch for free, and producers have allowed this practice for years now." "Generally, shows are made for a specific medium such as film or TV. After the initial release, its rights can be sold to several platforms, from where every person involved in production gets a cut," Nipun explains. "But in Bangladesh, the practice has been different. The show is uploaded to YouTube soon after its release, and it yields very little income for the producer."
Despite the convenience it offers, YouTube is not a sustainable platform. Streaming sites are the logical alternative, with an added fee. There is a section of the audience who are more than willing to pay for streaming, but they prefer international content on Netflix and other such sites more.
"Our service isn't quite geared towards people who already have Netflix subscriptions, because they won't find Bangladeshi content to be on par with the shows they watch," says Rean Rahman, country head of iflix in Bangladesh and Sri Lanka. "Our viewers are of the middle, lower middle, and skilled working class. They watch around two+ hours of iflix every day."
iflix is a Malaysian streaming platform that launched here in late 2017. Its business model has changed significantly since then—it is no longer partnered with a telecom company for special offers, and most of its content is free, as is creating an account. The site currently uses a freemium model—according to Rahman, 90 percent of the content is free but there are ads.
Two other popular sites, BongoBD and Bioscope, follow a similar model where most of the content is free. But Bioscope has a different roadblock to subscription in Bangladesh—you cannot access premium content without a Grameenphone SIM. This is bad news if you don't use GP and weren't able to catch the movie Debi in theatres. However, premium subscription can be purchased with a credit card if you are outside Bangladesh. Telecom company Robi's streaming platform RobiTV is even more inaccessible—you cannot even check what content they have without a Robi number. This monopoly of telcos over their content alienates viewers who might have been interested in a subscription.
When asked whether or not this roadblock limits their audience, Zaki Md Adnan, growth, content and marketing lead of Bioscope, reasons, "Grameenphone has the largest user base of over 75 million in Bangladesh. We want to serve Grameenphone users with the best content." Based on data provided by the company, however, Bioscope only has an approximate of 150,000 users daily.
Meanwhile, Ahad Bhai, founder and CEO of BongoBD, hopes to make Bangladeshi content available to everyone. "When we started out in 2013, Bangladesh didn't even have 3G internet! People struggled just to watch a music video. So when we approached people asking for digital rights, everyone thought we were crazy."
Ahad mentions that the major challenges for them were setting up a content delivery network from scratch, and getting approval to bill people through mobile financial services. "Currently there are around 75 million people who watch BongoBD around the world. Getting consumers to pay is still not easy, because they are so used to free content. The availability of internet and the price of data packs also affect people's willingness to pay."
Despite best efforts, most of the free content on iflix, Bioscope, and Bongo BD are also available on YouTube. Rean Rahman of iflix notes that this is not a major issue, as iflix also has a huge inventory of foreign content that isn't available elsewhere. "As this is an international platform, the infrastructure is strong with high quality streaming. We put subtitles and offer Bangla audio for Turkish or Korean shows, which helps us attract consumers," he said.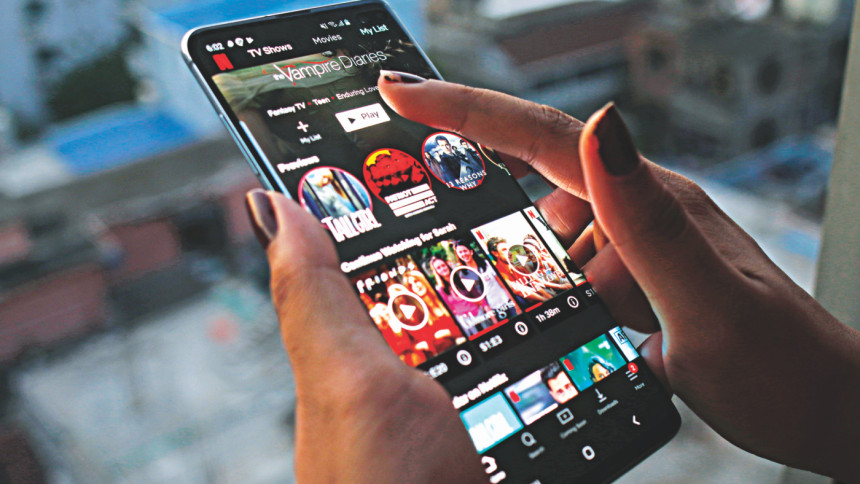 Meanwhile, Bioscope and BongoBD's workaround to people's fondness of YouTube is to acquire exclusive streaming rights or produce original content. "Back when we started, we used to upload on YouTube and from there we built a strong user base, which has now moved to BongoBD's website. We have seen that people are slowly warming up to the idea of paying for premium content, but that content has to be exclusive to our site. So copyright control and anti-piracy are very important to us," says Ahad.
Nipun mentions that streaming sites can offer a world of possibilities to creators. "Producers already know they can earn a fair amount from these platforms. Further incentivisation can be done in a number of ways, firstly by increasing production budgets. The budgets provided by TV channels cannot be considered the standard, because that low budget has been a major reason behind the drop in quality that audiences complain about."
Indeed, a higher budget might allow creators to explore different genres such as horror and period shows, as viewers have grown tired of romantic plotlines and stereotyped characters.
"The scope and scale of streaming sites should not be limited to a few users of a specific SIM card—if more people watch a show, it encourages the creator to continue the good work. Most importantly, the writers of our industry must be empowered. Good writing is at the heart of every successful TV show, yet this skill is not valued by the industry," adds Nipun.
Film producer Esha Yousuf of Aynabaji fame, says she finds that streaming sites offer more creative freedom. "You will find some of the content online to be more brave and unusual. Filmmakers and writers know they have the freedom to tell their own stories here, they are free to experiment."
Rahman mentions that iflix does performance-based acquisitions and offers 50 percent of ad revenues to the creator, but their main focus remains on foreign content; Adnan says that the biggest incentive for creatives to put content on Bioscope is the opportunity to build a "partnership with the strongest digital distributor in the country."
Ahad Bhai, however, has a slightly different take on the issue—he is trying to build a content ecosystem surrounding BongoBD. "Unlike YouTube, we offer creators more variety and control over monetisation. We are purely local, so we can work within the industry to bundle content with campaigns or advertisers, and offer content on a subscription, pay per view, or ad-based model."
According to Ahad, BongoBD also offers a full support team that handles analytics, production and post-production, legal issues, and marketing. He said that honesty and transparency are crucial for building a relationship with content creators, as issues such as payment disputes and copyright violations are rampant in traditional media. "Without the creators, this business will not flourish," he adds.
Apart from the ones mentioned, there are multiple other local and foreign streaming sites that offer Bangla content, such as Hoichoi and JagoBD. Esha Yousuf thinks streaming sites can build a bright future for the Bangladeshi media industry. "As a creator, I do welcome competition," she says when asked if there are too many streaming sites for such a small industry. "Healthy competition can drive quality and bring more creators to the forefront."
But too much of anything can become a curse for everyone from advertisers to producers, actors, and viewers, as the mushrooming of private TV channels has proved. Even in the international arena, there are fewer players in the streaming market than our local industry. The subscription model, along with exclusive content that rewards both the creators and the audience, seems to be the only way to revive an industry that has fallen into a vicious cycle of ads and repetitive shows. It remains to be seen which of the sites manage to sustain the model and earn a profit.
Aanila Kishwar Tarannum can be reached at aanila.tarannum27@gmail.com.