Morocco's success and the 'global' sport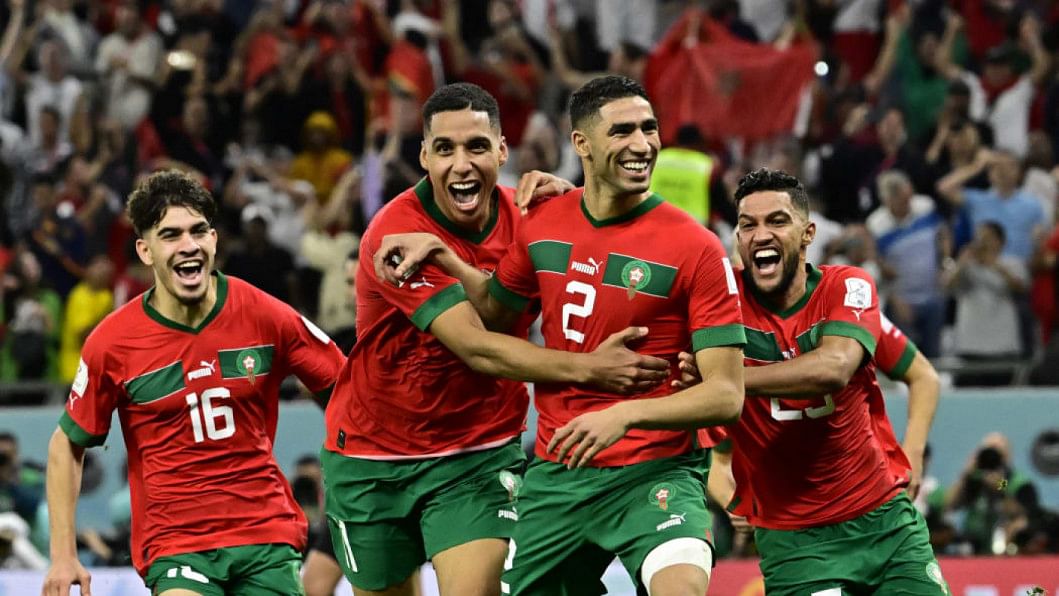 Football's claim to being the global sport has strong merits. FIFA is an international organisation with more members than the United Nations, and the football World Cup is one of the top two most watched sports events in the world. Even the national leagues in England, Spain, Germany and Italy are enormously popular outside their borders. The chequered football made of sewn black and white pentagons, despite its relatively late adoption in 1970, is recognisable to any child anywhere in the world who has a notion of what sports is. But when you realise that it took 92 years and 22 tries for the first African nation to reach the semi-finals of a FIFA World Cup, it makes you want to examine this "global" sport.
Morocco may as well have been the first non-European and non-South American country in World Cup semi-finals, but that credit goes to a distinct anomaly. USA finished third in 1930, in the first ever football World Cup. In more modern days, it was last done by South Korea in 2002, in their own backyard. Success in the global sport seems to be universal in two continents out of six, leaving others in relative irrelevance. Why is that?
Well, of course, it has everything to do with who came up with the sport and who ran it. Professional football developed in Europe and exploded in South America. FIFA has only ever had European men as presidents, other than the one Brazilian (also a man) who ran it for 24 years. That is concerning, given FIFA's (admirable, on the face of it) policy of allowing every member to have one vote in elections, regardless of footballing prowess or tradition. The Netflix documentary FIFA Uncovered explains how this international governing body for the sport exploited this situation, morphing into a cartel of sorts where power is held onto as long as possible, where votes are bought and sold with money.
This money is most often disbursed to lower ranked teams from poor countries as "development funds." But money ill-begotten is often ill-spent, and seldom do these funds make their way to the grassroots. This process powers a toxic cycle, where poor nations with lower FIFA rankings tend to stay there, while the people representing these nations line their pockets, and FIFA keeps on being corrupt. The European and South American nations with rich footballing traditions generate their own revenue to keep the sport alive and well in their own countries, and it's nigh impossible for anyone else to emerge.
But this doesn't change the fact that football really is the global sport, because it's loved globally. Every country has football fans, if not a proper football league or a national team, and each and every one of those fans dreams of seeing their nation represented on the global stage. Most live and die without ever seeing that dream realised.
But Morocco did it; they found a way, and the way they did it may just be an inspiration, if not a template, for other teams outside of Europe and South America. Morocco's 26-man squad has 14 players born in foreign countries, including some of their best players. Hakim Ziyech and Sofyan Amrabat were born in the Netherlands, Achraf Hakimi in Spain. Defender Roman Saïss and even the coach, Walid Regragui, were born in France. They all have ancestors who were from Morocco, and they chose to play for the North African country. Clearly, they chose well. The Dutch crashed out of the World Cup in the quarter-finals, Morocco knocked out Spain themselves, and now they line up to face France in a semi-final, for a chance to play Argentina in the biggest game of all.
The brand of football Morocco played to get here has had European flavours as well. They have been tactical, nullifying opposition threats, and taking their own chances to score, as opposed to previous African teams who would play exciting football to go out in a blaze of glory. Contrary to Spanish midfielder Rodri's claim that "Morocco offered absolutely nothing," Morocco have actually offered a lot. The tactical know-how of beating technically superior teams is an invention of the Italians of the distant past, or the Portuguese Jose Mourinho in modern times. Morocco applied their own spin on it, based on the players they had and the challenges in front of them, and look at them now!
If you look at FIFA and football administrators at the top, I think their interpretation of why football is the global sport would be that it makes money globally. But if you asked players and fans, I think they would say that it's global because it's played globally, because the truth of football being accessible to anyone with a round thing to kick and a stretch of grass to run on applies to all nations across the world. If that is the case, why should the story of non-European and non-South American success in the World Cup be so limited?
It's clear that Morocco have found their method, their way forward, and football's universality and global appeal – as a sport and not a business – ensures that other nations will too.
Azmin Azran is editor-in-charge of SHOUT, The Daily Star's weekly youth supplement.