Mahbub Talukdar: A Lonely Sherpa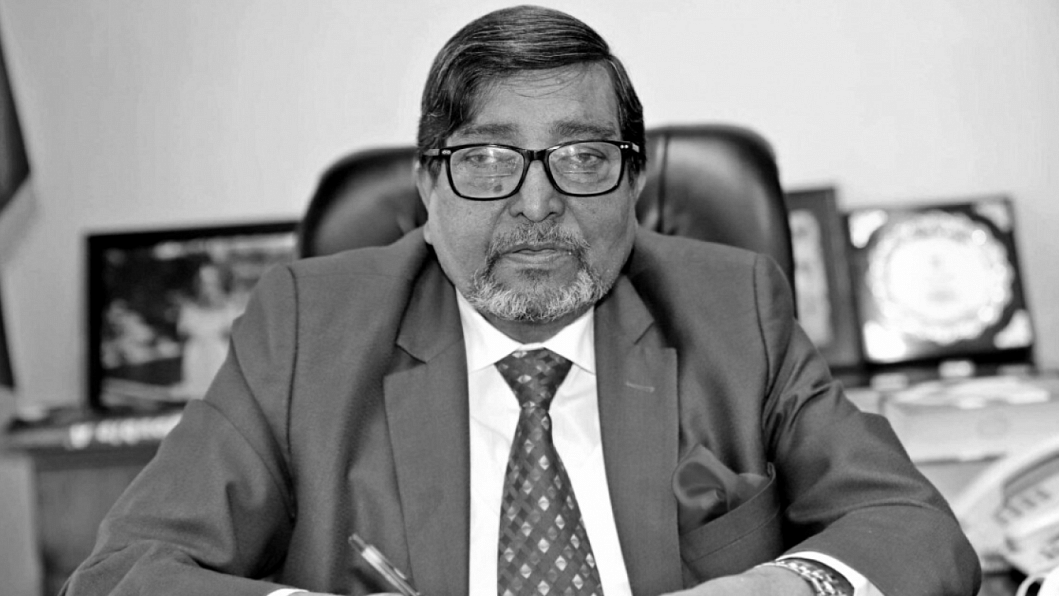 An election commissioner in Bangladesh usually does not have a positive image these days. But Mahbub Talukdar was an exception. He spent the entirety of his five-year's tenure under strict and difficult conditions. The Election Commission (EC), headed by Chief Election Commissioner (CEC) KM Nurul Huda, did not have a good impression; rather, it lacked public trust and was known to be the EC of overnight voting and voterless polls.
Being a member of such a controversial EC, Mahbub Talukdar had a completely different impression among the people – that he performed his duty with integrity and sincerity. Staying true to his commitment towards the people of the country, he spoke the truth at all times, despite all the difficulties he faced. He boldly stated what others did not, pointing out the flaws in our electoral system, criticising overnight ballot-stuffing, which elections were rigged, and how democracy was under duress. He was one of those rare people who did not hesitate to call a spade a spade.
Before becoming an election commissioner, Mahbub Talukdar was well-known as an author. One of the country's finest authors, he wrote stories, poetry, children's poems, novels, plays and research-based articles. He wrote for almost all the top newspapers in Bangladesh. The weekly Bichitra magazine used to publish his novels in its heyday.
His identity as an author was overshadowed to some extent when he became an election commissioner. Two of his books, Bongobhobone Paanch Bochhor and Amlar Amolnama, can be considered as valuable documents on the power structure of Bangladesh.
It is known that Mahbub Talukdar was the assistant press secretary of Bangabandhu Sheikh Mujibur Rahman's government. After forming BAKSAL, Bangabandhu told him to stay with him. Like many others, he too received Bangabandhu's affection and care.
After Bangabandhu and most of his family members were brutally killed on August 15, 1975, Mahbub's luck ran out. He was made an OSD (officer on special duty), demoted, and subjected to injustice and unfair treatment. He wrote in his book Amlar Amolnama, "Being made OSD after the change of regime in 1975 was a matter of pride for me. It is as if I finally got the seal of approval. When Bangabandhu and his family were killed, accepting this minor inconvenience made me feel compassion. It seemed like a natural occurrence. Later on, I realised that nothing could be more honourable [than being made an OSD] for standing by Bangabandhu. I would not have cared if I lost my job."
Mahbub Talukdar transcribed Bangabandhu's autobiography. Bangabandhu narrated, and he recorded and wrote. Covering the events in Bangabandhu's life from his birth till 1954, a manuscript of 300 pages was typewritten and prepared. Mahbub left the manuscript at his office on August 14, 1975. He could not retrieve it after August 15. Later on, Ershad burnt many documents from Bangabandhu's time in the government. It is assumed that the manuscript may have been among the documents that were reduced to ashes.
As his assistant press secretary, it was Mahbub's responsibility to record each and every one of Bangabandhu's speeches. He preserved speeches recorded in spools, many important documents, personal letters written to Bangabandhu, Pakistani intelligence files on Bangabandhu and many other archival materials. He handed all of these over to Prime Minister Sheikh Hasina in 2019. He mentioned all this in his unpublished book Nirbachonnama.
As an election commissioner, Mahbub Talukdar was depicted as anti-Awami League and pro-BNP. It is true that BNP had suggested his name for the Election Commission. When I spoke to him about this, he said, "I heavily criticised Ziaur Rahman in my book Bongobhobone Paanch Bochhor. I was made an OSD for 1,223 days during Khaleda Zia's regime. I was close with Bangabandhu, Sheikh Kamal, Dr Wazed Miah, Sheikh Moni and others. It pains me to speak against Bangabandhu's daughter Sheikh Hasina. But I have no other option if I think about the country and the nation's best interests. She is taking the country towards an unknown destination with fabricated elections and an authoritarian rule."
He elaborated on these thoughts in Nirbachonnama.
In 1971, Mahbub was a student of Dhaka University. Soon after, he went to Kolkata and joined the first government of independent Bangladesh under Tajuddin Ahmed's leadership, working with the information ministry. He retired as an additional secretary in 1999. Throughout his career, Mahbub worked as the director general of many institutes including Bangladesh Shilpakala Academy. He also held critical secretarial roles in different ministries.
In the initial days of his career, Mahbub was a journalist working in The Daily Ittefaq. He also taught at the then Jagannath College, Bangladesh University of Engineering and Technology (Buet), and Chittagong University.
Mahbub Talukdar was an organised, skilled, efficient and industrious individual. He did not confine his work to the role of election commissioner. He wrote a 1,200-page book detailing his observations, incidents of injustice and anomalies and incidents happening behind the scene during his tenure.
"This book cannot be published while I am still alive. It contains highly sensitive information. It will be published posthumously," he had said.
When Mahbub joined the Election Commission, he knew his days were numbered. Cancer had spread throughout his body. He contemplated his remaining years, but did not waste them thinking about death. He utilised every waking moment.
For five years in the EC, Mahbub Talukdar was like a lonely Sherpa. While the EC almost always maintained a servile attitude, he was an exception. He showed that there are still some people who have backbones, who can still take a truth-faring stance and challenge the overall status quo. Mahbub Talukdar's acts enraged the people in power, but gained people's love.
Mahbub was a man of many talents. He was a dependable bureaucrat, a skilled administrator, and a powerful author. The people of Bangladesh will remember him for his courage, firm stance, truthfulness and honesty.
Translated from Bangla by Mohammed Ishtiaque Khan.
Golam Mortoza is the editor of The Daily Star Bangla.