Kennan's 1946 'Long Telegram' from Moscow: Is it relevant for Beijing?
Coexistence, not containment, should be the way forward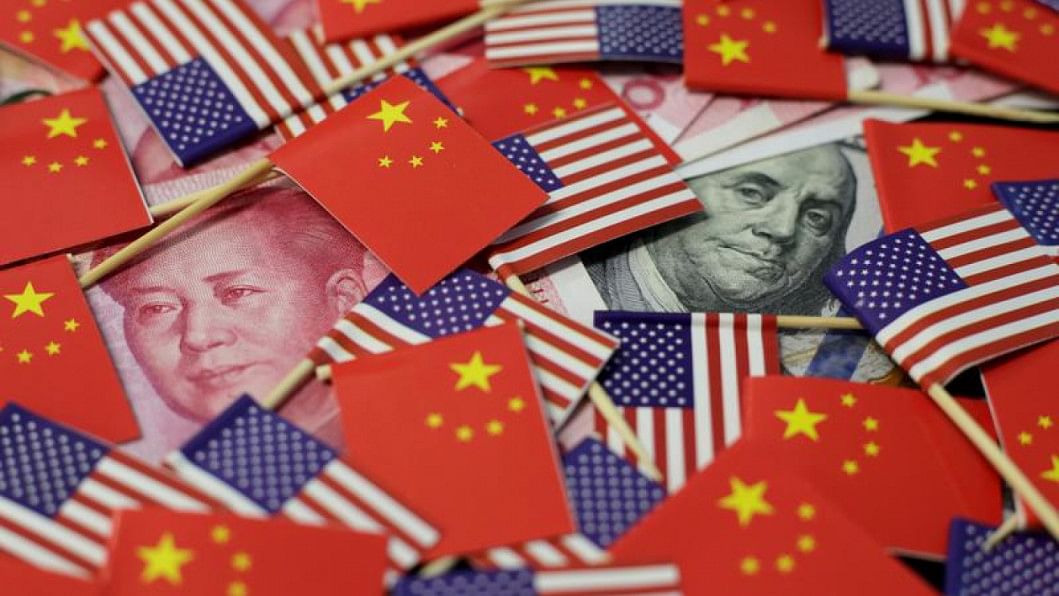 On February 22, 1946, George Kennan, American chargé d'affaires in Moscow, sent an 8,000-word-long telegram to his State Department bosses. Later known as the "Long Telegram", it became the most influential foreign policy paper for dealing with the communist state. It helped articulate the US government's increasingly hard line against the Soviets and became the basis of the US Cold War policy toward the Soviet Union. In 1947, Kennan wrote an article titled, "The Sources of Soviet Conduct", arguing that its regime was inherently expansionist and that its influence had to be "contained". It deeply influenced President Truman who adopted a "containment policy" to stop Soviet communism's expansion. Kennan argued for isolating the Soviet Union and waiting for it to fall under its own weight, which it eventually did in 1991.
Meanwhile, in 1978, China launched its economic reforms under Deng Xiaoping. Riding on its economic success, Beijing bolstered its military muscle as well. Xi Jinping, after becoming China's president in 2012, undertook renewed measures to build an army to "fight and win" global wars. In 2013, he launched the ambitious Belt and Road Initiative (BRI) to build large infrastructures in Asia, Africa, Europe, and other regions.
The rise of an assertive Beijing alarmed Washington. In 2015, President Barack Obama undertook a rebalancing of power toward Asia. Containing China became America's major policy issue. In December 2017, the US declared China's rise a military threat and launched the China containment policy by borrowing a page from Kennan's playbook.
The policy extended to the tech sector as well. In 2012, an American congressional investigation concluded that the equipment of Huawei, a Chinese tech giant, could pose a threat to US interests. Accordingly, President Obama banned companies from using Huawei's products. Biden intensified the tech war by including semiconductors in it. Washington also persuaded its allies to adopt the same policy towards Beijing's tech initiatives, turning it into a global tech war. Biden signed the CHIPS and Science Act in August to increase American hold on the semiconductor industry. He also launched the Chip 4 initiative involving Taiwan, Japan, and South Korea, with an express aim of keeping China out of this crucial technology.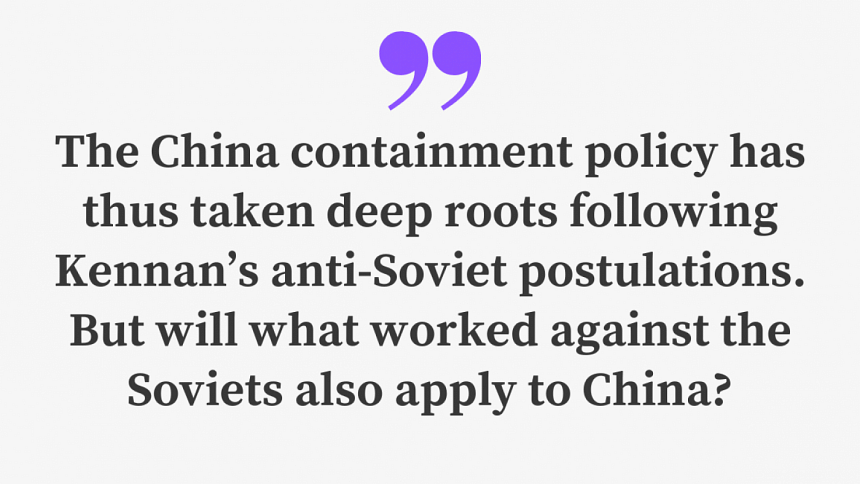 The China containment policy has thus taken deep roots following Kennan's anti-Soviet postulations. But will what worked against the Soviets also apply to China? On the surface, there are some similarities between the two; both are under authoritarian regimes, and both are founded on the same communist idea. But there are some striking dissimilarities too.
Kennan aptly noted that the Soviet leadership perceived itself at perpetual war with capitalism. The Soviets did not see the possibility of any peaceful coexistence with the capitalist world, and they persistently aimed at advancing the socialist cause. There was nothing in capitalism they could adopt. China, in sharp contrast, did see the benefits of a market economy and used it to its benefit. It opened up international trade and foreign investment and did everything required to take advantage of capitalism's strengths.
Second, China has a long tradition of doing business with adversaries which its rich silk road history shows. As the ancient traders embarked on perilous journeys through the tribal territories in Central Asia, Chinese emperors didn't attempt to bring those territories under their total control. Instead, they made trade more attractive to the tribes than looting or war. The same game is being played today, as Beijing aggressively pushes ahead with its BRI projects. The 11,000 km long train route linking China's Chongqing with Germany's Duisburg, which opened in August 2012, is carrying tens of thousands of containers each year (currently, an alternative route is used bypassing Russia due to the Ukraine war).
Third, China is intricately connected to the international trade and economic system, making it almost impossible to isolate it without harming the global economy. It became the world's largest exporter of goods in 2009, and the largest trading nation in 2013. In 2017, its share of global goods trade rose to 11.4 percent (from 1.9 percent in 2000). It is also the largest export destination for 33 countries and the largest source of imports for 65. It received the second largest Foreign Direct Investment (FDI) from 2015 to 2017. China was also the world's second-largest source of outbound FDI over the same period. In 2019, 1.2 million American jobs depended on exports to China of which 245,000 were lost after the start of the trade war. China accounts for a third of Germany's car sales. Almost 40 percent of Australian exports go to China. Beijing controls 90 percent of the supply of processed rare earth minerals that is essential for refining petroleum and making advanced weaponry, high-end electronics, electric vehicles, and wind turbines without which the modern economy will crumble.
Unlike the Soviet Union, China is a peer of the US in economic might with increasing tech and military muscle. History has repeatedly shown that wars that were expected to be short and decisive ended up being long and protracted, severely draining both sides. Washington and Beijing know enough to realise that war is not a viable option, but coexistence is. Both sides need to consider the other's realities and reign in the proponents of a war that will be unimaginably disastrous. And finally, each has its history, domestic issues, and political conviction. Understanding that is one good step towards modus vivendi, or coexistence.
Dr Sayeed Ahmed is a consulting engineer and the CEO of Bayside Analytix, a technology-focused strategy and management consulting organisation.