US controls advanced chips, but China has another card
Beijing has control over a vital resource essential for weapons, petroleum and electronics
US defence giant Lockheed Martin's highly successful fighter jet F-35 made its maiden flight in 2006. This sleek flying machine is still in operation with variations such as the F-35A (2015), B (2016) and C (2019). Each such jet contains 417kg of "rare earths," an essential material without which its intricate electronics and weaponry would not exist. But it is the US' foremost strategic rival, China, who controls the rare earths' supply. Beijing realised the importance of rare earths as early as in 1992, when Deng Xiaoping said, "The Middle East has oil; China has rare earths."
What are rare earths, exactly? These are 17 nearly indistinguishable lustrous silvery-white soft heavy metals in the Periodic Table, a scientific tabulation of Earth's chemical elements) such as dysprosium, praseodymium and ytterbium. From jets or weaponry, smartphones, hard drives, electric vehicles and LED lights, to wind turbines and petroleum processing – everything depends on these "touchstones." Rare earths provide the magical touch to all these products that power today's advanced economies and cutting-edge technology.
China holds 40 percent of the global rare earths reserve, but produces 70 percent of the raw supply. In the technically complex and environmentally hazardous downstream processing, it has near total control – 90 percent. Beijing suspended its supply in 2010 after Japan's navy arrested a Chinese fishing boat captain in disputed waters. Supply resumed after tense negotiations, but the incident sent shockwaves through the Western capitals. Beijing has already indicated that it would consider using control on rare earths against Washington's sanctions. Sending an unmissable message, President Xi Jinping visited JL Mag, a major producer of rare earth-based permanent magnets, once the Beijing-Washington May 2019 trade talks broke down. Almost 60 percent of America's rare earths imports go to the petroleum refining process as catalysts. Its military's dependence on rare earths is just as critical. Jets, Smart bombs, drones, cruise missiles, laser targeting, radar systems, the Joint Strike Fighter programme – all such equipment rely on rare earths. There is no viable substitution yet and a shortage will jeopardise the US' superpower status.
Beijing's threats to weaponise rare earths may, however, backfire. American buyers are already pursuing deals with miners all over the world. There is only one operational mine in the US: Mountain Pass in Southern California. But its part owner is China's Shenghe Resources, which buys all its outputs, and processes and sells them at a premium price.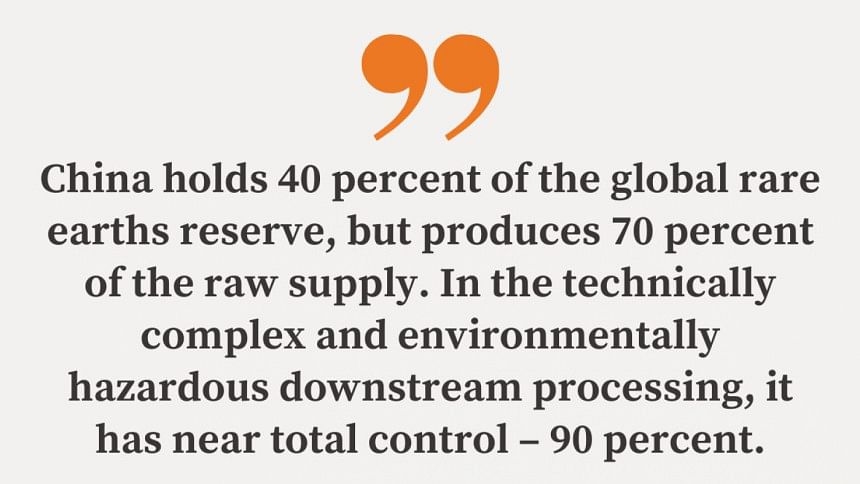 In 2019, the US Department of Defence approached Malawi's Mkango Resources Ltd to extract rare earths. A British company, Pensana, has recently received approval to set up the world's first sustainable rare earth separation facility in the UK. Its mine will be in Angola, which China's Great Wall Industry Corporation will build. Pensana expects to produce approximately five percent of the 2025 projected global demand, which industry experts consider highly ambitious. Africa has become a battleground for nations as they scramble for rare earths and other minerals. Kenya, Malawi, Namibia, Madagascar and Tanzania have carbonite and peralkaline rare earth projects that may start production in the coming years. The US, China, Europe, Japan and Australia are all wooing these governments for access to the mines. But with state backing and finance, China is already in an advantageous position because of its geo-economic influence in Africa and its control over the refining industry. The US could also import rare earths from Brazil (with 22 percent of global reserves) and Vietnam, but that needs a long lead time. Meanwhile, Australia's Lynas Corporation, one of the largest processors of rare earths outside China, with its separation facility in Malaysia, received USD 30.4 million in funding from the Pentagon to build two processing facilities in Texas. However, its Malaysian mine is under scrutiny over radioactive waste concerns.
Beijing is also looking into acquiring more mining rights. As the US made a messy withdrawal from Afghanistan last year, China is eying the USD 1 trillion or so in untapped mineral deposits, including rare earths. The other source is Myanmar, where Beijing enjoys a monopoly. In 2020, Myanmar mined 30,000 tonnes of rare earths. Between May 2017 and October 2021, it exported over 140,000 tonnes to China worth more than USD 1 billion. Beijing is also rapidly moving up the industry's value chain. Its aim is to integrate and upgrade its rare earth supply chain of mining, processing, manufacturing, and deeper applications. Late last year, it merged three companies to form the China Rare Earth Group Co Ltd, an industrial conglomerate that holds almost 70 percent of China's annual heavy rare earth production quota. With stronger financial muscle, the conglomerate can buy up smaller companies and secure mining rights in other countries. Beijing has also added two R&D companies to the newly merged group to facilitate innovations.
Long term-planning has given China 90 percent control in rare earth processing. At least since 2001, it has been investing in Three Ms: mining, metallurgy, and material science. The US, on the other hand, abolished the Bureau of Mines and its Division of Mineral Economics in 1996. Time will tell where the same plan will take China in the coming decades, and how its rare earths dominance will play out in the ongoing superpower rivalry.
Dr Sayeed Ahmed is a consulting engineer and the CEO of Bayside Analytix, a technology-focused strategy and management consulting organisation.