Iranians are not "docile" bodies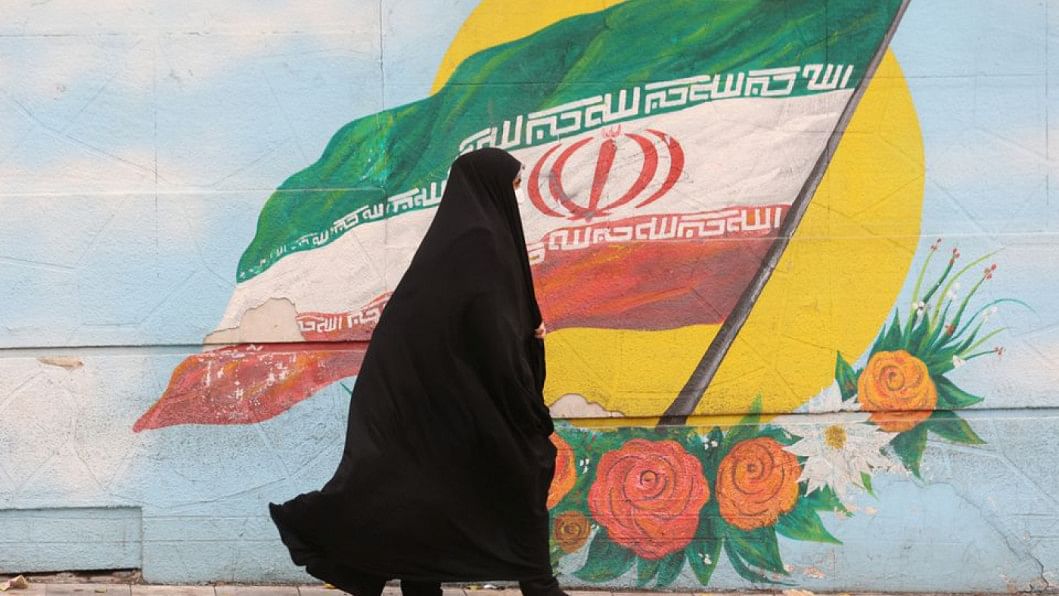 December 25 marked the 100th day since the current women-led revolution broke out in Iran. It feels almost criminal for me, a member of the Iranian diaspora, to be sitting in the comfort and safety of my home in Dhaka, 4,000 kilometres away from the land of my roots, a few hours away from the streets where the lionhearts continue to protest against 43 years of oppression in the face of lethal crackdowns.
What fills me with a sense of pride, though, is knowing with a sense of conviction that even if the Islamic Republic of Iran (IRI) continues to torture and kill revolutionaries, it will fail to crush the indefatigable spirit of the revolution. The IRI is making my people burn, but they will rise from the ashes, and their phoenix-like reincarnations shall pave the path to long-awaited freedom.
The current revolution in Iran is one that will go down in history as evidence that human beings have indomitable spirits and aren't just mere sheep-like, "docile" bodies that abide by the laws of an all-seeing authoritarian shepherd.
The concept of "docile" bodies comes from Discipline and Punish, written by French philosopher Michel Foucault, who claimed that such bodies internalise discipline as a result of constant surveillance, which in turn disallows them to resist. With bouts of resistance since the IRI came to power in 1979, the theocracy continues to attempt to establish its position of power through its exercise of "discipline" (if you can even call it that) among a people who were, generally speaking, up until now, "docile" bodies. But now, those once-"docile" bodies know how to reason un-blindly, and their rationalities allow them to question repressive laws. The un-colonisable mass consciousness enables them to recognise that human dignity cannot be forfeited. Such realisations, despite a knowledge of repercussions, have led to a nationwide uprising that will undoubtedly create a rupture in historic continuity.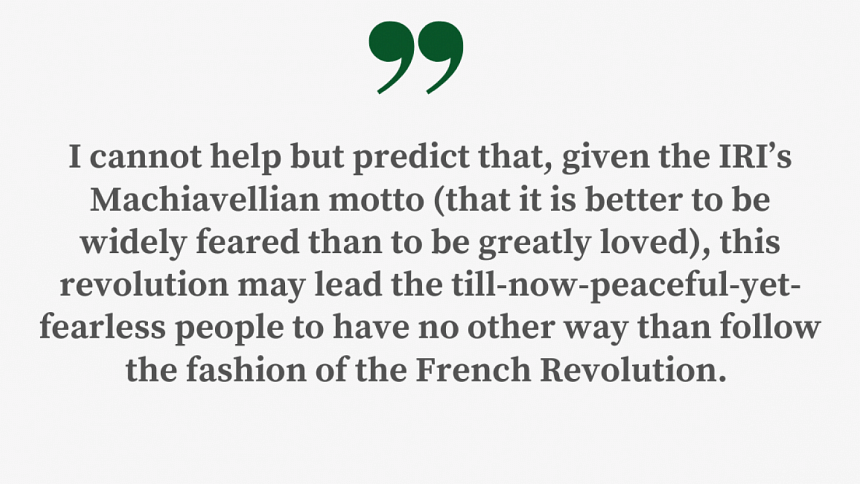 According to the Human Rights Activists News Agency (HRANA), 502 protestors were killed (in state-sanctioned, extrajudicial killings) and 18,452 were incarcerated till December 18, 2022. Death sentences are being handed out like cheap candy for the crime of "Moharebeh" – waging war against God, because apparently, when you go against the Supreme Leader – the Velayat-e Faqih – who is deemed to be the representative of God, you go against God himself.
A few official executions have already taken place. One may wonder how it is that the IRI is executing so many men amidst a women-led revolution. In my view, the IRI is afraid of hanging female protestors because it has already stained its reputation to the point that it has been ousted from the UN Commission on the Status of Women. The IRI probably realises that executing women "officially" will be too inflammatory.
However, they still need to carry out a deterrent to serve as a chilling effect, which is why they hang men while women go "missing," only to be found dead/battered, with bodily signs of sexual assault and other forms of severe corporeal torture. The latest victim is 14-year-old Masooumeh, who, through surveillance technology, was identified as a hijab rebel, taken away by the regime forces, and was later brought to a hospital with severe vaginal tears. She died soon afterwards.
How ironic that the IRI is so hell-bent on enforcing their version of "modesty" that they're willing to resort to rape as a tactic of doing so.
Will the IRI shed every last remnant of its humanity to hold on to its position of power? How many more executions will it take for the international community to realise that the judiciary in Iran is nothing like that of the democratic nations? And that sham trials in kangaroo courts – which the UN calls "grossly unfair summary trials" – end in handing out the death penalty to "criminals" (who have no access to lawyers) based on confessions forced out in torture cells? Why aren't we looking at facts?
Iran has one of the highest execution rates in the world and, according to the BBC, it is the world's second-most prolific executioner that is willing to execute those under the age of 18 – a violation of international human rights law. Why aren't we opening our eyes to this regime's history? What about the mass execution of up to 30,000 political prisoners in 1988? What will stop them now from conducting another one? Or worse, will international pressure make them execute people in secret? Is Captagon or "Jihadi pills" – a psychostimulant that makes users lose empathy – to be more widely used by the regime forces than ever before? Will "white torture" – a type of psychological torture – drive more prisoners to commit suicide?
Not a day that goes by when I'm not moved to tears by at least one video coming out of Iran.
Footage of Mohsen Shekari's mother's ears-plitting shrieks, calling out her son's name outside the prison where he was executed or Farzin Maroufi's father dancing madly with a large birthday cake on his child's grave for his never-to-be-celebrated birthday are only a couple examples.
I cannot help but predict that, given the IRI's Machiavellian motto (that it is better to be widely feared than to be greatly loved), this revolution may lead the till-now-peaceful-yet-fearless people to have no other way than follow the fashion of the French Revolution. As of now, the poorest are among those going on strike, risking the ability to put food on the table for their children, because it's a do or die kind of situation. But for how long?
I mourn for the martyrs, my heart breaks for their families. I fear that the means to freedom may be bloody, but I believe Iran will be glorious once again – a country where I, a member of the persecuted Baha'i community, will not be afraid to go back to. Be omide piroozi (In the hope of victory)!
Noora Shamsi Bahar is a writer, translator, and a senior lecturer at the Department of English and Modern Languages in North South University (NSU).