Inside the chaotic Anuv Jain concert: What concertgoers and organisers have to say
Concertgoers panicked that the event would turn into a life-and-death struggle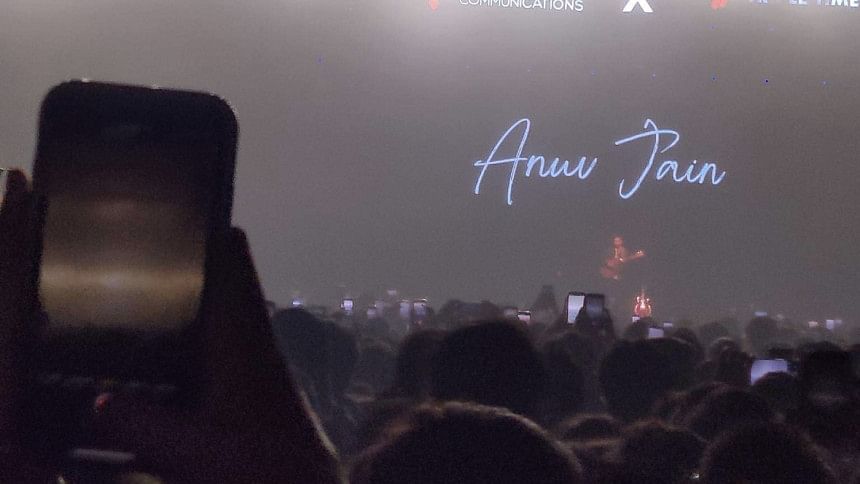 For music lovers, the much-anticipated Anuv Jain "Let's Vibe with Dhaka" live concert on June 1, was supposed to be a night to remember. But in the aftermath, many previously enthusiastic fans are remembering the night for all the wrong reasons: the frustratingly messy circumstances which stole the joy of the show.
Fans have been posting on social media demanding apologies - some demanding refunds - from the event management firms: Adventor Communications and Triple Time Communications. Speaking to The Daily Star, dozens of concertgoers expressed that the situation was borderline deadly: people collapsed when the air conditioner died, some weren't allowed to go outside, while receiving little support from staff inside.  
From poor ventilation, surging crowds, long queues in the heat, poor security, scams and so on — the overall mayhem has led fans to claim the organising companies "selfishly did business" by overselling tickets against the capacity, and knowingly putting the audience at risk.
"There was no space to breathe at all, it was so jam-packed, people were fainting left and right, and a representative told me almost 12,000 people were let into the concert," said Farhan, 23, a devoted fan of Anuv Jain, who attended the concert with five of his university friends. 
"Someone could've died and the organisers are lucky to have dodged a national blunder like that," he added. 
Cautionary tales of heaving concerts are painted across the globe, most recently in American rapper Travis Scott's Astroworld Festival and prominent Indian singer KK's death, suspected to have occurred from suffocation in the overcrowded auditorium. 
The CEOs of Adventor Communications told The Daily Star, "The situation was unprecedented due to the unforeseeable number of electricity blackouts." 
"The event was held in International Convention City Bashundhara (ICCB) Hall 4 - the safest venue where we organise all our concerts - and the Bashundhara Group maintains the main generator, but it stopped working after thirty minutes for technical reasons," said Abdullah Al Mamun, co-founder of Adventor Communications. 
"We had our own back-up generator which took care of the sound and lights but we weren't prepared for such bad load-shedding and it was not in our hands," said Mozammel Haque Johny, one of the co-founders of Adventor Communications.  
Abdullah Al Mamun also said, "We did a pre-registration form when the event was announced early May, and 22,000 people showed interest. So if we wanted to make money we could've surcharged but didn't even do that." 
"We realised the concert had a lot of hype but we officially sold around 5,000 tickets and I have proof in my dashboard," he added. 
"The capacity of the hall is 6,000 people, so there could never be 12,000 people. Maybe people felt that way in the moment, but that isn't true," Mamun said. 
Another employee - on condition of anonymity - from the organising team, told The Daily Star, "More than 6,000 people, over the official numbers, did definitely attend the concert because we faced external pressure to allow more people in." 
"We cannot say it out loud or take names but there was pressure," the employee added. 
The suffocation and safety factor  
Each and every concertgoer interviewed by this paper witnessed people fainting around them in scorching heat and humidity enveloping the hall. Maliha, 19, said her sister fainted after Pritam started singing, at around 8:30 pm. She was able to carry her sister out with the aid of unknown people, "as volunteers did not pay attention," she said. Her sister has had a fever since the concert. 
On June 5, five days after the concert, Nishat, 27, told The Daily Star, "I'm still down with fever and suffering from a sore throat from those disgusting five hours of torture in a literal sweat chamber." 
Water bottles were not officially allowed into the show, and neither were cigarettes or drugs. But fans claim that smoke was fuming on the floor while people, dehydrated and breathless, screamed for water. 
"We don't allow water bottles as it can be a safety hazard and people do throw them, etc. We offered it at stalls which is standard procedure," said organiser Mamun. 
According to Adventor Communications, they had deployed 250 people in the elite force, 75 paid volunteers and 6 paid medical staff from Praava Health to be present in the concert. 
"We did everything to check regarding marijuana including security checking people's socks but we can't ever ensure everyone complies," said organiser Johny. 
Another guest, Atoshi, 30, who went with her partner and friends, said "the elite security force did see people smoking yet they didn't stop it."
"I thought I was going to get a heat-stroke so I went to get water from the stalls. They were charging Tk 100 for a bottle of water, but that's not even the problem," she recounted. 
"The stalls were stocked out of water," said Atoshi, as did two other fans. 
"People were lifting up the bodies of their unconscious friends to get them out and there was no first aid," Atoshi described. 
"To make things worse, water from the washroom on the left flowed out on the floors…it was just a mess of stench and sweat. Eventually some people, including my own friends, left mid-show before Anuv Jain," she said. 
Farzhad, 28, and his group of friends, also battled desperate, anxiety-induced circumstances to access water and help those fainting around them.  
The mismanagement also affected junior members of the organising team, informed Farzhad: "A representative from the organising team, wearing a media placard asked me, a guest, where he could get water as he was not allowed to call his senior."
"I have been to numerous concerts in Dhaka and abroad," said Farzhad, "but I have never seen this kind of negligence from the organisers towards the guests in terms of their well-being and safety." 
The scam and security factor 
Describing her experience, Rehnuma, 21, said, "Imagine forcing yourself to enjoy amazing performances by musicians you love because the situation was so awful." 
For her and eight others interviewed by The Daily Star, the troubles started from buying the tickets. After getting scammed for Tk 5,000 from a Facebook page, Rehnuma turned to an organiser who offered her a general admission ticket, but a fake one. 
"Some organisers or members of sponsors had photocopied tickets reserved for sponsor employees and were selling them to many," she alleged. Organisers however claim that scammers posed as organisers to sell fake tickets. 
Rehnuma, her 18-year-old sister, and three friends, all purchased photocopied tickets of sponsor employees. The tickets were nameless, not coloured, and conspicuously inauthentic. She expected that she might be questioned or turned away, as she stood for 1.5 hours queuing behind the scanning booths in the expo-zone outside the hall. To her surprise, the security didn't check the ticket at all and stapled a rizband around her wrist, she said. 
"I think if we had just printed a ticket on an A4 paper, they would've let us in," she added. 
Simrana, 21, who went with three friends said she took someone else's ticket at the last minute and wasn't checked or stopped at security. "Even at 7:30, they were letting people in, and there was almost a stampede on the way in. People were falling," she said. 
Adventor's co-founder Johny refuted the lacklustre security claims. "We did a 3-step security system outside the hall. We caught over 4,000 scammed tickets and did not let those people in," he said. 
"Concerts have become really rowdy in Bangladesh where people break gates and get into fights during entry. In the Empathy concert at the same hall, a day after the Anuv Jain concert, people allegedly broke through gates," said organiser Mamun. 
"So we tried our best to manage but with all things at stake, we apologise we could not deliver 100 percent," he added, "We have also individually apologised to all our ticket-purchasers via text." 
But fans said, "The apology is bare minimum. The organisers must take responsibility and ensure the horror story never repeats itself." 
*names of some concertgoers have been changed to protect their identity