Bangladesh holds a special place in my heart: Anuv Jain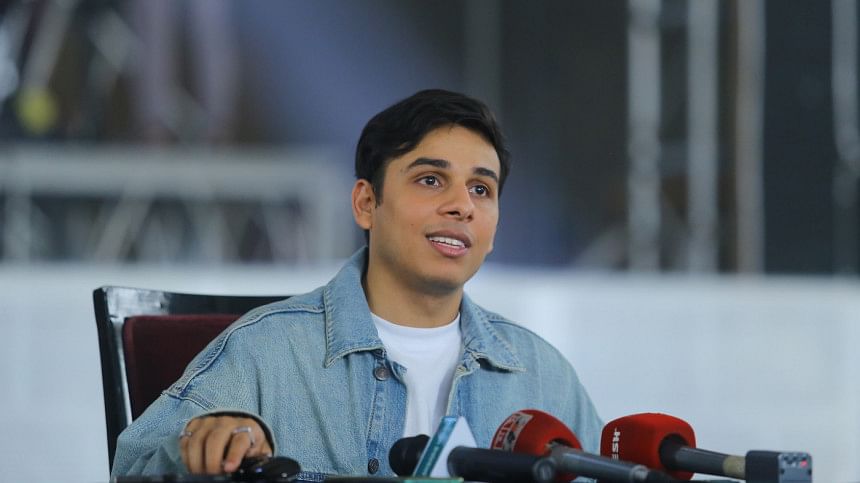 Anuv Jain, both in person and through his enchanting music, embodies sweetness, love, and nostalgia. Today will mark a momentous occasion, as he prepares to grace the stage for the first time in Dhaka. In preparation for his soul-stirring performance at the concert "Let's Vibe Dhaka with Anuv Jain" in the capital's International Convention City Bashundhara (ICCB), a press conference was held today. 
Just before getting up on stage, Anuv Jain shared his heartfelt emotions with The Daily Star, expressing his excitement and profound gratitude for the opportunity to visit the country and connect with his fans in person.
What has been the most memorable moment for you on this trip?
I was blown away when I heard the concert tickets were completely sold out. This was my first time performing in Dhaka, and I am completely blown away by the response from the audience. 
The anticipation and support from my Bangladeshi fans have been overwhelming. I always believed there was a special connection waiting to happen here, and seeing tonight's sold-out show confirms that. This is my second time performing live internationally, and I am grateful for the opportunity to transcend borders and connect with fans who have embraced my music with open hearts.
Can you share any behind-the-scenes stories from the concert?
This is the first time I will sing a new song in front of such a big crowd, so I have been preparing for it for a long time. The song, "Antariksh", is a very tricky song. Hopefully, the audience will love it.
Out of your setlist, is there any particular song that has a special place in your own heart?
Absolutely! "Baarishein" holds a special place in my heart, not only because it brought me recognition, but also because it has touched the lives of so many people. It has been trending in both Bangladesh and India, and witnessing the audience's response to this song is always a humbling experience. I feel privileged to be able to perform it tonight and share its magic with my Bangladeshi fans.
What do you appreciate most about performing live?
Performing live is an exhilarating experience for me. It's the only time I can witness firsthand how my music impacts the audience. The energy in the room, the collective vibe, and the emotional connection created between the audience and me—it's an extraordinary moment. It confirms that I'm on the right path and that my music is resonating with people's souls.
How do you maintain a balance between staying true to your artistic vision and meeting the expectations of your fans?
It comes naturally to me, as I consider my fans to be my family. I'm incredibly grateful for their support, and it motivates me to stay true to myself and my artistic vision. I believe that as long as I create music from an authentic place, my fans will continue to love it.
What message do you have for your fans in Bangladesh? 
To my Bangladeshi fans, I want to express my deepest gratitude for the warm hospitality and overwhelming love you have shown me in such a short time. I've been here for only a few hours, and already the outpouring of love is beyond anything I could have imagined. Hopefully, I will keep coming back here, again and again, in the future.