How to make sure women entrepreneurs continue to thrive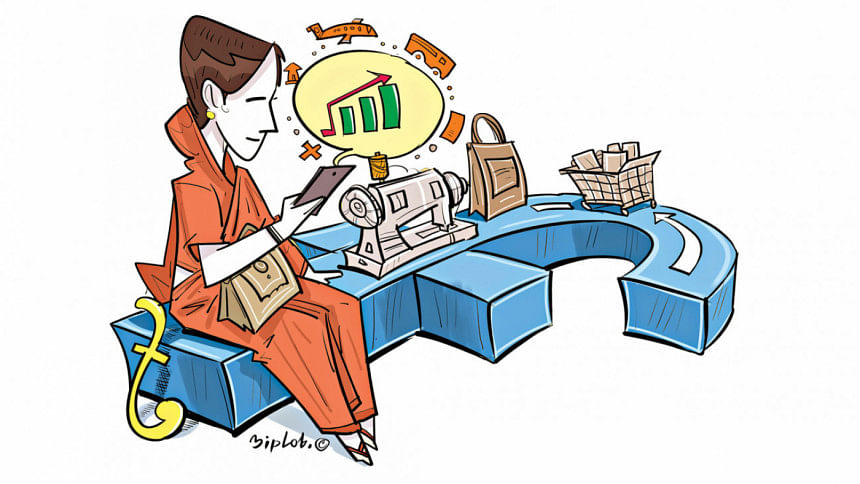 In Bangladesh, women are taking on a pivotal role in the nation's ambitious drive towards achieving the developed country status by 2041. Over the last decades, Bangladesh has made remarkable strides in reducing infant and child mortality rates, alleviating poverty, promoting women's entrepreneurship, and improving access to education and healthcare. These accomplishments have garnered extensive recognition, with Bangladesh topping the list of South Asian countries in gender equality, as per the World Economic Forum's Gender Gap Index 2022. Bangladesh has demonstrated exceptional regional performance, having effectively bridged over 69 percent of its gender gap, thereby securing the 71st position globally among 146 countries.
The increase in the number of young female students has been substantial. At present, girls account for 49.5 percent of students in primary schools, indicating a marked departure from numbers of previous years. Meanwhile, in terms of net enrolment, female students come out on top with 97.44 percent in the primary and 79.09 percent in the secondary level in 2021. The introduction of different incentive packages (including stipend programmes for girls, provision of separate toilets, and midday meals) have encouraged female students to attend school. Additionally, Bangladesh is on track to achieve gender parity in tertiary education, which has increased from 0.37 in 1991 to 0.80 in 2021. The increased enrolment of women in educational institutions has facilitated a surge in their participation within the labour market, signifying momentous development for Bangladesh. The expansion of educational opportunities has empowered women to perform more significant roles within the workforce.
Bangladeshi women have made notable progress in terms of their participation in the labour force over the last decade. The country's flagship export sector, the readymade garments (RMG) industry, has been a driving force for women's employment in the mainstream economy. Since the 1990s, women's labour force participation has more than doubled. However, it is currently stagnant at a low level of 36 percent. Though this is still higher than in other South Asian countries such as India (22 percent), Pakistan (22 percent), and Sri Lanka (35 percent), our share of women's labour force participation is much lower than Southeast Asian countries such as Cambodia (76 percent), Indonesia (53 percent), the Philippines (43 percent), Thailand (59 percent), and Vietnam (63 percent).
Despite the increased participation of women in different sectors, there remains a lack of dynamism in their employment. More women entrepreneurs have initiated their own businesses and created employment opportunities for other women, but they are encountering several challenges. Meanwhile, due to the pandemic, 41 percent of women-led businesses had to completely shut down their operation. Those who continued had to either reduce in size or relocate to smaller/cheaper premises. About 17 percent of the women-led Micro, Small, and Medium Enterprises (MSMEs) had to completely close down and one-third of women entrepreneurs had to reduce business operations.
To cushion the fallout of the Covid-19 pandemic, the government rolled out stimulus packages for businesses. But, of the total loan disbursement, only 2.65 percent was received by 4,913 women entrepreneurs.
Women's access to financial services is constrained by their limited asset ownership, lack of awareness regarding credit facilities, and general social exclusion. Cumbersome documentation procedures, distance from bank branches, unsuitable financial products, and negative attitudes of staff towards women are also factors that limit women from accessing necessary capital and credit facilities required for running a business. Additionally, women's mobility constraints, socio-cultural factors, and travel safety are important considerations in work-related decisions. The poor physical infrastructure in most semi-urban, urban, and rural areas pose challenges to women's mobility outside their home. Due to this, women often struggle to access the marketplace to purchase the required resources. Moreover, while women in Bangladesh can legally sign a contract, open a bank account, register a business, and apply for loans without the consent of husbands, there are banks and programmes that continue to require consent from male relatives or husbands. Women even face significant legal barriers to running businesses, particularly those that are deemed to be physically arduous or "dangerous" for them.
The government of Bangladesh, along with other government agencies, has implemented multiple policies and strategies aimed at addressing the difficulties confronted by women entrepreneurs to ensure a supportive environment for female-led businesses. In light of the various obstacles encountered by women entrepreneurs, a gender-sensitive approach must be taken to lessen the challenges. Meanwhile, burdensome documentation requirements need to be streamlined through automation and simpler procedural requirements.
Given the multifarious challenges of women's access to finance for their businesses, one potential solution could be to offer collateral-free loans through close collaboration with district women chambers. To facilitate such lending practices, the experience of SME Foundation in credit wholesaling could be explored, particularly for easing the financial constraints experienced by exporters. Despite policy support provided by national plans and the central bank, many women entrepreneurs are unable to access loans due to procedural barriers. In order to address this, loan application procedures could be simplified and more lenient payment terms could be offered. In addition, a dedicated business promotion and capacity building intervention should be undertaken to promote women's participation in businesses.
Humayra Anjumi Nabila is a research associate at Research and Policy Integration for Development (RAPID). E-mail: [email protected]
Lamia Shams is a senior research associate at Research and Policy Integration for Development (RAPID). Email: [email protected]