Upskilling, financial access can boost women entrepreneurship in Bangladesh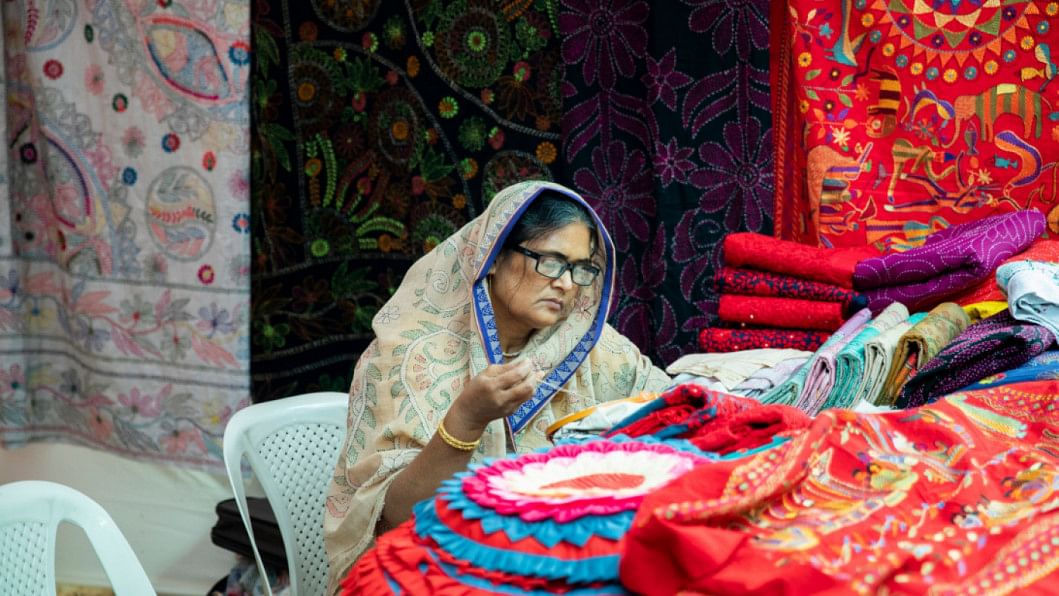 According to the Bangladesh Bureau of Statistics (BBS), approximately eight million Bangladeshi nationals, aged 15-24 years, are not in employment, education, or training (NEET). A study by the International Labour Organization (ILO) says 40 percent of Bangladeshi youths are part of the NEET population. The situation is more precarious for women. Bangladesh, with a score of 0.70, has the largest gender gap in the workforce among South Asian countries, according to the World Economic Forum (WEF). The most recent data from the SDG tracker indicates that in Bangladesh, approximately 47 percent of young women and 10 percent of young men are NEET. All these indicators show that the country's youth, particularly women, have a low participation rate in the labour force.
In order to reduce the gender gap and increase the overall number of young people in the workforce, the government has embarked on an ambitious plan to provide skills training to 1.9 million young people, 30 percent of whom are expected to be in the entrepreneurial sector. To do so, the government has been allocating resources for human development, forging public-private partnerships, strengthening the link between training and the job market, creating employment opportunities, and encouraging the growth of businesses. Consequently, women's labour force participation in Bangladesh rose from 24 percent in 2000 to 36 percent in 2020, according to the BBS report.
Even though the small- and medium-sized enterprise (SME) sector employs over 7.8 million people directly, it indirectly supports approximately 32.2 million people. A sizeable portion of owners in the SME sector, which accounts for one-fourth of the country's GDP, are women. However, female entrepreneurs in this industry face numerous impediments, which have been exacerbated by the Covid-19 pandemic.
According to the Centre for Policy Dialogue (CPD), after the pandemic broke out, only 49 percent of the 70 cottage, micro, small and medium enterprises (CMSMEs) owned by women in Bangladesh remained operational. In contrast, 41 percent were forced to shut down entirely. The study also revealed that 23 percent of female-owned CMSMEs cut down employee salaries by approximately 25 percent, while 44 percent were unable to pay their rent. According to a Brac survey of 589 female business owners, 90 percent experienced difficulties due to the pandemic, and 41 percent were compelled to lay off employees as a result of a sharp decline in income. The study also revealed that one-third of the respondents were unable to operate their businesses during the pandemic, and two-thirds had no source of income.
However, to assist women in the CMSME sector in regaining their footing after suffering Covid-induced setbacks, it is necessary to first identify the most common issues that they encounter. The difficulty of getting finance is one of the biggest obstacles female CMSME owners face. Existing business owners have difficulty expanding their companies, whereas women who aspire to become entrepreneurs lack the capital to launch their businesses. The high interest rate is another barrier, since bank loan rates typically range from seven to nine percent, and often exceed 41.1 percent. Furthermore, some banks and non-profit organisations have strict lending rules that many women cannot meet because they lack the necessary paperwork, making it difficult for them to obtain loans.
Another roadblock is the lack of information about the government's stimulus schemes. According to a Brac survey, four in every five female business owners are not aware of these programmes. Although funds under these schemes are intended to be disbursed quickly, there are stringent regulatory requirements. The patriarchal mindset is an additional problem. To expedite loan processing, women business owners are frequently advised to hire men, which is unfeasible for some and demoralising for many.
However, there are ways to get past these challenges. A seven-percent-interest cap on bank loans could make borrowing and repaying money easier. Furthermore, since many home-based female entrepreneurs lack the necessary legal documentation for their businesses, the eligibility requirements and regulatory procedures should be made flexible. Because of Covid, they have been forced to use e-commerce and f-commerce. Therefore, mobile banking services and online payment gateways should have lower fees for them. In addition, female CMSME owners should be provided with necessary IT training and then be connected to reliable e-commerce platforms in order to maximise benefits. They should also be insured so they can recoup, should there be any natural or human-made disasters.
On the other hand, the interest rate on government stimulus packages should be either zero or nominal, and loan repayment terms should be extended. "Tailor-made financing packages" should be developed as well, considering the unique constraints faced by female entrepreneurs in Bangladesh. Since public representatives tend to be biased in enlisting eligible women entrepreneurs for government stimulus packages, business associations that work for and with the CMSME owners may recommend a list of eligible beneficiaries. They can also disseminate the information in their respective databases.
In addition to increasing financial access, it is important to develop women entrepreneurs' abilities to effectively manage loans and increase their long-term business viability. They may benefit from a thorough training course that covers all key competencies. The government can collaborate with non-government organisations and private partners to contextualise and scale up the training package to maximise its reach and effectiveness.
Development will be sustainable if actions to achieve that are inclusive, pertinent, and timely. Putting girls and women on the periphery of the development process is akin to having two eyes but only seeing with one. If we want to achieve the goal set by the Ministry of Youth and Sports to reduce the number of NEETs from 28.2 percent to three percent between 2015 and 2030, we must upskill and expand financial opportunities for our women entrepreneurs.
Saykat Biswas is deputy manager of the Skills Development Programme at Brac. Views expressed in this article are the author's own and do not reflect that of his employers.