How erratic weather has affected our food production
The impact of climate change on day-to-day life in Bangladesh is evident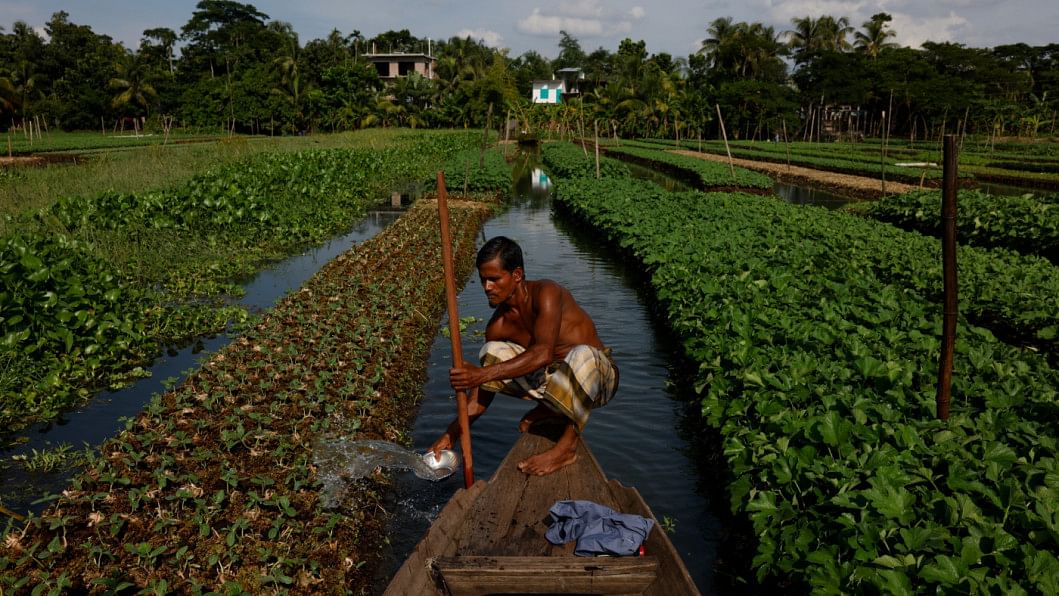 The Sixth Assessment Report (AR6) by the Working Group II of the Intergovernmental Panel on Climate Change (IPCC) shows how food production is at risk because of the heat and drought. The report anticipates more severe food security risks due to climate change, leading to malnutrition in South Asia, one of the global hotspots of high human vulnerability, due to global warming of two degrees Celsius or higher. Unfortunately, it is already evident in countries like Bangladesh, especially in climate-vulnerable areas.
In July 2022, Bangladesh experienced the lowest rainfall in 41 years. It has significantly affected climate change adaptation practices in vulnerable communities, causing more loss and damage. In the short run, these impacts fuelled food price hikes and reduced household income. The health risk of malnutrition because of the low level of adaptation, in short to middle run, has been estimated as well.
Aman rice, one of Bangladesh's major contributors to staple foods, is grown between June and November. Land preparation and seed germination are usually done in June and July. Then farmers transplant the paddy saplings into the main field. Because of low rainfall this year, most farmers could not prepare their fields and sow the saplings.
Farmers in the northern part of the country, with the opportunity to use groundwater, prepared the bed and sowed the saplings. The plants somehow matured, but would have a lower yield because of such a change in rainfall and monsoon this year.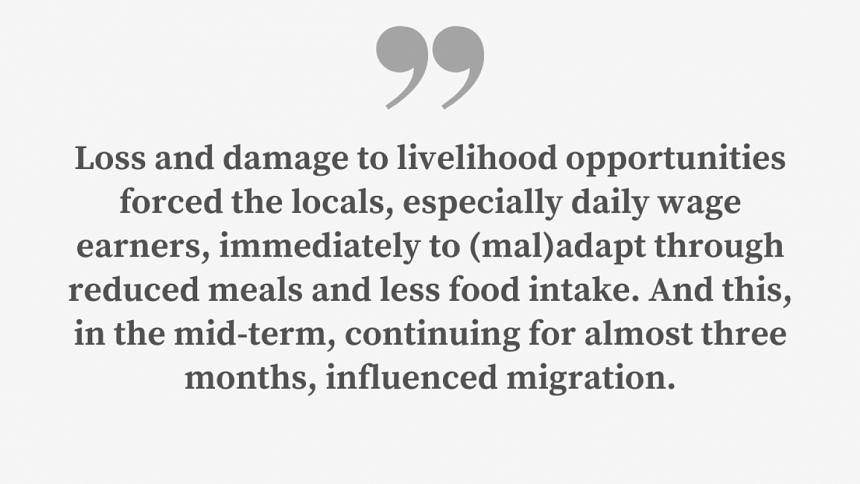 This impact on paddy crops not only affected the farmers, but the day labourers as well. A vast number of agri-labourers, being unskilled, had no alternative livelihoods. Such loss and damage to livelihood opportunities forced the locals, especially daily wage earners, immediately to (mal)adapt through reduced meals and less food intake. And this, in the mid-term, continuing for almost three months, influenced migration.
The impact on women day labourers was disproportionate as they could hardly adapt to this loss and damage. They, having limited scope for migration, must (mal)adapt through capitalising the minimal savings (if any), reduced food intake, less access to other essential commodities, and taking on the financial burden of a loan. Ironically, such maladaptation is widely ignored and unaddressed.
The situation in the climate-vulnerable areas, such as the southwest coast, because of a change in land use patterns, especially after cyclones Sidr in 2007 and Aila in 2009, is dire. For long, coastal people have adapted to alternative crops due to increased soil and water salinity. This year, they had a different experience. For instance, there was evidence of loss and damage in growing the most common crops as farm products or homestead gardening, such as brinjal, long gourd, okra, red spinach, and climbing spinach.
"I planted brinjal seedlings as it gives a good harvest at the end of the rainy season. I usually manage the expenditures of my family for around four months from these earnings. In my field, the plants are not growing right now, so I do not expect a good yield. I am unsure how I will support my family for the next few months," said Yousuf Jommaddar, from Pajakhola village in Morrelganj, Bagerhat.
They tried hard, even carrying water from distant places, but it did not help. Rijia Begum, a woman farmer from Lakshmikhola village, lost almost all of her investment of Tk 20,000. Her crops grew, but ultimately there was no yield. Her loss was greater than her investment as she took out a loan from an NGO. "I must pay the loan instalment every week, including the interest. My husband had to move to Khulna city; he is pulling a rickshaw to cover the expense," Rijia said.
There are several cases of such adaptation failure in coastal areas. For instance, farmers have been producing off-season watermelon for the last couple of years as it has a good yield and financial return. The Department of Agriculture Extension (DAE) has also been promoting it to ensure food security and enhance climate resilience. Watermelon takes around three months to grow and mature. A group of five farmers from Banka Paschim Para in Paikgacha, Bagerhat invested around Tk 1 lakh on a 60-decimal land to grow watermelons. Previously, they grew watermelons weighing six to seven kilograms each by the first week of August. This year, they waited for the rain but got a heat wave instead. Despite their effort to irrigate the field, most watermelons that grew weighed a maximum of three kilograms. And later, in the middle of August, the green watermelon field faded gradually.
In such a circumstance, the Bangladesh government and relevant actors should come forward with more investment in research work to understand the dynamics and impact of loss and damage in climate-vulnerable communities. The government must recognise the impact of slow-onset factors, identify the communities impacted by such loss and damage, and define how to bring them under the umbrella of social safety nets. Most importantly, as such loss and damage are likely to increase due to global warming, a response mechanism and climate financing must be established. And for this, there is no alternative but to strongly place the issues on the agenda of the upcoming 27th UN Climate Change Conference (COP27), and raise voices to remind the polluters about their commitment to the UNFCCC and Paris Agreement.
Ashish Barua is programme manager for the Climate Change and Sustainable Development programme of Helvetas Swiss Intercooperation in Bangladesh.
Jannatun Nayem is knowledge management officer for the Climate Change and Sustainable Development programme of Helvetas Swiss Intercooperation in Bangladesh.