Game of Seats: Eden College ugliness exposes the rot in student politics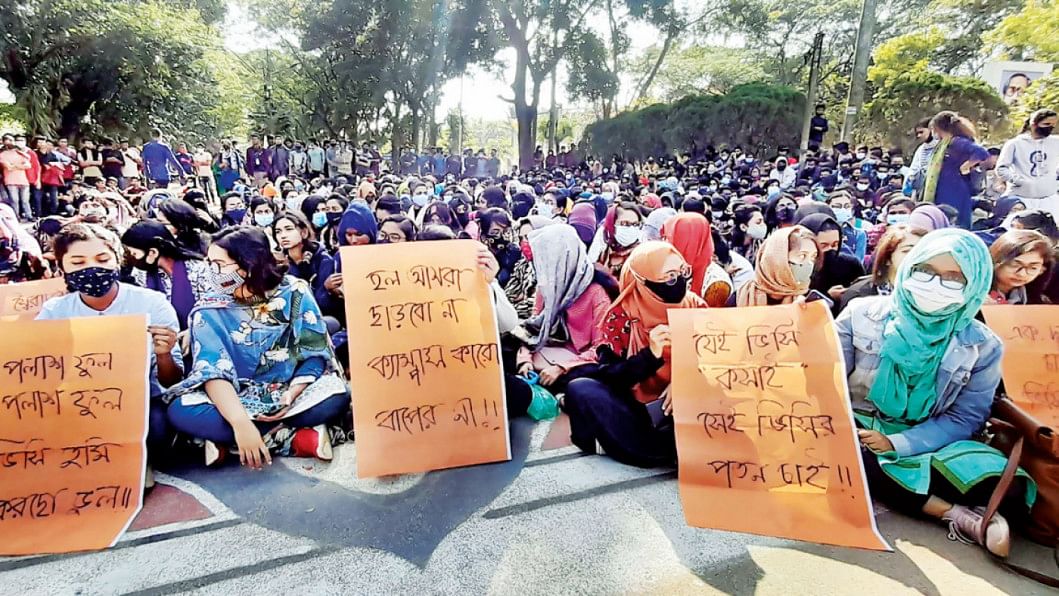 Extortion, corruption, seat trading, violence, bullying, threats, fraud, blackmail, torture, harassment, coercion, and forced political participation. These are not words one would like to have to associate with student politics in a country that once proudly boasted a student movement that became one of the catalysts of its liberation. Unfortunately, as recent events at Eden Mohila College show, this has now become the norm. The conflict in question, between two factions of Eden College BCL, injured 10 people and led to a decision from Chhatra League's central executive committee to permanently expel 12 leaders and four activists from BCL on September 25.
Reportedly, this fight surrounded who is getting the biggest slice of the pie known as "hall/seat trade" – the practice of charging ordinary students Tk 15,000-20,000 initially, and then Tk 2,000-3,000 per month, for places in student halls. This practice is off the books, so university administration tends to simply look the other way. As always, the biggest victims of this dirty politics are ordinary students.
According to media reports, there are around 3,310 seats at halls but at least 12,000 students unlawfully inhabit them, with up to 12-15 students living in one room. If we crunch the numbers, this means the people conducting this "trade" could be earning around Tk 13.5 crore per month. No wonder the expelled leaders have gone on hunger strike to get their positions back, and organised a press conference to ask why only their faction has been punished, while the other faction has been allowed to get off scot-free, without any sort of investigation. And while we have no love lost for either of these warring groups, we cannot ignore the perfectly legitimate question: "Why were the other leaders, who were also in the video footage of the conflict, not expelled too?"
This question is all the more valid given that the unpunished faction involves BCL president Tamanna Jasmine Riva, whose threats of physical and sexual violence against students who failed to pay her extortion fees went viral on social media in August. She is not only accused of having created extortion rings around almost every service available at Eden College, from halls and canteens to internet use, but is facing the very serious accusation of sexually exploiting students, that too from fellow members of BCL.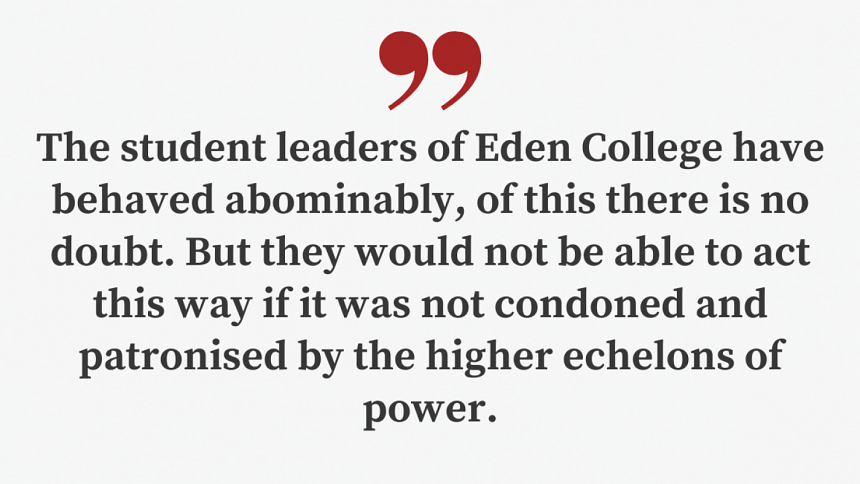 Yet, despite the gravity of these accusations, neither the university administration, nor BCL's central executive committee, have ever opened an investigation into her, or any of the other (I dread to call them) "leaders" involved with her. Does that mean activists like Riva actually represent the interests of their leaders in the ruling party? Because if student politics reflects the values and ideals of their patron political parties, then we should be extremely concerned.
The student leaders of Eden College have behaved abominably, of this there is no doubt. But they would not be able to act this way if it was not condoned and patronised by the higher echelons of power. We cannot deny that this is how student leaders are allowed – in fact, expected – to behave, and that extortion and corruption flourish in almost every public university in Bangladesh.
Which brings us to the complicity of university administrations in the current state of affairs. When was the last time we witnessed any university administration condemning the violent, reckless and oftentimes criminal behaviour of influential student politicians on campus? Recently, The Daily Star interviewed Eden College principal Supriya Bhattacharjee who, when not being evasive, flat out denied the influence of BCL at Eden, dismissing the accusations of extortion as being made "for the sake of it", and identifying "counselling" as their chosen strategy in handling what she refused to call – but cannot be termed as anything else but – crimes on campus.
Instead, what we have witnessed is university administrations looking the other way or even defending the wrongdoings of political activists, while coming down on ordinary students for protesting for change. Such as in July this year, when a female student from Chittagong University filed a complaint of harassment and attempted rape against five students. Not only were her complaints ignored until protests erupted on campus – the university's assistant proctor went on to (wrongly) blame the victim for being in a "secluded" area in a TV interview. Or during the massive protests at SUST in January this year, initially stemming from female students' perfectly reasonable demands for better dormitories and greater campus safety, which not only fell on deaf ears but were later met with violence, with the aid of police and BCL activists.
The Eden fiasco has also made it clearer that the political empowerment of some women does not amount to the emancipation of all women. Rather, the crimes of these politically empowered women are now being used as fodder for the misogynists gleefully following their "catfight". It's ironic how a certain group of people tend to be silent when women are the victims, but when women are the perpetrators, they suddenly can't help but raise their voices against injustice. A common stance is the usual "See what happens when women have too much power?" But then there is the righteous outrage against the naribadis of Bangladesh, followed by the trope: "Where are the feminists now? Why are they so silent?"
It would be comical if it were not so frustrating – the fact that so many are still so blissfully unaware of the part they play in creating the power imbalances in a patriarchal society; that they would be outraged if every Muslim was asked to account for the Taliban's actions, or every man was asked to account for the crimes of rapists, but when a woman's actions are in question, it is suddenly up to the entire female race to stand up, condemn it, and build a better world, while the men do their bit by angrily typing Facebook statuses.
This widespread abdication of responsibility – amongst political leaders, university administrations and even outraged netizens – is at the heart of the current situation we find ourselves in. What future can our students hope for when such an aggressive rot has spread in student politics? Earlier this year, Chile swore in a former student leader as their youngest ever president, who immediately demonstrated his progressive credentials by appointing a young cabinet with more women than men. Can you imagine a leader of this sort emerging from the dredges of student politics of Bangladesh? What hope can we have if the student leaders of today are slated to be the leaders of tomorrow?
Shuprova Tasneem is a member of the editorial team at The Daily Star. Her Twitter handle is: @shuprovatasneem