No version of Chhatra League is good enough
Obaidul Quader's outburst betrays long-ignored urgency of holding it accountable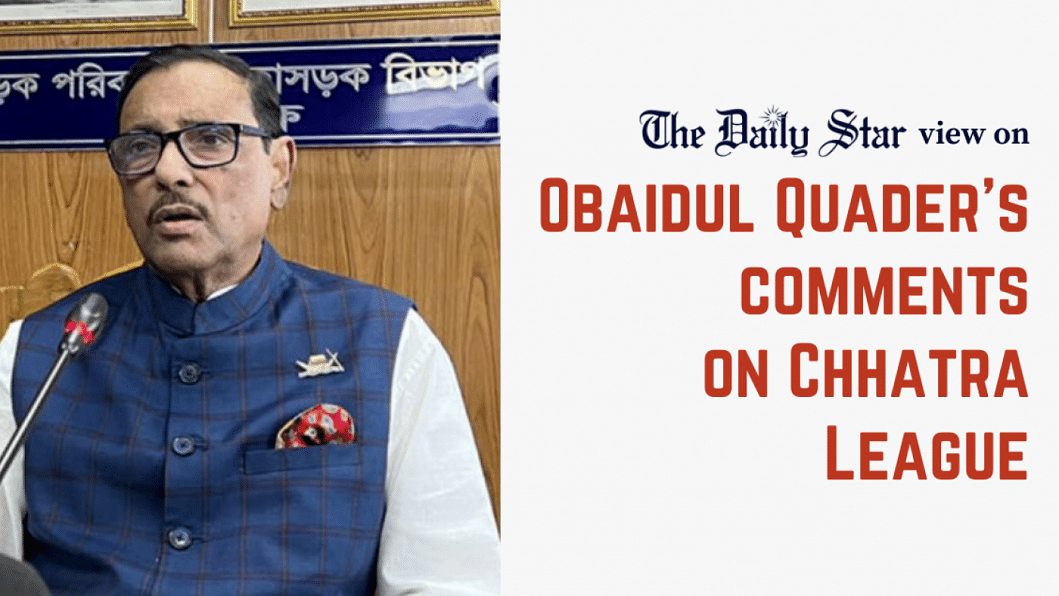 In a rare public outburst against Bangladesh Chhatra League (BCL), Obaidul Quader, the general secretary of the ruling Awami League, blasted its leaders and members on Friday. While addressing the joint annual conference of BCL's Dhaka North and South units, Quader berated them first because of the lack of speech time left for invited guests, and then because of the thunderous slogans frequently drowning his voice. To the disruptive, poster-hoisting supporters of candidates for soon-to-be-formed BCL committees in Dhaka North and South, he said: "Is this the Chhatra League? We do not want this Chhatra League. This is not the Chhatra League of Bangabandhu or Sheikh Hasina." He also said: "We do not want a Chhatra League that is undisciplined, that commits misdeeds." He repeated his warnings several times, and even threatened to take action.
We must admit that we do not want this Chhatra League either, for different reasons, however.
Obaidul Quader's reaction adds a welcome voice to ongoing concerns about the total lack of discipline and accountability in Chhatra League. But if we're being honest, his version of BCL and the version grilled into our minds are not exactly similar. His warning, without visible action, sounds like one of a temporarily irritated but perpetually indulgent guardian. It was prompted, rather than pre-planned. He seemed more concerned about the public spectacle of indiscipline than deep-seated organisational issues causing this insubordination, among myriad other problems. He also sidestepped longstanding concerns of criminality and violence that BCL has been routinely accused of committing in public universities. His surprise – "Is this the Chhatra League?"– betrays a naïveté we can't afford.
In fact, it can be argued that the version of BCL that emerges in his speech is a direct offshoot of the version that the public have had to endure over the last decade or so, in a classic example of "as you sow, so shall you reap". The manner in which BCL leaders and cadres have been pampered and pardoned despite their reign of terror across most public universities and colleges only reinforced any illusion of the inviolability of their authority. Their control over campuses and streets has been absolute. Their insubordination – often directed at university teachers and administrators, as in the case of the Comilla University VC most recently  – has been seldom challenged, so it is only natural that sometimes they might feel emboldened to direct it upwards too, as they did on Friday.
Not a day goes by that we don't come across news of some disturbing developments courtesy of BCL. This is all the more painful because of its rich history of serving the nation. The problem, therefore, lies not in its existence but in how poor, unaccountable leadership led it astray over the years. We, therefore, urge the ruling party to control and reform its student wing. It must take measures to establish institutional accountability so that BCL can serve the general students and people rather than being a tool of manipulation for a few.