Decentralisation of Dhaka need not be a dream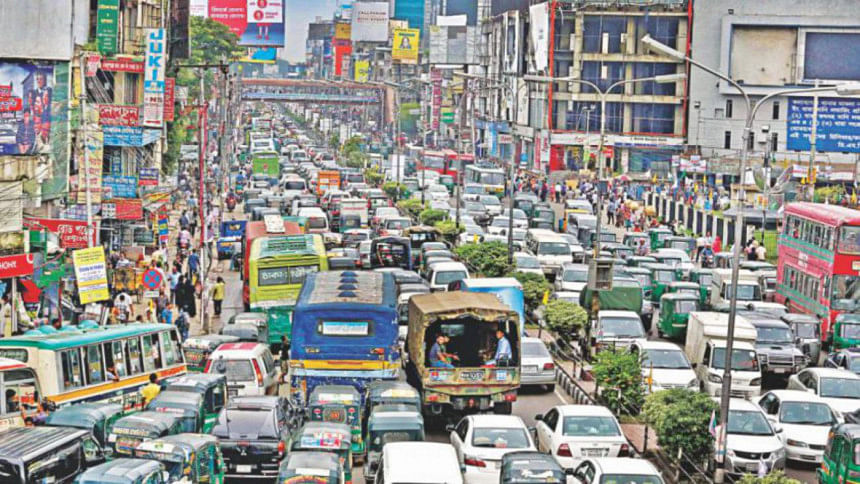 Since the birth of this country, our urbanisation policies have always been Dhaka-centric, and this will likely remain true in the future.
In terms of liveability, Dhaka poses multiple challenges that impact the quality of life of its residents. Rapid population growth in the city fostering the urbanisation process and lack of visionary plans made the city a concrete jungle. The fact that their basic needs are not being met is evident among different socioeconomic groups. Heavy traffic congestion compared to the existing road infrastructure also inconveniences citizens. The city has one of the highest traffic densities worldwide, which causes stress and impacts the duration of working hours. There is also the abysmal air quality of Dhaka that endangers citizens' health daily.
To make Dhaka liveable, we need to think of a strategic approach where our policies promote a balanced distribution of infrastructure growth and development across the country for long-term sustainability while also reducing the environmental and social costs of urbanisation. The existing policies have forced us to be dependent on Dhaka city for fulfilling all our needs like healthcare, education, employment, etc. Moving away from the dependency model is a need of the moment.
The recent earthquakes in Turkey and Syria have served as a reminder of potential risks within Dhaka city, which is located in an earthquake-prone region. If such disasters occur in Bangladesh, our lack of resilient infrastructure and the high density of our population might result in severe casualties. 
To prevent dire consequences of natural disasters and mitigate the challenges of overcrowding, heavy traffic congestion, pollution, and the socioeconomic disparities within various city societies, decentralising Dhaka is vital.
The decentralisation discussion has been on the table for a long time. Still, progress has been insignificant compared to the amount and speed of action needed. Decentralisation is a complex process which requires robust planning and implementation. Citizen participation and greater awareness are critical to initiating decentralisation. Mass awareness would make the government accountable to prepare the environment for decentralisation. 
Civil society organisations and development partners are leading the advocacy and awareness work for decentralisation in Bangladesh. Then comes the need for the central government to commit through appropriate policymaking and resource allocation. 
The government formed multiple legislatures aiming for the long term success of decentralisation as well they needed to relinquish its decision-making authority to the local government. Constitutions also complement the empowerment of local government bodies in Bangladesh. Article 59 of the Constitution establishes the legal framework for local government bodies and delegates central government authority. It emphasises the development of local resources and empowering local government by ensuring the participation of local communities in decision-making and overall governance. Our web-like spread local governance system exists in place, and the local government's decisive act during different disasters was praiseworthy.
Though we have unique local government systems and policies, challenges still arise due to the lack of political and bureaucratic willingness and understanding of the merits of decentralisation. Power dynamics are built based on Dhaka city, and decentralisation potentially threatens the political and other bureaucracies regarding their control and influence over the existing systems. Local government bodies still have poor management skills and lack empowerment, creating obstacles to decentralisation.
A megacity like Dhaka is a major source of revenue for the government. As such, it will always be interested in maximising the revenue from a similar source. That's why our policy realm is running with a Dhaka-dependent approach. Here comes the importance of public voices for decentralisation, which may compel the government to plan a decentralised Bangladesh.
There is no alternative to decentralising the administrative and fiscal authority for sustainable growth. 
The Indonesian decentralisation event can be a model for our learning and planning. Though there were limitations in the planning and execution of decentralisation works, regarding the model's effectiveness, ADB reports that the reforms gave authority to the local government in terms of financial resources and political power, including the executive power in healthcare, education, transportation, cultivation, industrial, and economic sectors. The overall objective of the policy was to strengthen the local government system, deliver better public services, and reduce one town's dominance over socioeconomic policies. The policy led to the advancement of financial development in multiple regions of Indonesia. 
Reducing pressure on Dhaka city would be possible when other urban and suburban towns in the country are prepared to incorporate necessary citizen facilities like healthcare, education, a clean environment, planned infrastructures, shelter, and enough livelihood opportunities. We have a few mid-sized towns where proper infrastructure planning would be possible. A detailed implementation plan and legislative support are required to protect our future cities lest we end up urbanising them improperly. Economic sectors in the cities should be adherent to the local context, environmentally viable, and inclusive for all.
Roads and highway infrastructure development catalyse the decentralisation process in mixed ways. Recently, we observed the rapid growth of interconnected highways and bridges throughout Bangladesh. We need to utilise the opportunity of interlinked Bangladesh to attract investment, businesses and people to the less crowded towns. Before that, the city must be equipped with essential citizen facilities.
Decentralisation of Bangladesh is an urgent need for making Dhaka and all other future cities sustainably liveable. Social awareness should be built to make the government accountable and justify long-term investment and planning. The government should be the vanguard by providing necessary legal, administrative frameworks, financing, and capacity building of local governments. Public sectors need to do their part by creating job opportunities, investing in new towns, and promoting local businesses. Timely decentralisation of the country will bring about numerous benefits, including reducing pressure on Dhaka city, ensuring equitable resource distribution, improving living standards, booming local economies, and ensuring better public service delivery. 
Until we react as a nation and hold the authorities accountable, decentralisation will always remain a dream. How long will we keep paying for their lack of action?
Rahamat Ullah is a development professional. He can be reached at [email protected]