Climate change and women's deteriorating mental health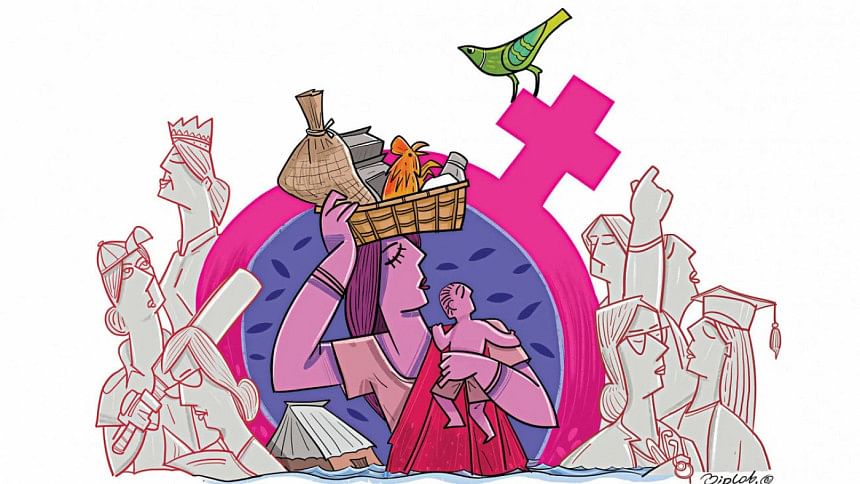 During the Covid-19 pandemic, many of us came face to face with the psychological crisis it brought on. The countless deaths, the burial of acquaintances and loved ones left a scar on many people's minds. Everyone was stranded at home; there was no going to the school or office, and life became nerve-racking. However, scores of people started dealing with such psychological distress long ago, due to natural disasters like cyclones and floods.
It has now been widely agreed upon that climate change is one of the most prominent health hazards in the world. The Intergovernmental Panel on Climate Change (IPCC) confirms that there is no doubt that climate change affects mental health, besides the effects it has on the frequency of heatwaves and proliferation of diseases like Covid-19 and dengue. The frequency and magnitude of weather-related extremes continue to rise every year. More people are seeing their homes and livelihoods getting damaged, and many are witnessing the loss of their loved ones. These all have persistent impacts on mental health.
Evidently, climate change has severe repercussions regardless of race, ethnicity, sex or income level, but its consequences are not gender-neutral. Due to their economic position in family and society, women are always more vulnerable during disasters than men.
Women have scant access to property, money, education, healthcare, and decision-making opportunities. And so they are more susceptible to suffering from disasters brought on by the climate. Eco-anxiety is defined as an unrelenting dread of environmental catastrophe. This dread emerges when a person knows the seemingly irrevocable effects of climate change and becomes anxious about one's future as well as that of the later generations. Women in the coastal region are the worst sufferers of this condition.
In 2007, weeks after Cyclone Sidr, ActionAid conducted a research which revealed that 25 percent of the 750 survivors had post-traumatic stress disorder (PTSD), with 16 percent also having somatoform disorder (persistent abdominal pain, headaches, joint pain, poor concentration, etc). Fifteen percent had anxiety disorders and 18 percent had significant depression. The World Health Organization (WHO) has stated that post-disaster health issues might vary from minor distress to severe mental health conditions. In Bangladesh, between 20-40 percent of those impacted experience mild psychological anguish, and between 50-60 percent face moderate to severe psychological distress.
Take the case of Moriyam Begum for example. The 45-year-old single mother of two and resident of Burigoalini union, has been collecting shrimp fries from gher (enclosures) and rivers for more than eight years. Before that, she was a labourer in a crop field nearby. Due to frequent cyclones and changing climate patterns, the field got contaminated with saline water, which made her unemployed. "Following Cyclone Aila, I had no place for shelter after losing my house, possessions, and money. I again started from zero for the sake of my sons. My husband moved to Dhaka in search of work since all the fields were barren, and never returned." She is now plagued with a reproductive illness as a result of spending at least five to six hours a day immersed in brackish water. Despite knowing about the health threats, she looked unwilling to leave this work.
According to the findings of a UNDP survey, women are more adversely impacted by natural disasters than men due to gender-based roles and responsibilities. Women who are responsible for taking care of their families confront additional issues, including higher workloads, water scarcity, food insecurity, and social insecurity, as many of their husbands move to the cities to earn a living. These additional social and cultural hurdles, induced by climate change, negatively affect mental health. On the other side, climate change also leads to men facing difficulties in ensuring livelihood and financial stability.
SAJIDA Foundation carried out pilot research in Gabura and Mongla, two southwestern areas that are frequently prone to natural catastrophes like cyclones, storms, floods and waterlogging. When asked whether natural disasters and climate change affect people's mental health, 88 percent of respondents said yes.
Therefore, it is imperative that gender-responsive and women-friendly approaches are adopted for the national disaster risk reduction plan. Besides, planning and executing locally led adaptations should be promoted to ensure resilient livelihoods. Facilitating skill development programmes may also significantly contribute to reducing social insecurity among women. Finally, it is crucial to include women's mental health initiatives and awareness-raising campaigns in development projects focusing on coastal areas.
---
Monira Sharmin is a research student under the Postgraduate Programme in Disaster Management (PPDM) at Brac University. She can be reached at [email protected].
---
Views in this article are the author's own. 
---
Follow The Daily Star Opinion on Facebook for the latest opinions, commentaries and analyses by experts and professionals. To contribute your article or letter to The Daily Star Opinion, see our guidelines for submission.
---