Climate change protesters
Activists, terrorists, or vandals?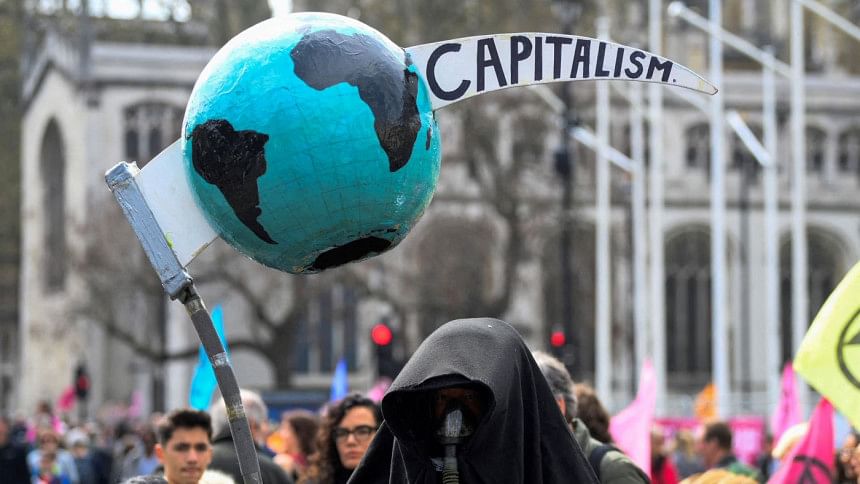 Today's environmental issues show that we are facing a crisis of epic proportions. Many environmental trends, such as record-breaking heatwaves, massive floods, and "apocalyptic" wildfires confirm the gravity of the situation and suggest that human society is on a fundamentally unsustainable course. The irrefutable evidence of devastating climate-induced changes around us all but guarantees that we will face even worse conditions in the years ahead. Who will pull us out of the way of the existential threat looming on the horizon? Whether we like it or not, politicians have become the custodians of the entire planet. The fate of the planet, humankind, and of millions of species lies in their hands. With climate-related events wreaking havoc, why then are politicians adhering to policies that, by nearly all projections, seem suicidal?
Most governments and businesses are addressing problems arising from climate change in a piecemeal fashion. Their policies and practices address only small portions of the climate crisis. Solutions typically result in marginal adjustments, tackling one portion of a problem while ignoring or worsening others. At the same time, they are pursuing a policy of more drilling and less exploration of clean energy. Unsurprisingly, the "nonviolent civil disobedience" environmental movement called Extinction Rebellion claims that politicians' failure in addressing the climate crisis makes them guilty of "criminal inactivity."
Due to the lack of decisive actions by world leaders, climate activists all over the globe are raising the alarm at the worsening climate emergency through a wave of protests. However, rather than taking the bold measures needed to tackle climate change, governments of major greenhouse gas (GHG)-emitting countries are pushing back against climate activism with violence, anti-protest laws, and prison sentences. Human rights organisations are concerned over the repression of civil liberties, saying that this is part of an aggressive campaign by fossil fuel companies and their allies in the government to thwart the global climate movement.
Determined to prevent these protests from gathering momentum, lawmakers in Germany, France, Britain, Australia, and elsewhere are turning up the heat to make their actions illegal. Britain has passed new surveillance and detention laws, while states in Germany and authorities in France are invoking legal powers to wiretap and track activists, methods which are often used against organised crime groups and extremists. Meanwhile, the Australian government is trying to silence the voice of activists by employing legislation that will deny their rights to free expression. Violent attacks on protesters in Germany saw a sharp increase this year. In June, police dragged Simon Lachner, an activist of the Last Generation, from his home and took him into custody after he publicly announced his plans to protest against the German Industry Day.
Rather than taking the bold measures needed to tackle climate change, governments of major greenhouse gas (GHG)-emitting countries are pushing back against climate activism with violence, anti-protest laws, and prison sentences.
In March, activists belonging to the Les Soulevements de la Terre network, meaning "Earth Uprisings," were protesting a controversial irrigation project in the Nouvelle Aquitaine region in France, claiming that it would hurt small farmers and the ecosystem, while benefiting mainly large industrial agriculture groups. They were met with violence by the gendarmerie who fired more than 5,000 tear gas shells, injuring about 200 protesters, with two left in a coma and one losing an eye.
In January, environmental activist Manuel Paez Teran was killed while protesting the construction of a police and firefighter training centre near a forest in Atlanta, Georgia. The autopsy report shows he was shot 57 times by the police during an altercation with law enforcement officials from different jurisdictions.
Since August 2021, Jessica Reznicek, a defender of land and water, has been serving an eight-year sentence in a US federal prison for "domestic terrorism enhancement." She was incarcerated for sabotaging construction equipment, in the fall of 2016, that were used to build the Dakota Access Pipeline in Iowa. She and other environmentalists believe the pipeline would inevitably leak the crude oil it is designed to carry from North Dakota to Illinois, destroying farmlands and contaminating drinking water. Deanna Coco, a climate change protester who blocked a lane of the Sydney Harbour Bridge in April 2022, was given a 15-month jail sentence. Her sentence was later overturned on appeal.
In response to the recent raids and arrests of climate activists, UN spokesperson Stephane Dujarric told reporters in New York that "people have a fundamental right to demonstrate peacefully to have their voices heard." He added that protesters had been instrumental at "crucial moments in pushing governments and business leaders to do much more," and that global climate goals would already be out of reach without them. He also noted that governments have a duty to uphold the law if the demonstrations become violent.
Nevertheless, a major question facing today's climate movement is whether we can equate climate activists with terrorists or vandals. Clearly, elected and law enforcement officials seem to think so. But people who are concerned about the uncertain future of humanity think that protests by climate activists are anything but terrorism. Unlike terrorists, who resort to violence and kill people, the goal of climate activists is to help raise awareness about the seriousness of the challenges we are all facing, and to be just disruptive enough to compel those in power to act with great urgency.
As some of the actions by the activists involve blocking roads, obstructing events, and disabling industrial infrastructures that would cause environmental degradation, they could at best be considered "direct action" protests. Swedish climate activist Greta Thunberg's Fridays for Future, an international movement of school students who skip classes on Fridays to protest for climate justice and equity, is one example of direct action. Accordingly, we should consider the rise in climate change-focused activism as a specific type of social movement.
To protest the extraction of fossil fuels, climate activists have been targeting invaluable works of art, too. Recently, some threw tomato soup at one of Vincent Van Gogh's masterpieces "The Sunflowers," tossed mashed potatoes on Claude Monet's priceless "Les Meules," and glued their hands to Johannes Vermeer's famous "Girl with a Pearl Earring."
Targeting paintings in the name of social causes is nothing new. In 1914, Mary Richardson, a radical suffragette, slashed Diego Velasquez's painting "Venus at her Toilet" (of a recumbent nude Venus) with a meat cleaver to protest the imprisonment of British women's rights activist Emmeline Pankhurst. Although the painting was successfully restored, it should be mentioned that the recent attacks have taken place against paintings that were well protected.
So, can these acts be described as eco-vandalism? "Vandalism" is the destruction of someone else's property. These acts, which specifically targeted paintings covered in glass (which, therefore, were not damaged or destroyed) are expressions of eco-distress; a call-to-action by activists to draw attention to the fight against global warming. Hence, these protests, albeit outrageous, do not meet the definition of vandalism, save for Mary Richardson's act in 1914 which was a case of borderline vandalism.
Finally, it is crucial for citizens to be able to express their concerns about the climate emergency and be able to weigh in on the debate, in whatever peaceful way they would like to do so. Lest we forget, peaceful protest is recognised by international law as a basic human right. Yet, despite the risks and restrictions, activists continue to score significant victories to advance climate justice with remarkably peaceful protests.
Dr Quamrul Haider is a professor of physics at Fordham University in New York, US.