124th Birth Anniversary of Abul Mansur Ahmad
Abul Mansur Ahmad saw the world for what it could be
It was in a most turbulent period of the history of Bengal that Abul Mansur Ahmad (1898-1979) fought hard against social prejudice and religious bigotry. His brilliance in various fields – be it politics, journalism or literature – made him a popular name in undivided Bengal. He was a superb satirist, a thought-provoking essayist and an astute political commentator.
He witnessed and contributed to the rise of political and cultural consciousness of Bangalee Muslims. In his youth, he participated in different social and cultural movements, and in his more mature years, he blossomed as a writer, journalist, politician and, most importantly, as a social thinker.
After completing his studies in Mymensingh and Dhaka, he went to Calcutta (now Kolkata) to study further and follow his dream of writing. He worked in many weekly and daily newspapers and wrote his famous satires during this period. He became involved in anti-British movements, was inspired by Netaji Subhas Chandra Bose, and worked under Sher-e-Bangla AK Fazlul Huq and Huseyn Shaheed Suhrawardy. Abul Mansur started with Swaraj Party led by Deshbandhu Chittaranjan Das and later joined the Indian National Congress, attracted by the leadership of Subhas Chandra Bose. He played a significant role in the Krishak Praja Party of Fazlul Huq and later joined the Pakistan Movement. In 1946, he founded and edited the Dainik Ittehad from Calcutta, which was to become one of the fastest growing modern newspapers of the time.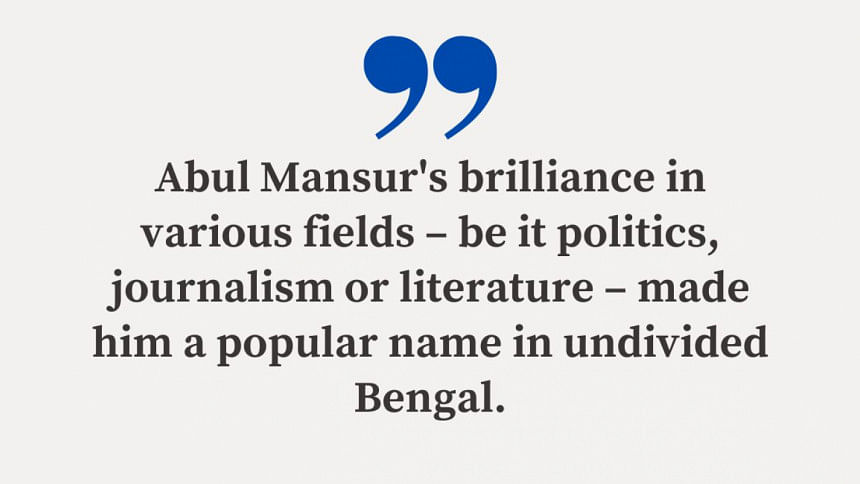 Abul Mansur was a keen observer of his contemporary world, which he saw with the eye of an artist who portrayed life not only as it is, but also as it could be. The many different roles he played made him an exceptional writer, experienced politician and an ace journalist. But it is in the capacity of a litterateur that Abul Mansur shines to this date, and will do so in the future. In the early 40s, when the demand for Pakistan was gathering support, Abul Mansur foresaw the issue and wrote that the state language of East Pakistan must be Bangla, and no other language.
After the 1947 Partition, he returned to his native Mymensingh, restarted his law practice and continued his political activities. He was one of the early leaders of the Awami League and the principal author of the famous Ekush Dafa, the 21-point election manifesto of the United Front in 1954 that routed the Muslim League from East Bengal politics. He later became the education minister in Sher-e-Bangla's short-lived government. In 1956, he became the commerce and industries minister in the central government of Pakistan, headed by Huseyn Shaheed Suhrawardy as the prime minister. He used to be named the acting prime minister of Pakistan during Suhrawardy's foreign trips.
Among Abul Mansur's books are his political and personal autobiography Amar Dekha Rajnitir Panchash Bachhar and Atmakatha, his satires Ayna, Food Conference, Guilliverer Safarnama, his book of essays Sher-e-Bangla theke Bangabandhu, and many others.
Of all his work, Abul Mansur is most remembered as a satirist. He chose satire as his main genre of literature, but he also wrote several novels depicting social injustice. Through them, he highlighted all forms of bigotry and exploitation in the name of religion and political hypocrisy. Among his satires, Ayna is most noteworthy. In Aynar Frame, a foreword to Ayna, poet Kazi Nazrul Islam wrote, "Normal mirrors reflect the outward picture of a man. But the ayna my friend Abul Mansur Ahmad created has caught the inner picture of man. People who roam around us wearing various masks have had their real face revealed in Abul Mansur's Ayna. We met them all the time in temples, mosques, on the dais making public speeches, and also in the literary arena."
His other humour pieces like Hujur Kebla and Nayebe Nabi are also unparalleled in Bangla literature. He showed his intellectual courage by writing these books in the 1930s and 1940s while the contemporary writers were cowed down by the fundamentalists of the time. What Abul Mansur wrote at that time about religious bigotry, we cannot think of writing in the 21st century.
As a visionary and an intellectual, he was far ahead of his time. Imbued with patriotism, he stood against corruption all his life. He used his mighty pen against all inconsistencies in the society. His belief in democracy was life-long and unshakeable. For him, it was the best form of government, and he wrote relentlessly to build a democratic society. As Shilpacharya Zainul Abedin drew sketch of the famine, Abul Mansur drew sketch of social evils in his works. And he succeeded in unmasking those responsible for the famine and the distress of humanity.
In Bangla literature, Abul Mansur Ahmad remains a very important figure. Our society is not yet free from the social, political, religious and cultural vices against which he wrote so vigorously. Use of religion in politics, the influence of the pir-fakirs in social life, and the hypocrisy in the name of politics still persist. But today, no one is as vocal against these as Abul Mansur was. We now need such writers and thinkers more than ever before.
Translated by Enamul Huq.
Emran Mahfuz is a poet, writer and journalist at The Daily Star.