Abul Mansur Ahmad Smriti Parishad holds creative writing and research workshop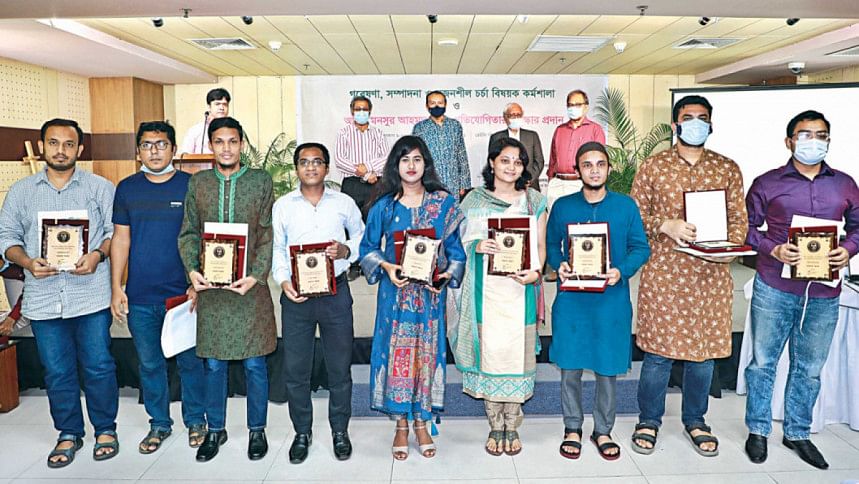 The Abul Mansur Ahmad Smriti Parishad held the award giving ceremony for its fourth annual essay competition, commemorating journalist, author, historian, and politician Abul Mansur Ahmad, yesterday at 4 pm at The Daily Star Center. A day-long workshop on creative writing, editing, and research accompanied the programme. 
Filling in for Professor Biswajit Ghosh, former Vice Chancellor of Rabindra University, who was unable to inaugurate the event due to health issues, The Daily Star's Editor and Publisher Mahfuz Anam graciously addressed the crowd.
"The fact that people can revolutionise newer and more advanced technology, all this is owed to research and creativity, which is the greatest asset at civilisation's disposal", the editor said, emphasising the need to invest in and develop research-based practices in order to enhance intellectual resources. 
Professor Sumon Sazzad of Jahangirnagar University, Professor Mohammad Azam of Dhaka University, and Rakhal Raha, Editor-in-Chief of Sompadona led a detailed workshop for 70 participants. 
The speakers highlighted the significance of self-editing and the need for an emerging writer to have a clear sense of intention and purpose for their readership.
"The starting point of every organisation is a center, and when it grows in terms of volume and operation, it becomes an institution", Arif Khan, President of the Reading Club Trust, said in his closing remarks. Khan suggested a future path for the Abul Mansur Ahmad Smriti Parishad and urged readers and early career researchers to read rigorously across disciplines. 
Academic, editor, and translator, Professor Fakrul Alam of Dhaka University, followed with advice on self-editing. 
"The practice of reading is crucial to writers", Professor Alam said, "but they must also take intentional steps to improve upon their craft. Peer review and feedback are valuable instruments."
He suggests consulting writing manuals like The Practical Stylist (1962) by Sheridan Baker, helpful both for English and Bangla writing. 
Political analyst and literary critic, Professor Emeritus Serajul Islam Choudhury of Dhaka University, spoke at length about Abul Mansur Ahmed, stating that the iconic writer-historian's penning of the legacy and culture of this country remains unparalleled. 
"He was an intellectual who made special contributions to the development of our national history by interpreting the world through logic and knowledge", he said, "and extended this valuable knowledge to others through his writing and speeches with the intention of revolutionising change".
The programme convened with presentation of awards to this year's essay competition winners, Ishita Farzana, Asmaul Hussain, Tasneem Tisha, Mostafizur Rahman, Aziz Sartaz Zayed, Muhammad Nuruddin Shaheed, and Sulaiman Mahmud, Mohammad Muhibullah, Alif Noor Sharmi, and Kamrul Hasan Masuk, and with participation certificates given to the workshop attendees. 
The event was organised by  Emran Mahfuz, convener of the Abul Mansur Ahmad Smriti Parishad.