Gyantaposh Abdur Razzak Foundation conducts session on Manosh Chowdhury's unpublished research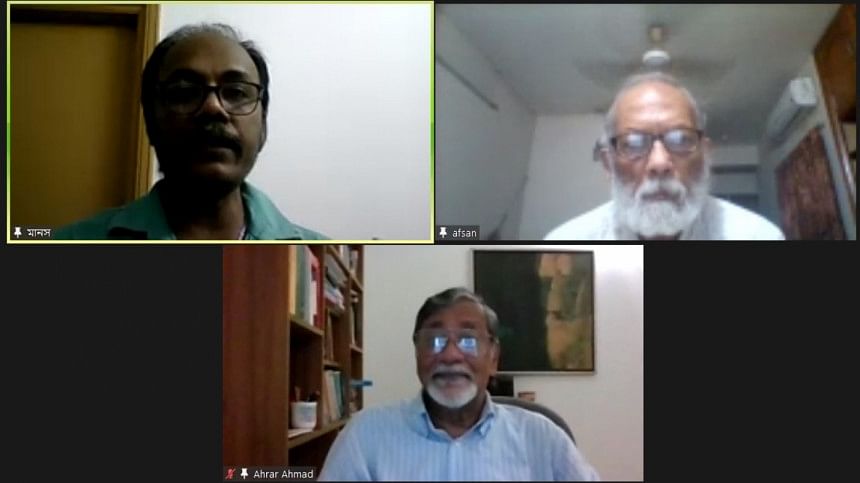 The Unpublished PhD lecture series, organised by Gyantaposh Abdur Razzaq Foundation, resumed on October 12, 2021 at 7 pm over Zoom after a two year hiatus due to the Covid-19 pandemic. In its eighth episode, researcher and professor of Anthropology at Jahangirnagar University, Dr Manosh Chowdhury, gave an illuminating talk on his doctoral thesis: "Popularizing Project: Some Aspects of Production of Culture and Discourses in Bangladesh".
"We rely on foreigners for knowledge and surrender ourselves. We do not promote or value our own researchers", Dr Ahrar Ahmad, the foundation's Director General, pointed out in his opening remarks. "It is essential to change this outward tendency and dependence. That is what we want to do through the foundation." 
He paid respect luminaries like Professor Anisuzzaman and BRAC founder, Sir Fazle Hasan Abed, whose deaths mark the past year. 
Dr Manosh Chowdhury followed in the discussion with his ideas, stating that, "I have avoided military talk about the state, for good reason. Among the larger agencies are not only corporations and INGOs (international non-governmental organizations), there is also a large media and military." He mentioned that he reached this conclusion by identifying some political and cultural areas of Bangladesh. 
 "The aim of this thesis", he said, "has been to illustrate how the 'popular' is not an arbitrary outcome as it is claimed to be, and how the project of constructing popular is functioning with subscription from different agents". 
The project hypothesizes that being popular in Bangladesh does not depend on the classical model of elite versus popular culture. In each of the chapters in his paper, he expounds upon the historical and conceptual framework of the hypothesis, a brief sketch of Dhaka as the site of the research, the cultural processes that produced an icon out of Major General Ziaur Rahman, the consumerism that shapes identity formation, the formation of secular prejudices, the construction of the "hero" icon in mainstream Bangladeshi cinema, the construction of political vocabulary, and, finally, the privatisation of education. 
Presiding over the event, writer and researcher Afsan Chowdhury raised some stimulating points. "It is very important to understand the technology behind any event, whether it is popularity or deprivation of popularity. Why is it important in the case of Bangladesh? In Bangladesh, education is viewed as 'sacred science' and 'unholy science'. As a result, in education we either defend or attack, we do not see pedagogy as a process", he said.
"The foundation will continue to hold events in the physical presence of the students and the library will soon be open to students when the situation returns to normal", he said.  The programme was conducted by Iftekharul Islam, Executive of Research and Administration at Gyantapash Abdur Razzaq Foundation.
For more book-related news and views, follow Daily Star Books on Facebook, Instagram, Twitter, and LinkedIn. Write to us at [email protected]