Living in the land of dying rivers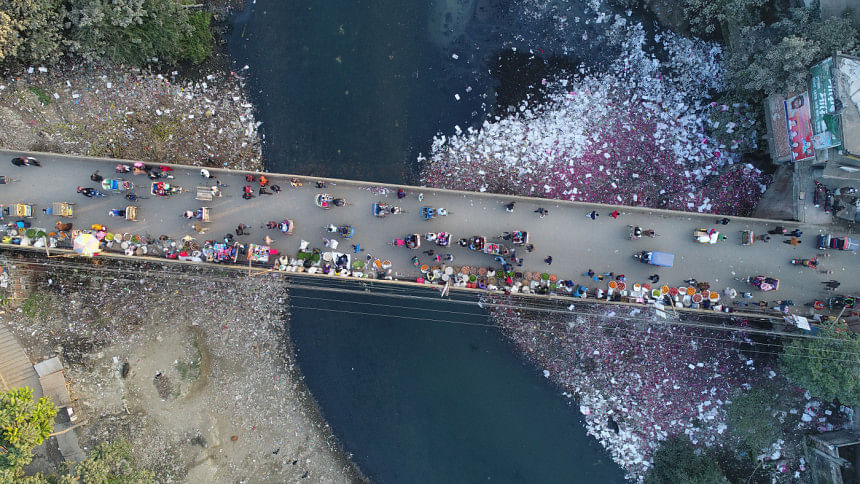 Don't look for rivers in rivers in Bangladesh.
For here, in this development wasteland, rivers don't live; they merely exist. They exist as relics of their halcyon days when rivers were truly wild, mysterious, free – or as a side character in their own story, as told through poetry and music. They exist in inherited nostalgia. They exist to serve, not to inspire imagination. Today, going through eponymous titles like Bibhutibhushan's Ichhamati, Manik Bandopadhyay's Padma Nadir Majhi, Adwaita Mallabarman's Titash Ekti Nadir Naam, Samaresh Basu's Ganga or Debesh Roy's Teesta Parer Brittanta is like walking past a film reel – each river a new negative, a wondrous revelation, but each also a cautionary tale that nature may nurture us, but it needs nurturing, too. Like everything we hold dear.
This is what I tell myself every time I come across a "dying" or "dead" river these days. And I wonder how long we can hold on to the images of what rivers once were before the only image that remains of them is a natural has-been decayed through neglect and overuse.
For many of us, images are a vital part of our relationship with rivers. They hugely influence our perception of how we connect to them beyond all the trade, transport, and agriculture that bound us together through the centuries. When Hemanta Mukherjee, in his song "O Nodire", asks, "Say, oh river, where is your abode? Is there no end to your journey?" – or "You destroy one bank and build another, but what do you do for the bankside people you leave behind in ruins?" – it's not just curiosity driving these questions, it's also a deep sense of connection with something we at once feared and felt for. The fear is still there in some form. But the feeling is all but gone, thanks to the shifting images and realities.
Part of the reason why the 2019 High Court verdict that granted rivers the legal status of "living entities" seemed so special was because of its potential to reignite this feeling, from one living entity to another. As legal precedents go, this was a "historic" judgment for Bangladesh. It wasn't meant to provoke nostalgia for the good ol' days of undammed, unbridged rivers. It was more rooted in reality, in a vision that development, while inevitable, does not have to come at the cost of rivers. It envisioned a world in which they would be acknowledged as legal beings, treated as free and with respect, and granted certain rights safeguarded by the state. "Killing rivers" used to be a metaphorical expression until they were granted this status, which made it more literal, with a shock value attached to it.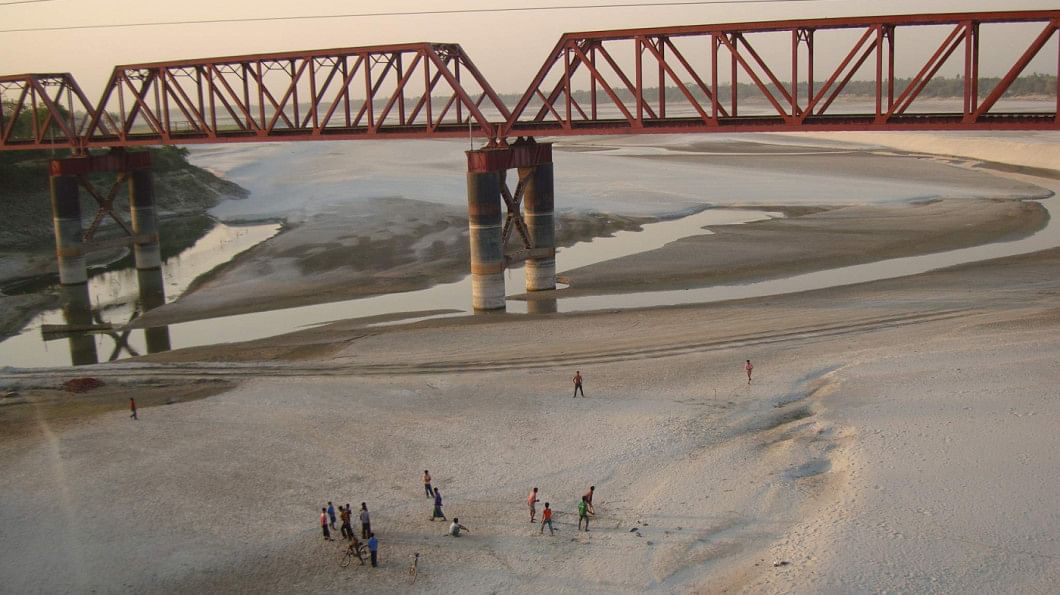 Four years on, that semantic change, and the founding of a largely ceremonial National River Conservation Commission as the "guardian" of rivers, remain the only outcomes of this verdict. Its remarkable lack of impact, as evidenced by the deteriorating state of our rivers, can only be equalled by that of other court judgments on the conservation of forests and hills. In hindsight, the significance of the verdict lies less in its extraordinary worldview, and more in how extraordinarily it represents the falling apart of that vision. Perhaps the judges overestimated our capacity to care, or underestimated the state's capacity to not care. Perhaps it was just an attempt to keep up with global legal trends. Perhaps, given our rich history with rivers, they didn't need a superficial recognition in the first place. Howsoever you view this verdict today, the truth is, it has failed to prevent what environmentalists rightly called "rivercide."
Nowhere else will you hear a minister claim that we don't need wide rivers, and that we have to narrow them down and recover land from the riverbanks to build resorts and roads and implement other forms of development!
Bangladesh has about 220 small and large rivers, and 90 percent of them are said to be suffering from pollution and encroachment. More than 43 rivers dried up between 2000 and 2020. According to the Rivers and Delta Research Centre (RDRC), which unveiled the findings of a year-long study in March, at least 56 rivers flowing through different parts of the country are suffering from "extreme pollution" during lean periods, when natural flows of rivers are at their lowest. Even rivers that became household names through famous books have not been spared. A quick Google search will tell you: the once-mighty Titash is now a veritable canal, with many illegally built structures dotting the riverside; the Ichhamati near Pabna is nearly dead, revived only by the monsoon onrush of water from the Padma; the sad state of Teesta is there for everyone to see. This state of affairs can make any residual nostalgia you have for the rivers disappear.
Or think of the Karnaphuli in Chattogram, or the Rupsha, a distributary of the Ganga – all poetic names now reduced to a harsh, prosaic existence. These rivers, like the ones before them, are being robbed of life, one aquatic species at a time. The same suffocating situation prevails at the Khowai, which flows through Habiganj, or the Mayur, which flows through Khulna, or the rivers surrounding Dhaka. Tonnes of household and industrial waste are dumped into them every day, untreated and unchecked, while marauding encroachers, both individuals and institutions, including those run by the state, go about building on dried-up lands, pushing further and further beyond the demarcation pillars in some cases. Add to that the mining of sand, the brickfields on riverbanks, the greasy pollutants from motorised boats, the siltation – all contributing to their progressively unhealthy aquatic state. It's not just the life of rivers, canals, or wetlands that is being put to the test. There are also a vast community of farmers, fishers, villagers, and other river-dependent people who are going through a painful readjustment.
Bangladesh has thus essentially become a Land of Dying Rivers, in an astonishing shift for a nation that once ascribed motherly value to its rivers, endearingly calling itself "nadimatrik."
True, the attempt to control or utilise rivers has been there from time immemorial. It was there during the rule of the British, who sought to control the rough waters of Bengal through building road-rail networks. It was there during the rule of Pakistan, which undertook development projects. Their initiatives, in some cases, proved to be disastrous. Ruling rivers – just like hills, forests, and seas – has been an enduring pursuit of humanity. In the monsoon, you had encroaching rivers; in the summer, you had a pushback from encroaching men.
But what we are witnessing in today's Bangladesh is not ruling ("nadi shashon"), it is bullying ("nadi shoshon"). It's not driven just by necessity, but also greed, a general disregard for the sanctity of life, and a reckless can-do-ism. Nowhere else will you hear a minister claim that we don't need wide rivers, and that we have to narrow them down and recover land from the riverbanks to build resorts and roads and implement other forms of development! This pretty much sums up the reigning mood in Bangladesh. And if the current trend holds, our name may forever be associated with a unique civilisational truth: once a river, NOT always a river.
Perhaps this was inevitable. Over the last few decades, the more we urbanised, the more we sought to exploit and monetise rivers. The more our population grew, the more we came to treasure our land (and riverbed) as real estate. So, we put unwieldy dams around rivers, hollowed them out in search of sand, canalised and diverted them, constricted their navigation through encroachment, and in many cases, turned them into dumping zones. Anomalies and warnings abound simultaneously. "A dumping zone called Turag" – a newspaper heading screams, as if to parody the oft-quoted Titash Ekti Nadir Naam (A river called Titash). What was once a symbiotic relationship worthy of immortalisation in poetry, music and literature has now turned into an abusive relationship, with 170 million rudderless people wedged into a sparse landmass, all somehow complicit in the slow decay or death of their rivers.
All somehow ready to accept that their cities turning into heat islands, their rivers being robbed of aquatic species, their waters being contaminated, their fishes being infested with microplastics, their ponds and lakes disappearing, their haors suffering longer flooding durations because of unplanned development, or their children growing up without any connection with their riverine ancestry are not a big enough price to pay.
We must acknowledge, however, that there have been attempts to reverse this cycle of destruction. There is no dearth of policies, regulations, and responsible agencies in the country. Eviction and excavation projects to free rivers and riverbanks are routinely heard of. But these attempts are so few, so poorly planned, and so uncoordinated that any resultant effect fizzles out before it can be visible.
Clearly, we need a critical rethink about our whole approach to rivers and river management.
This is an updated and expanded version of an article originally published in the Jamini magazine.
Badiuzzaman Bay is assistant editor at The Daily Star.