Plastic pollution: Karnaphuli most defiled
CPD analysis reveals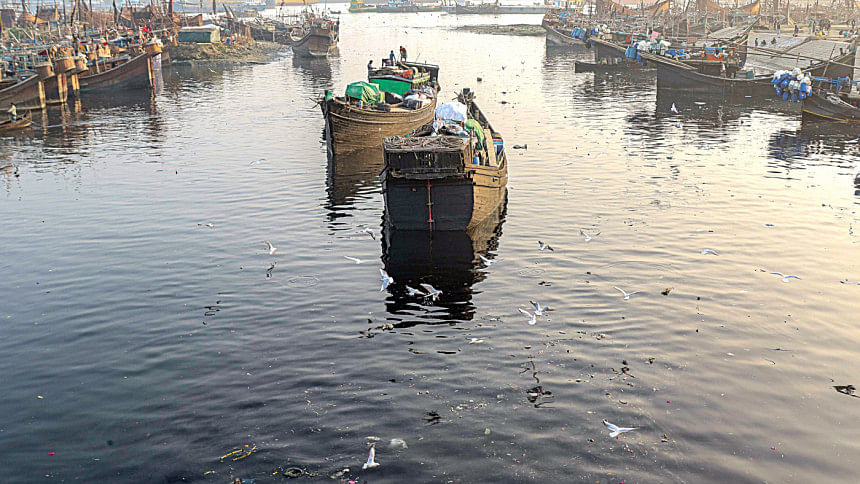 Mismanaged plastic waste of the metropolis has turned the Karnaphuli, on whose banks the country's key sea port is located, into the top plastic-digesting river.
Around 40 percent of the mismanaged plastic ended up in the waterbody, a key river in the Chattogram region. It is followed by the Rupsha river in the south-west of the country, which swallows up to 31.7 percent of plastic waste.
The Chattogram Port Authority had to recently halt a dredging project halfway due to massive layers of polythene at least seven meters high.
A secondary data analysis by Centre for Policy Dialogue (CPD), as part of its CPD-Green Cities Initiative Research, was revealed yesterday.
Other rivers choking from plastic pollution include the Kirtankhola (7.1 percent), Sandha (6.5 percent), Nar (4.1 percent), Meghna (3.3 percent), Kaliganga (2.5), Baleshwari (2.0 percent), Sugandha (1.8 percent), Galachipa (1.2 percent), Payra (0.7 percent), and Bishkhali (0.2 percent).
The CPD analysis said mismanaged plastic waste is a significant source of contamination in the country's water system, adding that around one million metric tons of it is generated every year around Bangladesh's coastal areas.
Syed Yusuf Sadaat, research fellow at CPD involved in study, told The Daily Star that 646 tonnes of plastic waste are produced every year in Dhaka alone.
Of those, 48 percent goes to landfills, 37 percent is recycled, 12 percent ends up in rivers, while the remaining three percent is littering the roadsides.
"The situation worsened as Bangladesh, being a deltaic landscape, receives a portion of plastic from neighbouring countries. The scenario could get disastrous without political commitment to reduce plastic pollution," he said.
The study further said excessive consumption and indiscriminate disposal of single-use-plastics, such as plastic bag, clear plastic thin wraps, coffee cups, and lids, Sadaat said, adding how the Covid-19 pandemic intensified the use of those.
The canals that lead to rivers crisscrossing the cities carry the domestic waste, which is largely made up of polythene and plastic.
Meanwhile, industrial pollution has also been taking a toll on the river. 
Sharif Jamil, general secretary of Bangladesh Paribesh Andolon, told The Daily Star that the damage done to the rivers through plastic pollution is beyond words -- killing aquatic life, halting navigation and depriving riverine people of their livelihood and inflicting diseases on them.
"To stop this menace, we must have a comprehensive plan. Though we are the first country to ban the use of plastic, in practice, the use of it increased every year. So much so that our drains, canals and rivers are all clogged.
"The government must recognise this public health hazard and the economic loss caused by it. Otherwise, we will have to be spectators of our own destruction."