Plastic most lethal among all waste
Some businesses hold out hopes with waste recycling initiatives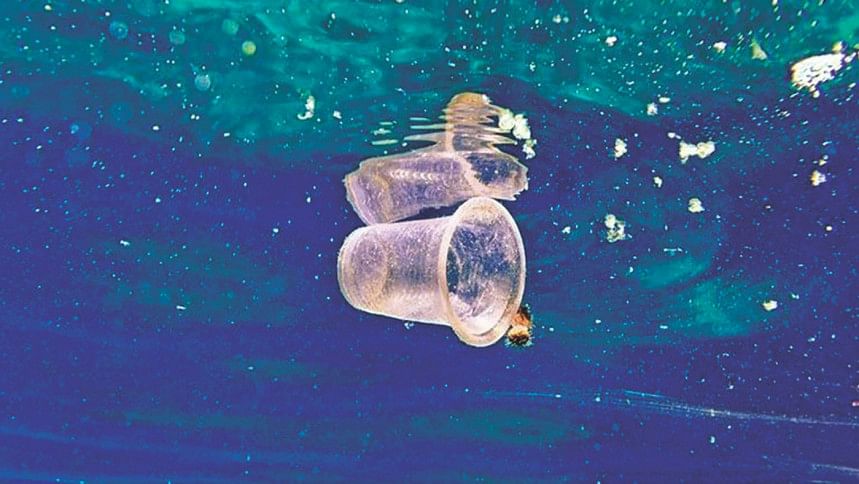 Plastics are silently piling on the environmental miseries of Bangladesh, one of the most climate change-vulnerable countries in the world.
Among all wastes, plastic is found to be the most hazardous for this densely populated developing nation, where the garbage collection system is largely inefficient and, to some extent, non-existent. Thus, the plastic shopping bags or food wrappers that we use for a few minutes to hours will continue to exist in the environment for hundreds of years.
The developed world is dealing with the overwhelming plastic menace with a three-way approach -- reduce, reuse and recycle. A reality check can reveal why Bangladesh is precariously poised. The country has a law for reducing the use of plastic, but it stumbles on implementation. And a World Bank study in 2021 states, 69 percent of the disposable plastic products in the country are left uncollected and only 31 percent are recycled.
Plastic recycling could play a pivotal role in mitigating the impact of plastic pollution, which persists on land and waterbodies, threatening a wide array of riverine and marine ecosystems in the country.
As per a 2021 World Bank study, the per capita plastic use in Bangladesh has tripled to 9kg in 2021 from 3kg in 2005. In Dhaka, the amount is 24kg, almost three times higher than that of other urban areas of the country.
Another study, carried out in 2020 by the Environmental and Social Development Organisation (ESDO), found that 87,000 tonnes of Single Use Plastics (SUPs) are produced in the country every year. Of the SUPs, 96 percent contained food or personal care products.
That year, the High Court issued a directive to ban the use of SUPs in coastal areas, including in hotels, motels, and restaurants.
But the Department of Environment could neither comply with the court order nor properly enforce the ban on polythene shopping bags over the last 20 years.
In the Roadmap for Sustainable Plastic Management for Bangladesh, the World Bank recommended Bangladesh recycles 50 percent of all the plastic it uses by 2025, and 80 percent by 2030.
The roadmap also outlines phasing out 90 percent SUPs by 2026.
Today is World Environment Day. This year the theme is "Beat Plastic Pollution".
Prof Ijaz Hossain, former dean of the Engineering Faculty at Buet, told The Daily Star that every day about 24,000 tonnes of waste is generated in the country and 10 percent (2,400 tonnes) of it comes from plastics.
Referring to a study carried out by Waste Concern, he said most of the recycled waste are PET (PolyEthylene Terephthalate) bottles as they have market value. 
"In plastic recycling, we face two kinds of problems. One is household source segregation and another is littering. In household source segregation, the plastic gets mixed with other garbage making it difficult to sort them out. If source segregation could be done properly, plastic waste collection would increase," he said.
HOPE IN RECYCLING
However, there is a silver lining with some large conglomerates coming forward to recycle various wastes with innovative technologies.
The country's steel manufacturing pioneer BSRM has recently launched a technology to turn the slag that comes from the metal casting and refining process into brick.
BSRM produces 0.12 million tonnes of slags a year, which is 33 percent of all slag produced by the steel industry. The remaining 77 percent of slag ends up in roadside ditches, canals or rivers.
Now BSRM's slag-turned-brick has made its way into road construction.
Tapan Sengupta, deputy managing director of BSRM, told The Daily Star that the slag is successfully replacing the brick and stone chips used in road construction, including road dividers, pavements, and the loadbearing layers (sub-base aggregate) under roads.
BSRM converts all its slag into reusable products.
Recently, the introduction of the technology earned them the SDG Brand Champion Award-2023 given by Bangladesh Brand Forum.
Tapan said they came up with the technology as a part of their commitment to protect the environment. It will encourage others in the steel industry to follow suit.
The Roads and Highways Department in 2020 recommended the use of slag-turned-brick chips as sub-base aggregate.
Kamruzzaman Kamal, director (marketing) of PRAN-RFL Group, told The Daily Star that they have 10 mega collection centres of plastic across the country with direct engagement of 2,000 people.
Another 4,000 people are indirectly involved in plastic waste collection. They recycle 40,000 tonnes a year.
Ta Duy Tung, managing director of Coca-Cola Bangladesh, said plastic waste management has become a huge issue globally and the availability of Coca-Cola beverages in recycled PET bottles is in support of a circular economy in Bangladesh.
To achieve this, it is critical we have enough supply of food-grade recycled plastic to meet demand.
"This is why together with our bottling partners, the Coca-Cola system in Bangladesh is investing in the collection and recycling of PET plastic bottles. It is our ambition to help collect and recycle the equivalent of all the plastic bottles we bring to the market," he said.
Shamima Akhter, director (corporate affairs) at Unilever Bangladesh Ltd, told The Daily Star that they were prioritising the recycling of SUPs and multilayer plastics.
"Unilever managed to collect 7,000 tonnes of plastic in Chattogram since June last year and reached one million people through awareness programmes and ensured improved livelihood for 2,000 waste workers by encouraging them to collect plastic waste," she added.
Mohammad Mohasin, head of supply chain at Walton Group, told The Daily Star that they recycled 12,000 tonnes of plastic waste a year. Usually, they turned the waste into plastic tiles for their own use.