Tackle the plastic tide with proper waste management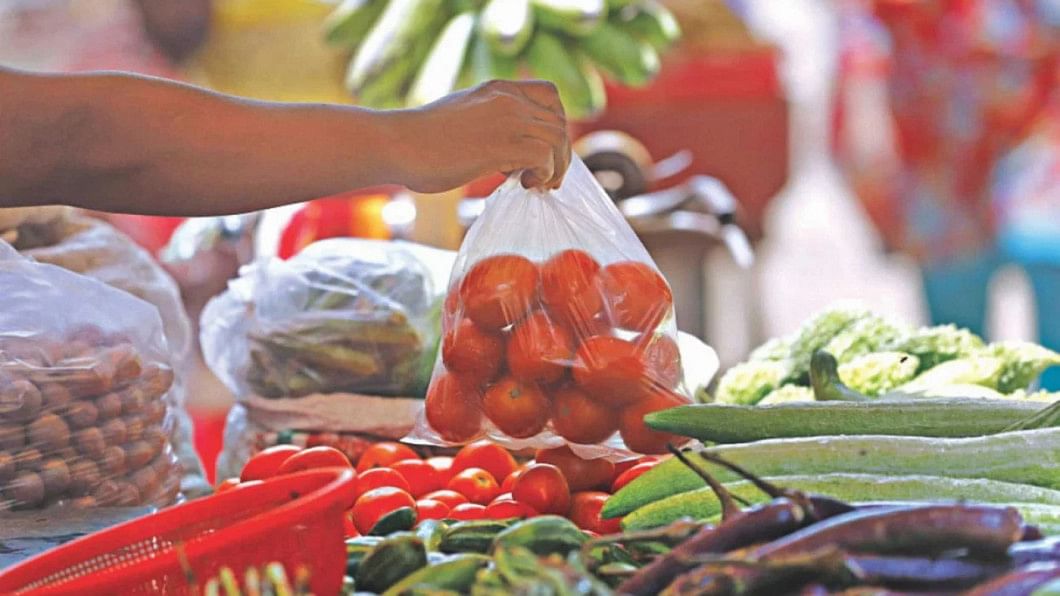 Almost everything in our daily lives involves plastic in some way. Whether it's toothbrushes, a fan's control panel, medicine or packaging, plastic is ever-present as an essential component. Responsible plastic use involves using it for a long time before it is recycled or discarded. On the other hand, due to the dearth of an efficient waste management system, single-use plastics like sachets, cutlery, wraps, etc continue to significantly damage the environment.
Plastic use in Bangladesh is increasing relentlessly. From 2005 to 2020, Dhaka's daily plastic waste saw a mammoth spike of around 260 percent, from 179 tonnes to 646 tonnes, of which only around 37 percent is recycled. A recent study by Chittagong University of Engineering and Technology found that Chattogram city produces around 249 tonnes of plastic waste on a day-to-day basis, which could go up to 428 tonnes per day by 2052. A whopping 56 percent of Chattogram city's waste remains uncollected.
The current situation makes Bangladesh one of the top countries in the world in mismanaging plastic waste. Harmful effects of this include generation of toxic gases like ethylene and methane, which increases daily temperatures. Discarded waste also ends up in waterbodies, landfills, beaches, and so on. This affects the climate of our country, which in turn makes us responsible for causing harm to the entire planet's ecosystem.
In other countries, particularly in Europe, plastic waste management is often done through a green taxation policy, which gives companies incentives like tax reductions to recycle and reuse their waste. In India, the government has implemented the Extended Producer Responsibility (EPR), a policy approach under which producers are given a significant responsibility – financial and/or physical – for the treatment or disposal of post-consumer products. This has forced leading beverage companies like Coca Cola and Pepsi, among others, to comply with the policy, which in turn has benefitted both the companies and the government.
In Bangladesh, the Department of Environment (DoE) drafted a statutory regulatory order (SRO) in 2018 to introduce EPR in Bangladesh. As per the SRO, producers are to collect used packaging material by themselves or by some contracted third party. In addition, producers are to submit a plastic waste management plan during the application for an Environment Clearance Certificate (ECC), and submit information about recycling or treatment during renewal of the ECC. While the SRO was a step in the right direction, the policy is yet to be introduced for the industry.
Unfortunately, we don't see either tax incentives or regulations in Bangladesh that make it mandatory for companies to obey certain environmentally conscious rules. Such rules lead to compliance to protect the environment, as well as business sustainability. Companies and organisations often need more clarity on what's permissible to use in the production phase of plastic products.
To implement such policies, we must ensure proper infrastructure is in place. Currently, there are around 300 plastic recycling factories across the country that are producing plastic flakes from scraps. Out of these, 80 factories export around 40,000 tonnes of flakes annually. This goes to show that there remains a lot of scope to build more such facilities, which can not only recycle PET bottles but also other plastic products to create recycled packaging, including internationally accredited food-grade recycled plastics.
In order to do this, two things are needed as prerequisites – a relevant designing process of plastic bottles from the companies that makes sure less plastic materials are used in production (reducing the size of bottle caps, changing the shape so the discard option is easier, etc can be part of this). From there, companies can initiate partnerships with entities like city corporations' waste management services, private firms, and NGOs involved in collecting trash, giving necessary training and workshops if needed so that discarded plastic can be separated in the trash and sent to recycling facilities. Even then, there remains the hurdle of sourcing recycling machinery, which is quite difficult to find and needs to be imported at high costs. The government's help in sourcing these would be of great help in our battle to manage plastic waste.
While different initiatives from major companies in Bangladesh, like Unilever, Pepsi, Akij and Coca-Cola, is laudable, ultimately this alone won't be enough to tackle the plastic pollution menace. The government needs to come up with the right framework and implement policies by cooperating with companies that are the top producers of plastic waste.
As our economy grows at an impressive speed, we are poised to see more international and local companies start businesses in Bangladesh, contributing to the development of our country. If the right framework is created by discussing it with the relevant parties, it will help the government achieve its National Action Plan for Sustainable Plastic Management based on the 3R approach of Reduce, Reuse and Recycle, which includes goals like recycling 50 percent of plastics by 2025.
Sumaya Rashid is country director at SR Asia Bangladesh.