"Book down," indeed!
"Peace is never an option when there are 11 groups hence, they fight among themselves constantly... Sometimes the students, after an incident, cut the pipes of the shuttle train so that the connection between the city and the campus is severed."
– "How student politics impacts the lives of students", The Daily Star (July 6, 2023)
Dear Mr Book Down,
Last Friday, on September 29, in a huge auditorium in Dhaka, you a veteran leader and a lawmaker, in the presence of the pro-vice-chancellor of a public university, asked students to practise "Book Down" ("book" in Bangla meaning "chest") and declared that even Devils would not dare an appearance in that audience to fight these young people who had given up books and decided to toe your line.
I was intrigued by your "book down" suggestion, Mr Book Down and I must confess that right after reading that article, I googled the benefits of the "chest down" exercise. The results listed four specific benefits: a regular chest down routine increases muscle thickness, contributes to upper-body strength output, improves posture, and offers greater caloric expenditure.
After all, with the atmosphere heating up, we will indeed need an army of well-built students to be ready as "kormis" of parties, in order to become our sacrificial goats at their altar. They would either slay or be slain, to further the cause of democracy in the country. Who are we to question that, right?
Mr Book Down,
So far, our student wings of the political parties have ingloriously contributed to the culture of ignominy by celebrating raping the 100th girl (1999, Jahangirnagar University), through harassing women on Pahela Baishakh (MC College, 2015), raping a tourist in Cox's Bazar (December 2021), blackmailing young students and threatening to send their photos and videos to male party leaders and high-ups (Eden College, Sep 2022); abducting and gang-raping a schoolgirl (Narayanganj, January 2020), raping a housewife (Bogura, August 2022), raping a speech-impaired teen (Lakshmipur, December 2022). The list doesn't end with rape. It stretches to the brutal murders of shopkeeper Nahid Hossain (New Market, Jan 2022), Abrar Fahad of BUET (2019), tailor Biswajit Das(December 2012), and extends to extreme political violence at educational institutions (SUST, March 2018), attacking journalists (Dhaka City Corporation election, 2020), leading communal violence (Rangpur and Chandpur, 2021), and killing students in "torture cells" in public university dorms (where around 129 students have been reportedly killed in between 2014-2018).
These are only a few examples of the very recent atrocities.
It's my turn to assure you now. No, you certainly aren't the only perpetrator as students in the past also practised enough "book downs," before they shot Sony in 2002. Remember Sony, a brilliant student of BUET, who died in a shootout between two factions of the now opposition (on the streets) political party's student wing? The list runs long and includes assault on political opponents (2015) in Sylhet, attacking Proshika, the NGO, in 2004, vandalising the office of the Dhaka University Teachers' Association president (September 2004), obstructing justice in 2013 while protesting the execution of a senior leader of their party, building a bomb (March 2015), and trading yaba in Patuakhali the same year. All these were part of the continuing culture of violence, audacity and impunity resulting from our collective greed leading to national failure.
Had we truly been by their side, they wouldn't have had to serve our interests in exchange of being rewarded with preferential access to hall seats, earning extra bullying privileges, eating for free in the dining hall, securing sure seats on university transport, getting inflated grades and finally receiving diplomas way before anyone else after graduation, or even becoming incipient elites for a limited period of time. Little do they know that, after a while, because of the fragility of leadership, they too will become expendable.
Mr Book Down,
I hope someday you will have the wisdom to look around our neighbouring states and learn lessons. For instance, have you ever heard of "Milk Tea Alliance," which is an anti-authoritarian platform, a pan-Asian democracy movement for activists, subscribed to by students from Myanmar, Thailand, Taiwan, Philippines, India, Malaysia, Indonesia, Belarus, and Iran, which protests and proactively promotes reform? If you have the slightest interest in history, maybe, just maybe, you may remember that in Indonesia, Suharto was forced to resign in 1998 after 32 long years in power? In spite of being beaten, jailed, and kidnapped en masse, the students, through their reformist movement in 1998, had enough steam to stir the people and make way for the first democratic election since 1955.
Remember the June Democratic Struggle in South Korea in 1987, or the Tiananmen Square protests in 1989? Or "March for the Beloved," a song sung by a million Koreans in 2017 when they protested against their president, soon to be followed by the Hongkongers with the same Korean song in 2019 in the streets, in Chater Garden, being sung in Korean, and in Chinese, stringed on a guitar, in iconic protest even after being tear-gassed?
Today, activists from Hong Kong, Thailand, Taiwan, and Myanmar have come together and formed the Asia Democracy Network, through which they enrich their network, enhance their profiles, and grow stronger amidst even the fiercest of attacks. This could be a replicable model for you and your kormi bahini, Mr Book Down.
The young are still setting examples and yet being crucified, like Syed Saddiq, the youngest cabinet minister in Malaysia, and Sarah Elago in Philippines, the youngest ever female lawmaker; they were both conveniently discredited by the authorities in 2021. Saddiq was charged for allegedly misappropriating funds and Elago had consistently been targeted by a misinformation campaign. But these young leaders have paved the way for more fearless activists. Today, activists from Hong Kong, Thailand, Taiwan, and Myanmar have come together and formed the Asia Democracy Network, through which they enrich their network, enhance their profiles, and grow stronger amidst even the fiercest of attacks. This could be a replicable model for you and your kormi bahini, Mr Book Down.
I want to share another anecdote with you. In one of the political programmes that I was slightly involved in, we were expecting a hall full of students. That hall was huge and I was doubtful about attendance. But I was soon proven wrong as the hall couldn't accommodate even an extra fly as capacity was filled to the brim. I took one quick look at the audience and saw 700 faces staring at the stage blankly. They were only kormis, workers of the political party ranging between 24 and 60 years of age.
Quite ironically, the leader himself was a 50-year-old politician-turned-businessman who had zero interest in their future. As for the students, approximately half of them were wearing reading glasses without probably having read anything at all in their lives. I learnt that it was all part of the stage game, as they wouldn't look "serious and credible" enough otherwise.
As a result, today we have "book downing" practices replacing "book-reading," leading to a general disinterest from students resulting in empty, yet fully equipped classrooms.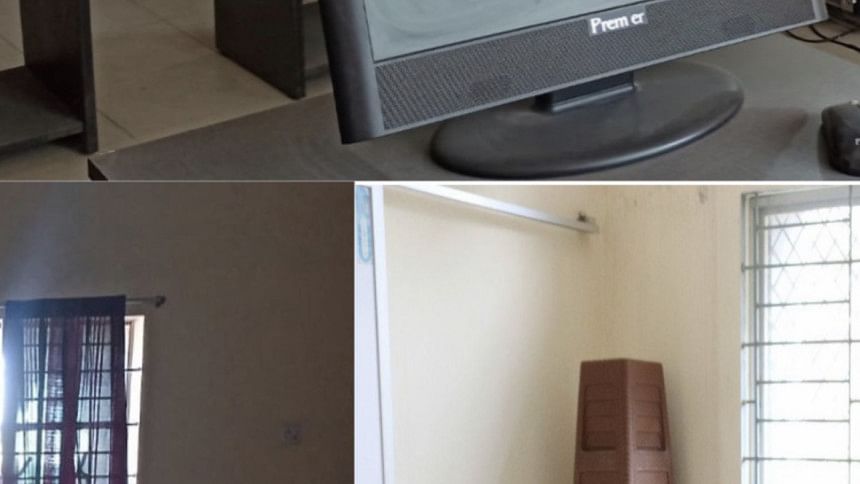 We also have difficulty recruiting students who are officially "eligible" but unemployable in real offices, just because most of them can barely write even one page of English without making mistakes. I draw your attention to a few pictures that may help you with your reality check.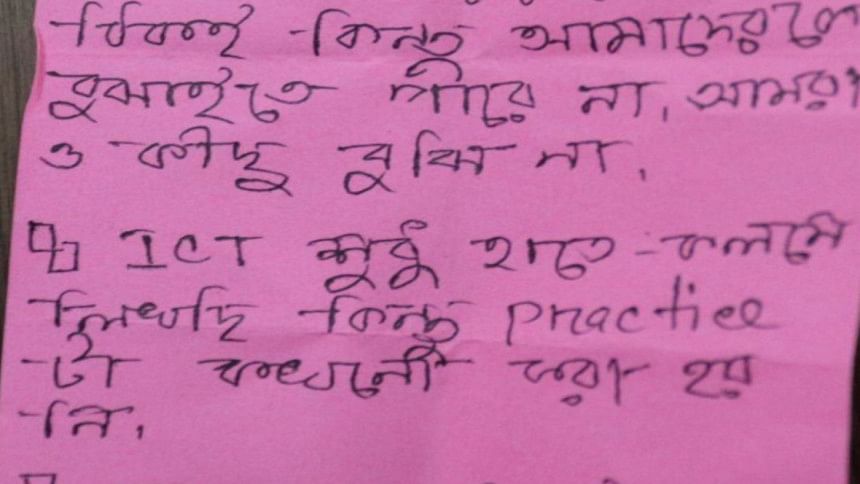 These pictures and responses are part of a survey done by a few bold young women who visited 50 colleges in the country. Just so you know, I remain eternally grateful to them.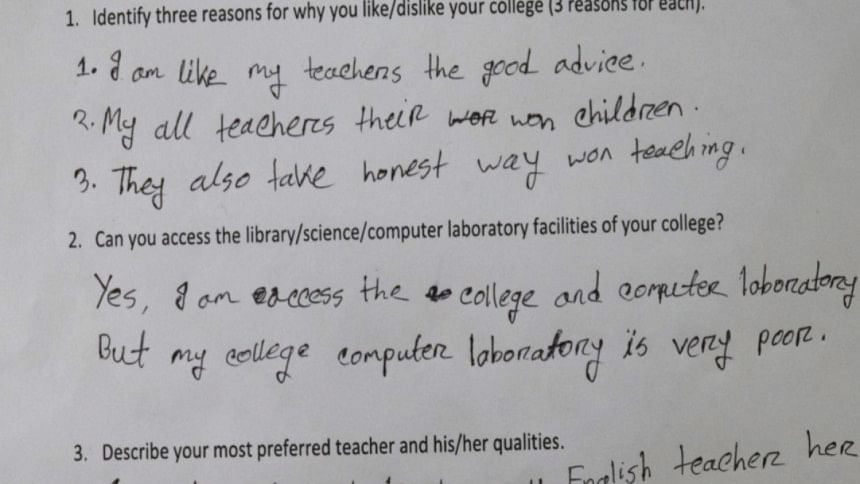 Mr Book Down,
There was a story in a Bangla daily the other day of children having to cross two rivers to reach their school in a village called Goradigha, where there are 4,000 people living in 690 houses. There are no rickshaws, no vans.
They only have boats to ply. Do you happen to know of this village, Mr Book Down?
Are you able to gauge their level of aspiration?
And yes, do you even remember losing Sony in 2002 and Abrar in 2019? Between the two deaths and thousands more, Mr Book Down, do you think anything has really changed in Bangladesh?
And yes, the last question, finally: Once upon a time, you were awarded the third-highest award for gallantry for your contributions during our liberation war… between then and now, what made you stop being the hero that you once were?
Profoundly sad,
Your Conscience.
---
Dr Rubana Huq is vice-chancellor of Asian University for Women. 
---
Views expressed in this article are the author's own.
---
Follow The Daily Star Opinion on Facebook for the latest opinions, commentaries and analyses by experts and professionals. To contribute your article or letter to The Daily Star Opinion, see our guidelines for submission.