Israel's military capability should be neutralised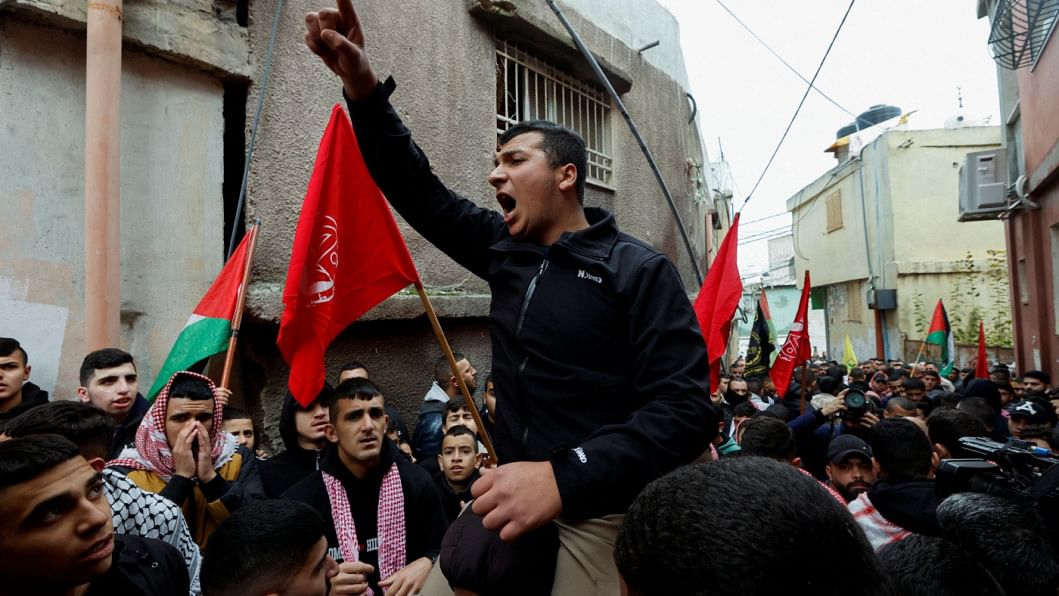 Violence has once again flared up in Palestine with the new Israeli right-wing regime – considered the most right-wing government in Israel's history – carrying out multiple military attacks on Palestinians. Since the government, led by the controversial politician Benjamin Netanyahu, was sworn in on December 29, 2022, highly right-wing politicians have been appointed in the cabinet and entrusted with key portfolios, including Itamar Ben-Gvir – a notorious provocateur – as the national security minister. This recent spate of violence has been sparked in the wake of Ben-Gvir's visit to the Al Aqsa compound on January 3, and his later declaration to forcibly remove the entire community of about 180 Palestinians living in Khan al-Ahmar, a Bedouin town in the occupied West Bank, to feed the government's growing appetite to expand Israeli settlements. This move can safely be considered as a part of the Israeli government's greater agenda of systematic ethnic cleansing of Palestinians from the region.
While in the third week of January, tension were high in Khan al-Ahmar with the Palestinian residents taking to the streets to protest the threat of their forced expulsion, at daybreak on January 26, the Israel Defense Forces (IDF) entered the Jenin refugee camp – as part of Operation Breakwater, Israel's nine-month-long military campaign launched in spring 2022 to supposedly exterminate Palestinian fighting groups – and killed 10 Palestinians, including a 61-year-old woman, in a bloody massacre. One cannot help but wonder how she was a targeted Palestinian fighter. As videos of the raid emerged, children were seen gagging and choking thanks to the teargas fired by IDF soldiers during the raid.
In January alone, 35 Palestinians have been killed, including eight children, in what is being termed as the deadliest month for Palestinians since 2015. Israeli aggression and butchery of the Palestinians has been significantly increasing since last year, when more than 225 Palestinians were killed in the Gaza Strip and West Bank, including children and the elderly.
For the sake of civility, the international community, including the UN, and Israel's closest friend and ally, the US, are raising "concern" at the spike in "violence" in Palestine. Unsurprisingly, however, at the same time, some of these concern-raising actors are arming Israel with the funds and weapons to carry out these same attacks. For instance, on December 29, the US president signed a USD 1.7 trillion spending bill, that included USD 3.3 million as security assistance for Israel – as part of Obama's 2016 annual pledge; USD 500 million to restock the Iron Dome missile defence system; USD 72.5 million to support US-Israel counter-drone and anti-tunnelling cooperation; and USD 6 million as part of a new US-Israel Cybersecurity Cooperation Grant Programme. And this is not all, prominent US weapons company Lockheed Martin is collaborating with Israeli contractor Rafael to develop a version of the Iron Beam – a laser-based, high-energy weapon air defence system, that Israel already uses – for apparent commercialisation.
To cut the chase short, since Israel's systematic ethnic cleansing and butchery of the Palestinians are war crimes, a gross violation of the human rights of the Palestinians, and are also contrary to the international terms based on which the countries agreed to the creation of an Israeli state – for instance, the Balfour Declaration, issued in 1917 by the British government formally declaring its support for the creation of a "national home for the Jewish people" in Palestine, had the condition, "…it being clearly understood that nothing shall be done which may prejudice the civil and religious rights of existing non-Jewish communities in Palestine" – why is the international community still supporting the rogue state with funds, arms and technology to carry out these crimes?
If Russia is being branded a rogue nation for its aggression on Ukraine and being shunned by the international community, why is Israel not being afforded the same treatment? Since the international community is providing Ukraine with arms and weapons to fight Russia and hailing them as brave and valorous patriots, why are they branding the Palestinian fighters terrorists? Both are fighting for their right to self-determination, their basic human rights. Then why are the two being judged through two different lenses? Where is the justice in this?
Also, if Iran's nuclear ambition is harmful for world peace, what about the existing nuclear capability of Israel? The state is already killing thousands of innocent people and committing war crimes, and in addition to having nuclear technology, they are now developing high-energy laser-based technology in the pretext of strengthening their defence mechanism, while the world knows very well that anytime this technology can be used by Israel for the purpose of ethnic cleansing of the Palestinians. And still they support Israel with resources in their pursuit of developing these high-risk, cutting-edge technology weapons?
And what guarantee is there that once Israel has developed its capability of taking on big players, it won't turn its allies into hostages?
Israel is an aggressive state. It spares neither children nor the elderly in its thirst for aggression and bloodshed. Today they are after Palestine, Iran and the Middle East as a whole, as they want to become a regional superpower, but when this is satiated, it may turn on its own allies. The international community must be aware of it, but what are they doing to counter this? Or are they in some sort of a Faustian bargain with Israel?
It is high time the world community started according the same treatment to the Palestinians that they afford other European nations under aggression, and treated Israel like the outcast rogue state that it is, and curbed and neutralised its military capability before things got out of control.
Tasneem Tayeb is a columnist for The Daily Star. Her Twitter handle is @tasneem_tayeb