Israel's latest attack on Palestine: Who is the real terrorist?
Five-year-old Alaa Qaddoum from Gaza dreamt of going to kindergarten soon and had asked her father for a school bag and new clothes. On Friday, Alaa Qaddoum's hopes were shattered forever by the unprovoked, sudden and reckless Israeli attack on the besieged Gaza Strip that continues as of writing this piece. Alaa Qaddoum was visiting relatives in Gaza's Shejaia district, when both she and her father were killed by an Israeli missile attack. She left behind her grief-struck mother, three siblings and a host of mourners.
Israel is justifying this fresh round of attacks on the Gaza Strip – which has already claimed at least 24 lives, including three children – by calling it a "precise counter-terror operation against an immediate threat," in the words of Israeli Prime Minister Yair Lapid, post the arrest of Bassam al-Saadi, a senior leader of Islamic Jihad, in Jenin, West Bank. Jenin in particular has been the centre of multiple escalations this year, with Israel carrying out multiple raids in the refugee camp there. Al Jazeera journalist Shireen Abu Akleh was killed by the Israeli forces earlier this year when she went to cover a raid in Jenin. While there is no denying that frustrated and armed individuals do hover around Jenin, there is no justification for Israel attacking civilian sites in Palestine.
By the looks of it, this attack is going to be a protracted and harsh one for Palestine. Ayelet Shaked, Israel's minister of interior, told Channel 12 News, "We don't know how this will play out… but this could take time… this could be a lengthy round [of conflict] and a hard one." Defence Minister Benny Gantz said Israel was preparing for "actions that will remove the threat from this region." Given Israel's systematic approach to the ethnic cleansing of Palestinians – from expanding illegal Israeli settlements inside Palestinian territories to indiscriminate killing of the Palestinian people – perhaps it would not be wrong to assume that in the name of fighting the so-called terrorist elements in Palestine, their end objective is to exterminate the entire Palestinian population from the region.
In fact, the ongoing attacks seem premeditated as it comes as part of a well-coordinated package, including the closure of the Karem Abu Salem commercial crossing that enables the supply of fuel to the only power plant in Gaza just a few days back, further pushing the Palestinians to the brink. The proximity between the arrest of Bassam al-Saadi, the closure of the Karem Abu Salem crossing and the ruthless pounding of Gaza, along with raids in the West Bank, cannot be treated as separate incidents connected only by coincidence.
What's worrying is that, over the years, Israel has established a pattern than enables it to execute its apartheid plans against the Palestinians in the name of "self-defence." First, Israel provokes Palestinian groups into action: it pushes the people into utter misery by choking their economy, encroaching their lands, butchering and arresting their people, grossly violating their basic human rights, treating them like outsiders in their own motherland. When the Palestinians stand up for themselves and their rights, Israel attacks them in the name of "self-defence." And Israel is never willing to negotiate with the Palestinians when they raise these issues.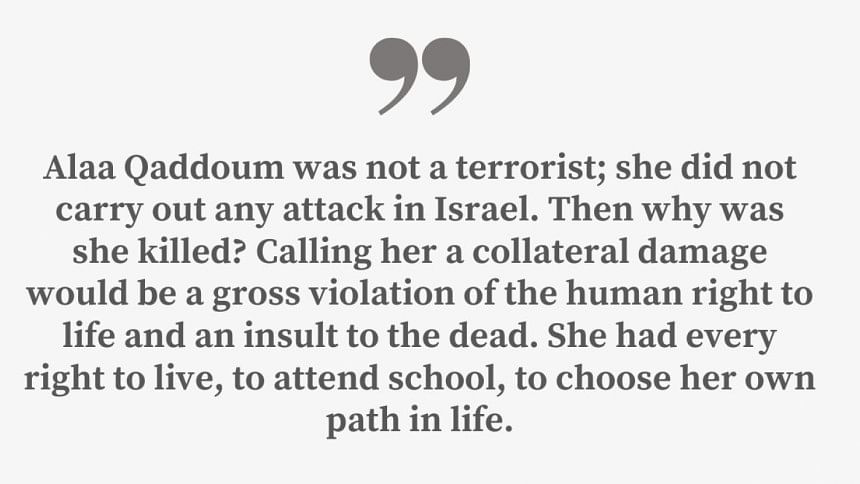 Unfortunately, the Western world very easily buys into this Israeli tactic of playing the victim and lends its support to Israel's narrative and actions. The US and the UK have unabashedly supported Israel's aggression in their reactions. While US National Security Council coordinator for strategic communications, John Kirby, said, "The United States fully supports Israel's right to defend itself against terrorist groups that have taken the lives of innocent civilians in Israel." British Foreign Secretary Liz Truss stated in a Tweet, "The UK stands by Israel and its right to defend itself… We condemn terrorist groups firing at civilians and violence, which has resulted in casualties on both sides."
But in the decades-old Palestine-Israel conflict, who is the "terrorist"? The one that kills innocent people and drives them from their homeland? The one that targets and kills children? The one that carries out ethnic cleansing? The one whose actions inflict mental trauma on underage children? Save the Children published a report titled "Trapped" in June this year, which suggested that 80 percent of children in Gaza suffer from "depression, grief and fear" as a result of the 15-year Israeli blockade of the Gaza Strip. Or is it the one that stands up for their basic human right to life, their right to self-determination?
Russia, in its reaction to the recent attacks, has somewhat ironically pointed out, "The new escalation was caused by [the] Israeli army firing into the Gaza Strip on August 5, to which Palestinian groups responded by carrying out massive and indiscriminate bombardments on [the] Israeli territory." This has become a recurring phenomenon.
Alaa Qaddoum was not a terrorist; she did not carry out any attack in Israel. Then why was she killed? Calling her a collateral damage would be a gross violation of the human right to life and an insult to the dead. She had every right to live, to attend school, to choose her own path in life. Alaa Qaddoum is just one of the innumerable Palestinian children who have been killed, maimed, and incarcerated by Israel over the decades, in a systematic attempt to wipe out the Palestinians. What of their human rights?
While a two-state solution is a must-have to put an end to the Palestine-Israel conflict, there seems to be no action to materialise it. There have been the Madrid Conference of 1991, the Oslo Accords of 1993-2001, 1996–99 Agreements, Camp David Summit in 2000, The Arab Peace Initiative and the Roadmap of 2002-03, Israeli–Palestinian Talks in 2007 and 2008, 2010 Israel-Palestine direct talks followed by Obama's Cairo address, direct talks in 2013–14, 2013–2014 Israeli–Palestinian peace talks, Trump's 2019 preposterous "Peace to Prosperity: The Economic Plan," and many more. But the result of all the talks has been zero. None of these attempts have been able to bear fruit for the Palestinian people – perhaps because the outlook of these talks have always been Israel-oriented.
The Palestinians suffer today, as they have suffered in the past. While the conflict has been a boon for arms-dealing nations, one would still like to give the West the benefit of doubt, and expect them to play a proactive part in stopping Israeli aggression. Israel is setting a very dangerous precedent, and with each attack – backed by its shameless allies – it's becoming bolder, more aggressive. In the long run, this might come back to haunt Israel's allies if it's not stopped in its bloody tracks now.
Tasneem Tayeb is a columnist for The Daily Star. Her Twitter handle is @tasneem_tayeb