Time to speak up for Palestine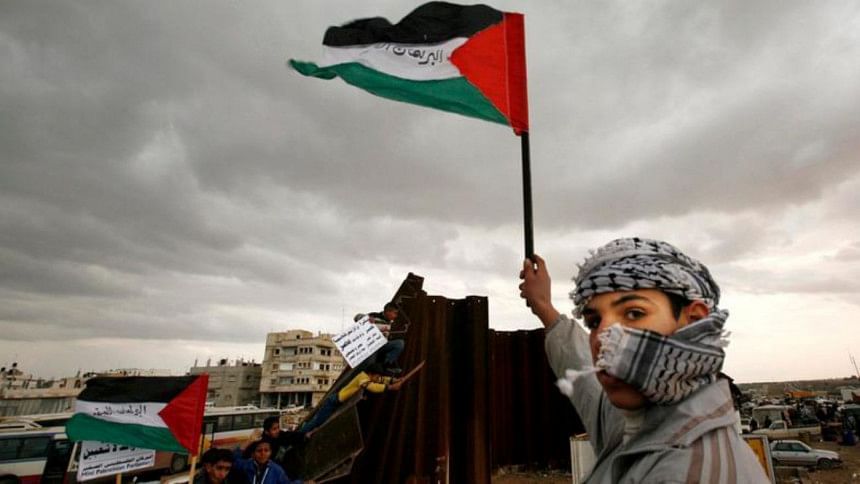 On March 20, 2019, the UN Human Rights Council held an interactive dialogue with Michael Lynk, the UN Special Rapporteur on the situation of human rights in the Palestinian territories occupied by Israel since 1967. In a video message, Lynk expressed grave concerns about the growing Israeli illegal settlement in Palestinian territories since the beginning of the year, with the announced construction of 6,000 new housing units, accompanied by high rates of demolition of Palestinian homes in the West Bank, including East Jerusalem.
The session was followed by a general debate attended by more than twenty-five countries that unanimously condemned the continuous violation of human rights by Israel in the form of excessive use of force, arbitrary detention, construction of illegal settlements, obstruction of freedom of movement, demolition of houses, violations of the right to education and health, and the illegal seizure of camps. They also criticised Israel's refusal to cooperate with the Special Rapporteur, thus undermining international human rights norms and the letter and spirit of the Charter of the United Nations.
Representatives of Israel, as the concerned country, did not bother themselves with being present in the room.
As I watched the video presented by the Special Rapporteur, I was reminded of Angelus Novus, a watercolour by Paul Klee, the Swiss-born German surrealist painter, which depicts a wide-eyed angel with hands raised into the air as though in shock. This is how the angel of history must look if he saw the piles of destruction of Palestinian homes growing toward the sky.
There was hardly any mention of the session in international media. This silence is the greatest success of the Israeli establishment's hasbara—say one critical word about Israel and you will be called anti-Semite. Perhaps that is why the United States Congress, until very recently, has remained mostly mum on Israeli atrocities in the occupied territories. Representatives from both houses, who operate in an atmosphere where the pro-Israeli lobby holds significant power, have consistently minimised and deflected criticism of Israeli policies, even as it has become more aggressive in its occupation of Palestinian territories and adopted several practices similar to apartheid in South Africa and Jim Crow segregation in the United States.  
Many civil rights activists and organisations have remained silent as well, not because they do not care about the Palestinian people, but because they fear the stigma of being labelled anti-Semitic. They are also worried about losing funding from powerful foundations. They are afraid that their social work will be disgraced by smear campaigns. Many students in North America are fearful of expressing solidarity with the Palestinian people because of secret organisations such as Canary Mission, which reportedly blacklists students, activists, professors and organisations that dare to publicly support boycotts against Israel, and sends the names to prospective employers, jeopardising their employability and careers. 
Just look at what happened to Ilahn Omar, the first Somali-American and one of the first two Muslim women elected to US Congress. She got in hot water earlier this year for questioning why it was okay for her to talk about the influence of the NRA (National Rifle Association), of fossil fuel industries or Big Pharma, and not talk about a powerful lobbying group that is influencing policies. "I want to talk about the political influence in this country that says it is OK for people to push for allegiance to a foreign country."
For the first time in history, someone dared to tell the truth to the American people about Israel but the fierce engine of the Jewish lobby started doing everything to crush her. "Hamas has entered the House," comedian Roseanne Barr was quick to cry out. "A black day for Israel," tweeted president Donald Trump. House Foreign Affairs Committee chairman Eliot Engel asked Omar to retract her statement. President Trump mentioned removing Omar from the House Foreign Relations Committee. It remains to be seen how long she will be able to withstand the pressure.
Notice the machinations of the Israeli propaganda engine; how it was able to equate constructive criticism of Israel with anti-Semitism. Abdul Matin, Emeritus Professor of Philosophy at Dhaka University, talking about how to think clearly, once said to me, "It is important to make distinctions and make those distinctions clear." It seems that most Americans and Europeans have failed to make a distinction between the two. 
The Israeli lobby has managed to construct an alternative reality where the world is reminded constantly of Israeli victimhood in the face of Palestinian terror and nothing about occupation, expropriation, bombing, assassinations and military tyranny. This may explain why there has been no significant public support in the capitals of North America and Europe for Palestinian statehood, when millions marched in the streets of these places when George Bush invaded Iraq.
This has to change. Ilhan Omar started a new discourse to American politics and public opinion despite being told repeatedly to shut up. The rest of the world must join in.
The pressure cooker cannot hold indefinitely. Israel needs a viable Palestinian state for its own existence. "The biggest existential threat facing Israelis is not a nuclear-armed Iran. The real peril is to be found at home: the corrosive effect of the Palestinian problem on Israel's international standing," said Shlomo Ben-Ami, a former Israeli foreign minister.
All said and done, let's hear a joke by Omid Djalili, a British stand-up comedian of Iranian descent:
The Palestinian delegate at the UN says, "Before I make my point, let me tell you a little story. Hundreds of years ago in Palestine, Moses was walking through the desert and he came across a rock. He banged the rock with a stone and a fountain of water came out creating a pool. Exhausted from the heat, Moses bathed in the water. But as soon as he got out of the water, he realised that his belongings were gone because they were stolen by a thieving Jew."
At this point the Palestinian delegate was interrupted by his Israeli counterpart. He said, "Objection. At that time in Palestine, there were no Jews there at all."
To which the Palestinian delegate said, "Now that this fact has been established, I would like to start my speech."
---
Amitava Kar is a mechanical engineer.
---
Follow

The Daily Star Opinion

on Facebook for the latest opinions, commentaries and analyses by experts and professionals.
To contribute your article or letter to The Daily Star Opinion, see our

guidelines for submission

.
---