41st Death Anniversary of Abul Mansur Ahmad
A revolutionary name in our literature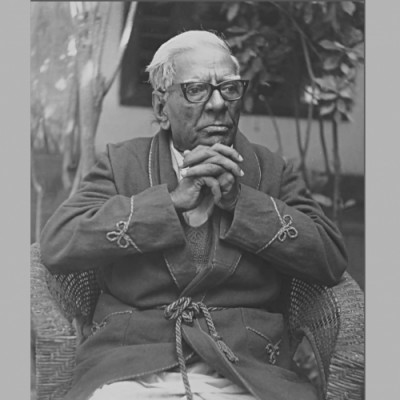 Abul Mansur Ahmad is a revolutionary name in the history of our culture and literature. A star in our literary firmament, he emerged at a time when society was plagued by ignorance, bigotry and superstition, and his bold messages of social reform and intellectual freedom were largely a response to that time. Apart from being a writer, he was also a towering figure in journalism and politics. The first time I "met" Abul Mansur was through his writing. He was a student then, living in his village home in Mymensingh. He posted his first short story to Saogat, titled Nimak Haram. It was published in the ninth issue of the magazine. The Bangla year was 1326 (1920), and the month was Sraban. The story drew a huge amount of attention from literary enthusiasts. Reading the story, I felt that the writer had thought deeply about the issues affecting our society. Portraying the picture of a society so skillfully and in such wonderful language was a testament of his talent as a new writer.
Subsequently, he wrote three other stories—Kurano Bhai, Sharthapar and Adhikar—for Saogat, all of them portraying the lawlessness prevailing in society.
I was once thinking of forming a group of young, progressive writers who would write boldly about social issues. During that time, it was dangerous to write against the established social systems because superstitious beliefs and practices were validated in the name of religion, and tension and division would often be created among people by the religious bigots. In 1333 (1927), we could finally form such a literary group with a number of progressive writers to speak up and fight against all kinds of ignorance and superstition in our society. Kazi Nazrul Islam was given the responsibility to lead the group.
By that time, Abul Mansur Ahmad came to Kolkata and got involved with some newspapers. However, because of the conservative policies of the newspapers, he could not express his thoughts freely. Mohammad Wazed Ali, one of the writers of this newly formed group, said, "I find Abul Mansur Ahmad's writings very thought provoking. Why not bring him into this group?"   
 Abul Mansur Ahmad and the rest of us used to think in a similar vein; we all wanted to fight against bigotry and superstition through literature. His response to our proposal was: "My writings would definitely infuriate the conservatives of this society. No newspaper or magazine will publish my writings. If they do, they will suffer."
I replied: "We must awaken this society from its deep slumber. No matter how revolutionary your writings may be, no matter if they go against the interests of the conservatives, we will definitely publish them in Saogat. If the voices of writers are stifled, how will we awaken the nation?"
Kazi Nazrul Islam said: "We have to shake those who are in deep sleep out of their slumber. I have already tried to do this through my poetry and was also targeted by the conservatives." At this, Abul Mansur Ahmad said: "I will write, on the condition that no part of my writings will be edited out. I will not compromise against social evils and superstition."
After we came to an understanding, he first wrote a satire called Dhormorajyo, which was based on sectarian violence among Hindus and Muslims. The story was published in Saogat in its Ashar issue in 1333, and Abul Mansur Ahmad was finally convinced that he could write for Saogat as its editor had the courage to publish his writings. A month later, he wrote Go-Deokata-Desh. It focused on the movement of Aryan monks who wanted to stop cow slaughter and protect them.
One by one, a series of satires by Abul Mansur Ahmad were published in Saogat, which created a huge impact in literary circles. Everyone was fascinated by his satire Hujur Kebla, which was an extremely bold short story on religious bigotry. Among his other satirical works were: Nayeb e Nabi, Lidare Kwam, Bidrohi Mujahedeen, Scientific Business, Grow More Food, Jonosheba University, Honourable Minister, Sahi Boro Ojarat Nama, and Change of Heart, to name a few. He soon earned a reputation for these stories and fully devoted himself to writing more satire through which he could present to his readers the social realities of his time. According to him, ordinary people were more interested in reading satire than other forms of literature.
However, it is not at all easy to paint the picture of a society through this kind of satire. Only very powerful writers can take on such endeavours.
When progressive young writers were coming in to join Saogat Shahitya Majlish under the leadership of Kazi Nazrul Islam, Abul Mansur Ahmad also played an important role in bringing them together. He wrote in one of his articles: "…During this time, we, the young journalists and writers, were faced with a big challenge. Of course, we thought about the social and economic challenges society was facing, but we were struggling to express our thoughts on how we could free society from social and religious superstitions, and enlighten the Bengali Muslims and turn them into a modern and educated community. We were desperate to do something positive for society and Saogat created that scope for us. Kazi Nazrul Islam took a job in Saogat and started living in a flat on the ground floor of its office, along with his family. I used to write regularly for the magazine. All the short stories of my book Ayena had been written during that time and were published in Saogat."
"In the Saogat office, we would spend time from the evening till late at night, sharing our revolutionary ideas with others. We were all so motivated by the wisdom of Kazi Nazrul Islam and were all brimming with new ideas and thoughts. As we didn't have the freedom to express our thoughts in the newspapers we used to work for, we started a movement for the freedom of the Bengali Muslims through Saogat."
Abul Mansur Ahmad's passion for literature was revealed during his childhood. The humour and skills with which he used to tell stories would fascinate everyone who came in contact with him. Naturally, he later became famous for his short stories, particularly for satirical writings. A big fan of Puthi, he not only used to read Puthi but also wrote some himself. When it comes to writing satires, no Muslim writer, till this day, can claim to be in his league. He had a unique style of writing which manifested in all his literary works.
Abul Mansur Ahmad was never afraid to express his thoughts, despite the barriers he faced from the powerful quarters. Had he cared about them, he couldn't have created such great works. He wanted to reform the Bangla language and turn it into a people's language. When we started a movement in Saogat about our language, he wrote a very important and thought-provoking piece.
Some of his most mentionable books include: Ayena, Food Conference, Shotto-Mittha, Jibon-Khudha, Rajneetir Ponchash Bochhor and Sher-e-Bangla Hoite Bangabandhu. Attokotha, his last book, is not only an autobiography but also an important historical document which was written in his own unique style, with the skillful use of the Bangla language and his own experiences.
Abul Mansur Ahmad was a litterateur, a social worker and a politician. But I believe, he gave his best service to society through his literary works.
The above is a speech given by Mohammad Nasiruddin, a writer and editor, Saogat, at the launching of Abul Mansur Ahmad's memoirs, Attokotha, in 1978. It was taken from Kaler Dhoni, a collection of articles on Abul Mansur Ahmad.
It was translated from Bangla by Naznin Tithi, a member of the Editorial team.