Attacks on the Santal community
Violence spurred by greed for land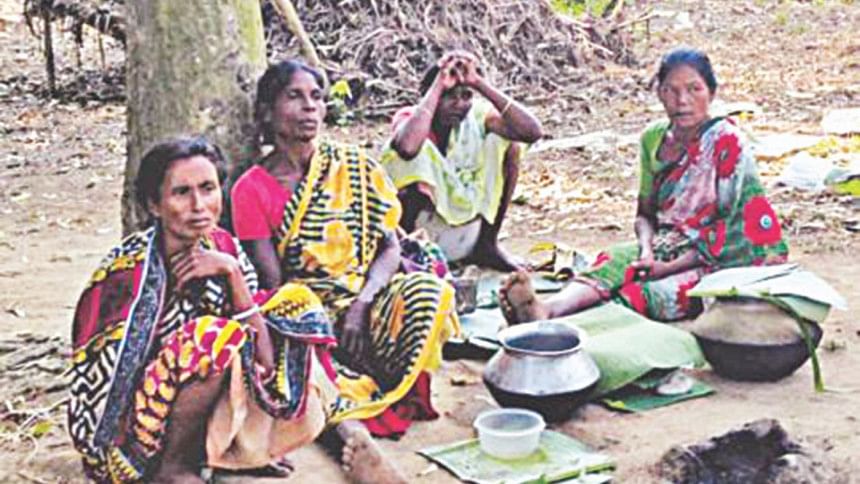 Throughout the last several weeks, we have been witnesses to the horror unleashed on minority communities played out again and again. On November 6, police in Gaibandha opened fire on Santals, leaving three dead, many injured, and many more missing. The issue was a piece of land that the government had acquired in 1962 from Santals for sugarcane cultivation for the Rangpur Sugar Mill. The condition was that the land would be returned to its original owners if the mill went under, which it did eventually.
For the past few years, as mill authorities began leasing out this land to some influential locals for cultivation of other crops, the Santal community of Gabindaganj started protesting. On November 6, a clash broke out at the Shahebganj farm area. Backed by local influential leaders, the police launched an eviction drive, and opened fire on the Santals. The village was razed to the ground – their property either destroyed or looted.
Now, they pass their days and nights out in the open without the basic necessities of life. The government has assured that the Santals would be rehabilitated, but their demand remains the same: that the land which is rightfully theirs be returned to them.
The Daily Star talks to residents of Shahebganj, indigenous rights activist and officials about the continuity of such attacks on the lives and rights of the Santal community. 
"We don't want a cluster village - we want our land in the five moujas"
Resident of Gobindaganj, Gaibandha
"We went there to stop them when we saw them cutting sugarcane. The administration told us that those who were cutting sugarcane are leaving, so we should go back too. Of course, if they tell us, we would leave, why wouldn't we? We said, if they left, we would leave too. When we started to head back, in the presence of Bulbul (Sapmara Union Parishad Chairman Shakil Akhand Bulbul) and Abul Kalam Azad (local lawmaker), they started firing on us. They ordered to fire on us, and they started firing. When that happened, our Santals started shooting arrows to save themselves. When the arrows hit one or two of them, they left. We left too. So what happened was that when they asked us to leave, we were leaving, but they still started firing. The Santal only shot the arrows afterwards. 
When Choron Soren was hit by a bullet, I left with him. At around 4:30 or 5 they came back again with more people and police. They came with anyone they could find, Bulbul's thugs. From what I hear later, people from the administration were there when our houses were burned. They fired on us again. They destroyed everything that was in the houses, we lost a lot of money, our cows and chickens: they looted everything. They did not let us take anything from our houses. 
This is how they evicted us. If the government wants to evict us, why were we not given any notice? If they did give us a notice, then see if we leave or not. Instead they burned our village, killed our people. So many of our men are now missing. Three are dead. Many of them were injured and are not receiving treatment. We have suffered a lot. 
Now, we are still staying out in the open field. We have not received any immediate aid for our shelter from the government. We are now surviving on the help from different NGOs and organisations.
We cannot even go out for buying provisions for fear of getting arrested. There was a school for the children here, that too has been destroyed. They cannot even go to the old school. Their education has come to a halt. The temple (Kali mandir) has been destroyed too. 
The government is saying they will make a cluster village (guccho graam) for us. But we have legal documents for the land. We don't want a cluster village — we want our land in the five moujas.
Many of us are still missing, some due to fear of arrests. We are not even sure about that. It's not like we came here suddenly. We have been protesting for our land for 4/5 years now since the mill was closed. We have talked to different ministries, we have sent memorandums. The government did not pay any heed to us. It was only then that we came and started living here."
---
"We don't see any initiative from the government to address this violation of rights"
Rabindra Soren, President, Jatiya Adivasi Parishad
"This was an orchestrated attack where members of the ruling party, local administration, mill officials and law enforcing agencies, all were involved. They have been trying to grab this land since the mill closed down in 2004. The mill authority had earlier leased the land to various influential quarters illegally. For example, the brother of a former MP of the ruling party was granted lease violating the contract and he still owes a large amount of money to the mill authorities. 
We have clearly said that we will retain our traditional land at any cost. The government cannot evacuate Santals from there. We also demand that the school in the locality, which was burnt down during the attack, should be reconstructed and funded by the government. The government should also pay adequate compensation to the Santals. 
Indigenous people all over the country are suffering a similar plight. In 2009, 73 houses were burnt down in Porsha Thana, Naoga. A local influential group has been trying to evict them. The threat still persists. In 2015, a Santal boy was gunned down in Potnitala. In Bochaganj, Dinajpur, Palu Soren was killed. In 2012, houses and property of Santals in Ghoraghat, Rangpur, were burnt and looted. In 2000, Alfred Soren was killed, but he is yet to receive justice. This is an unending list, and each and every one of the cases is related to land grabbing. But we don't see any initiative from the government to address this violation of rights of this ethnic community. This culture of impunity has made the situation worse. Due to financial constraints, Santal victims are unable to continue the legal fight. 
We do not get any support either from the government or the National Human Rights Commission. Many of the Santals are fleeing the country. According to an estimate, more than 500 families have left the country in the last twenty years. 
The situation of Santals is different from the ethnic minorities of the CHT. Santals have records of their land. But the local influentials in association with local officials manipulate the records, and given an opportune moment they try to evict these people by filing false cases against them. Some government organisations have also been complicit in grabbing their land. In Dinajpur, there was a Shalban where Santals used to live. But the forest department evicted them and grabbed their land. Even the rural electrification board in Dinajpur requisitioned the land and evicted the Santals. 
We urged for a land commission for the indigenous people of plain land. The commission will investigate these issues of land grabbing and a tribunal will be formed under this commission. The government has a special affairs division under the PMO for the indigenous people. But it often happens that the funds don't reach the targeted people. The local UP chairmen and administrative officials embezzled the fund. We propose that the government should employ advisers at the centre so that they can monitor the proper distribution of the fund. The government should also increase the budget for these ethnic communities. This year, the government has only allocated Tk. 20 crore for 20 lakh plain-land ethnic minorities. Ethnic minorities do not enjoy reservation facilities in the job market, as they are wrongly deemed unfit. This attitude needs to change. More educational institutions should be established in Santal-inhabited areas, and teachers among the Santal community should be appointed to spread education among them." 
---
"The local administration  has to ensure that no eviction takes place"
Kazi Reazul Hoque, Chairman, National Human Rights Commission
"I strongly condemn the attack on Santals in Gobindaganj. This is a failure of the local administration. The eviction drive was clearly illegal, and is a clear violation of their human rights. You cannot evict anyone without the order of the court. In this case, there was no such order from the Court. The local administration stepped beyond their limit. They cannot evade the responsibility that the eviction occurred in their presence. 
We have already sent an investigation team from the NHRC, and we are constantly in touch with the victims. I have spoken to the local administration to not further harass the Santals, and requested them to allow the Santals to file cases. The local administration has to ensure that no   eviction takes place. Moreover, the evicted Santals need to be safely brought back to their homes with dignity, and their continued protection needs to be ensured. 
In Bangladesh, a certain quarter is trying to grab and evict the ethnic minorities from their land, exploiting their weakness. The state has to play a strong role to strengthen those people by giving them adequate support and taking stern action against those who harass them. There can be a commission for ethnic minorities like the one India has. There should be strong vigilance in the areas inhabited by Santals and other ethnic minorities, and that can be done by employing more police force. A strong circular should be directed to all the local administrations, so that they pay special attention to ethnic minorities, as a quarter is trying to destabalise the country by abusing them, evicting them from their lands, and ensuring that they don't receive justice." 
---
"Influential people and sometimes those within government are involved"
Sanjeeb Drong, General secretary of Bangladesh Indigenous Peoples' Forum 
"What happened to Santals in Gaibandha and other places on November 6 is unfortunate. When I later visited these places with others, what I saw and got to know from talking to locals was that whole villages were burnt down — it was a gross human rights violation. Locals allaged that the Union Parishad chairman and local MP were involved and were even present when law enforcers fired at the Santals, killing three of them.
The reason this happened is that influential syndicates and powerful figures involved with the government don't care for the Santals at all. They don't consider Santals to be human beings and believe they have no human rights. That is why we saw some of the offenders — men from the Parishad and those affiliated with the MP — who had burnt down houses, hanging around the area even after 6 days. And when the Santals were talking to us they were disturbing the conversation, saying 'nothing like this happened', intimidating and reprimanding them for talking to us. 
Because the perpetrators believed Santals are a minority group and are weak, they felt that if they burnt down their houses, there will be no repercussions. If you grab their lands, no one will protest. And the reason for this is that although the media is widely covering this particular incident, nobody usually speaks up for the Santals. Past cases of murder, violence and land-grabbing against Santals have gone largely ignored. None of the perpetrators of past crimes have been brought to justice. Even when the crime was committed in front of everyone in broad daylight like last year in Dinajpur, nothing happened.
I can give you example after example of crimes against Santals going completely ignored. This has created an environment where powerful people naturally feel they can do whatever they want to the Santals because the authorities will keep ignoring it as they have done before. I don't know what will happen this time. But so far nothing has. And one can really not be too hopeful when the culprits belong to influential groups. Similar oppression of all minority groups, not just Santals, is happening all across the country. And it is influential people and sometimes those within the government administration itself, who are involved.
What I want to say is that the way the government is behaving with indigenous people now is violating their human rights. What is the solution? The government must provide them with protection. They must prosecute and punish those who are committing such crimes. Law enforcers who fired on the Santals must be investigated. And it cannot be another eye-wash investigation done by the corrupt sections of law enforcement either. The election manifesto of the Awami League in 2008 promised relief and various steps that would protect minority groups. But they have done nothing since coming to power. Eight years have passed and they have done nothing which means they have no intention to. Still we have to appeal to the authorities to do the right thing and protect minority groups from such oppression. If the people put enough pressure on the authorities, who knows, perhaps, it is achievable."