Handling of the Second Wave: Can someone in the administration please explain their decisions?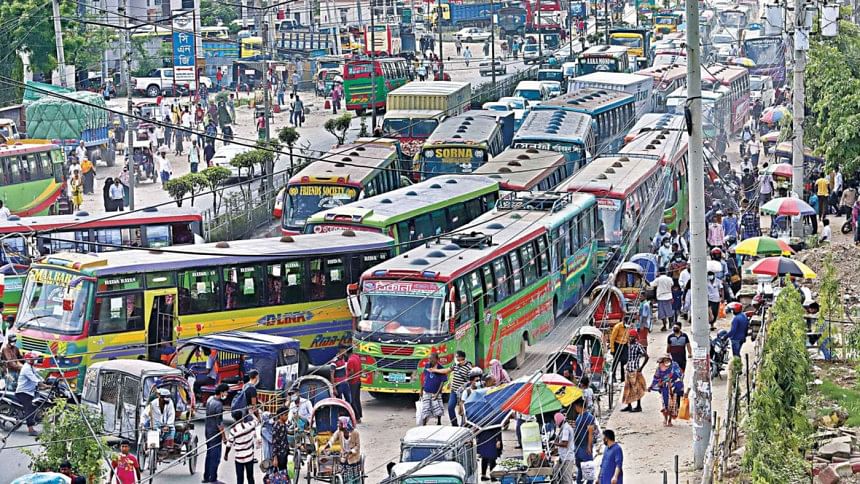 It is not easy to rationalise some of the recent actions of the government related to the realm of governance, in other words, related to us the people. For now, let us address the second wave of the pandemic and the government's actions or reactions to deal with it.
Can anyone tell me why the government continues to extend the so-called lockdown which is being observed only through its violation by most people? What is the logic in keeping the shopping malls open without ensuring that the safety guidelines are followed? The poor and marginalised people, who eke out a living doing daily jobs like the Pedi cab ("Pedi cab" gives some dignity to the rickshaw pullers) or three-wheeler drivers, were kept from plying the road without arranging for their sustenance, while private cars were seen chock-a-block on the streets. Their owners were going to tend to their businesses which provide their livelihoods.
For a considerable time, buses, both private and public, were kept off the road but private offices remained open. How were those who work in these private enterprises, most of them of the lower and middle-income groups, to attend office? Small shops were asked to close, at least during the early phase of the lockdown in April, whereas big shopping malls were allowed to stay open. And very few were seen to be observing the Covid-19 safety protocols in these malls. When public buses were allowed eventually, with the caveat that they could carry only fifty percent of the capacity, the fare was increased by sixty percent—strange logic, if anyone can find any logic at all.
But what has defied reason most is the government decision to keep all kinds of transports off the road during the Eid holidays, hoping that doing so would discourage people from travelling home. Did it? No administration conversant with the traits and attitude of its people, or alive to their woes, could have thought of such a policy. Nothing can keep our people from going home on the occasions of the two major festivals of Eid, except perhaps an all-out curfew. And nothing could. In fact, nearly three million people had reportedly left Dhaka for the Eid holidays and a large number, if not as many, had come in Dhaka. We are all aware of the way these people made for their destinations. Wouldn't it have been better if all the modes of surface transport could run with enforced safety protocols? That would have saved these poor people money and physical torment as well as ensured a modicum of health safety. No wonder, the number of infected cases has doubled from what it was in early and mid-May.
The vaccine fiasco is another difficult issue for anyone with anything between the ears to figure out. The pandemic has spawned some new terminologies of which "Covid diplomacy" is one, followed by the "vaccine diplomacy". We saw the frenetic vaccine diplomacy early this year, sometimes open and sometimes furtive, by two of our close friends, both vying for our backing on strategic and geopolitical issues. Ultimately, our government put everything in the Indian basket, for whatever reason. It was a victory of sorts for India over China, which was also in the running for acquiring contract with Bangladesh to supply Covid vaccines, but only fleeting, revealing what Shashi Tharoor calls "unspoken subtext: rivalry with China". And we were left high and dry in the face of the Serum Institute of India reneging on the agreement. 
Serum even failed to meet up the agreed amount of five million doses per month, except for the first month. Not only could it not supply the agreed quantity of doses, after the second consignment, the supply was stopped altogether. Should our planners not have foreseen a force majeure situation where India's own requirement might necessitate disrupting external supply, as was the case in this instance? Surprisingly, our decision makers, in their infinite wisdom and magnanimity, had paid for the three million doses in full and in advance. We were left in the limbo, and China had the last laugh. China has finally agreed to sell 1.5 crore Sinopharm vaccines to us and the first consignment is likely to arrive in Dhaka in June, according to a statement made by our foreign minister on Wednesday. That is some comfort. 
Surprisingly, very little about this matter has been discussed or commented upon in the media, and very few questions asked, if at all.
The government's handling of vaccine procurement reeks of unprofessionalism, and has been bereft of any concern for national security. One needs hardly reminding that public health is an important adjunct of national security, particularly when it has been afflicted severely by an unprecedented pandemic, in Bangladesh as well as almost all countries in the world. And no one should tinker with it. Going for only one single source, for any item, and more so Covid vaccine, defies the basic fundamentals of procurement. No one has the right to put public health at risk, which this very injudicious decision had.  
We are fighting an enemy for which one of the main weapons is vaccines. Should we have depended on only one source of supply and one business house at home to handle this issue, even if the cost was cheaper than other vaccines? Keeping handy alternatives and multiple sources is a part of intelligent and judicious planning. On the issue of cost, can anyone tell me what have we done to be charged more than a dollar for the vaccine than what it costs in India?
The nation deserves an answer. Such an issue would have been discussed in parliament were it functioning the way it was meant to be. Decisions should stem from thrashing out all options and their pros and cons. The administration owes it to the people to do so. But today, one cannot ask unpleasant questions or reveal unpleasant facts without risking the Sword of Damocles—the draconian Digital Security Act—falling on one's head, or another one—the Official Secrets Act—as it did on the head of a senior journalist of the leading Bangla daily in the country. There are more questions to be asked regarding that and a few more pressing national issues, but we shall defer those for next week.
Brig Gen Shahedul Anam Khan, ndc, psc (Retd), is a former Associate Editor of The Daily Star.