Traffic jam: The ugly side of Dhaka's development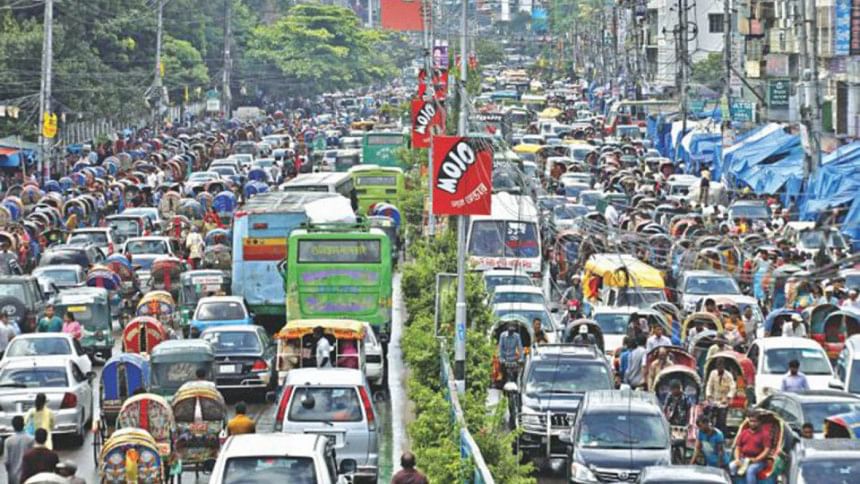 There was a time when commuters suffered traffic congestion only on the main city streets, but now it starts right from one's doorstep. Traffic jam has turned daily trips into nightmares. According to a World Bank report, in the last 10 years, the average traffic speed in Dhaka has dropped from 21 kilometres per hour (kmph) to 7 kmph, and by 2035, the speed might drop to 4kmph, which is slower than the walking speed. Another study, commissioned by Brac Institute of Government and Development, says traffic congestion in Dhaka eats up around 5 million working hours every day and costs the country USD 11.4 billion every year. The financial loss is a calculation of the cost of time lost in traffic congestion and the money spent on operating vehicles for the extra hours.
Researchers say dealing with heavy traffic can cause serious physical and mental problems, including stress and aggression resulting in road rage. A survey by the Passengers' Welfare Association revealed that at least 87 percent of buses and minibuses violate traffic rules. Every day at least 64 people are losing their life while 150 others are getting injured across the country. This year, between January 1 and April 20, 1,841 people were killed and 5,477 more injured. Of those injured, 288 were maimed. Last year, around 7,397 people were killed and 16,193 others injured; among the injured, 1,722 were maimed for life (The Daily Star, May 1, 2018). In addition to pain, suffering and loss of life, road accidents have a significant economic and social cost (rehabilitation, healthcare, material damages, etc.) which are not easy to measure in monetary terms.
All the megacities in the world suffer from traffic jam at certain hours of the day. But what we have in Dhaka is not traffic jam, it is total traffic chaos and mismanagement. In recent times, the government has taken some positive steps such as widening the roads, expansion of footpaths, and building flyovers and overpasses but yet, there was no improvement in the traffic situation. Cities are the main engines of our economic growth. Even though Dhaka is only one percent of the country's total area, its contribution to GDP is 36 percent, and it has created 44 percent of the country's total employment. Considering the economic potential of Dhaka, let us review its existing traffic situation and also possible solutions.
Unpleasant as it may sound, it is not only in Dhaka, the whole country is full of undisciplined drivers and pedestrians who have no respect for traffic rules and regulations. In the modern world, traffic is managed by the auto signalling light, and one can hardly see a policeman. Whereas in Dhaka, in different important junctions, along with auto signalling light there are at least two policemen, including one sergeant. Still they are unable to manage the traffic.
I think the problem lies in our behaviour pattern. Many of us break the law in full knowledge of its existence and many don't even realise that they are doing something terribly wrong. This is a social problem and needs to be addressed accordingly. The government, with the help of social organisations, can undertake a project to create necessary awareness by teaching ethical driving, road crossing, traffic management with audio-visual display, images, etc. The electronic media can play a huge role in raising the awareness by showing short documentaries on the subject. All this should be part of a long-term project and not just an eye-wash during the Traffic Week. Experts say the congestion may be reduced by 40 percent just by improving the management of traffic and public consciousness.
According to Bangladesh Road Transport Authority (BRTA), there are around 3.1 million registered vehicles in Bangladesh, and Dhaka has around one million of them. But different studies show that around 5 million vehicles, including the 3.1 million registered, are currently plying the roads; of them, 72 percent lack fitness clearance. According to the Revised Strategic Transport Plan (RSTP) of 2016, Dhaka's residents make around 30 million trips every day. Of them, some 47 percent involve buses, 32 percent are made in rickshaws, while nine percent are carried out by private cars that occupy 76 percent of the streets. Public transports use 7 percent of roads.
It should be noted that our public transport system is not adequate and properly routed. If we can introduce a dependable public transport system, the pressure of private cars and other vehicles will be less on the road. According to the BRTA, 20,304 new cars were added to Dhaka's traffic in 2016, meaning over 55 new cars hit the streets every day. As the number of car increases, the demand for parking space also increases. But unfortunately, parking space is quite inadequate in our city. Most of the cars are parked on roads. Many intercity buses and trucks are parked on a regular basis on the streets in Mohakhali, Sayedabad, Gabtoli, Tejgaon, Malibagh and other areas. Trucks load and unload commodity items, construction materials and other goods in the middle of a road, causing huge traffic jams.
In order to ease traffic congestion, the government has undertaken some long-term projects, including three ring roads to deviate traffic from the city centre, five metro rail lines, two rapid bus routes, and 1,200 kilometres of new roadways. Some of these projects are already at different stages of implementation. But importantly, all this might prove insufficient unless we decentralise Dhaka. The city is already overpopulated and its infrastructure doesn't match the scale of its population (18 million). Every year, almost half a million add to this figure and this pressure of the population is making its traffic condition worse by the day.
We must acknowledge that this cannot go on for long, especially after Bangladesh's attaining eligibility for graduation from the Least Developed Country (LDC) bracket. Dhaka, as a city, needs to get ready for the progress achieved on the country's economic front. And to do so, decentralising it is an urgent necessity. We need to relocate its industrial units, particularly the readymade garment factories and tanneries, and some government establishments to areas such as Bhairab, Ghorashal, Mymensingh, Tangail, Comilla, Bogra, etc. and also improve the connectivity of our highways, railways, and waterways so that people can smoothly commute among these areas. This will not only change the socioeconomic scenario of Dhaka, but also of the entire country.
---
Abu Afsarul Haider graduated in economics and business administration from Illinois State University, USA, and is currently involved in international trade in Dhaka.
Email: [email protected]
---
Follow

The Daily Star Opinion

on Facebook for the latest opinions, commentaries and analyses by experts and professionals.
To contribute your article or letter to The Daily Star Opinion, see our

guidelines for submission

.
---