The quota movement signals an underlying discontent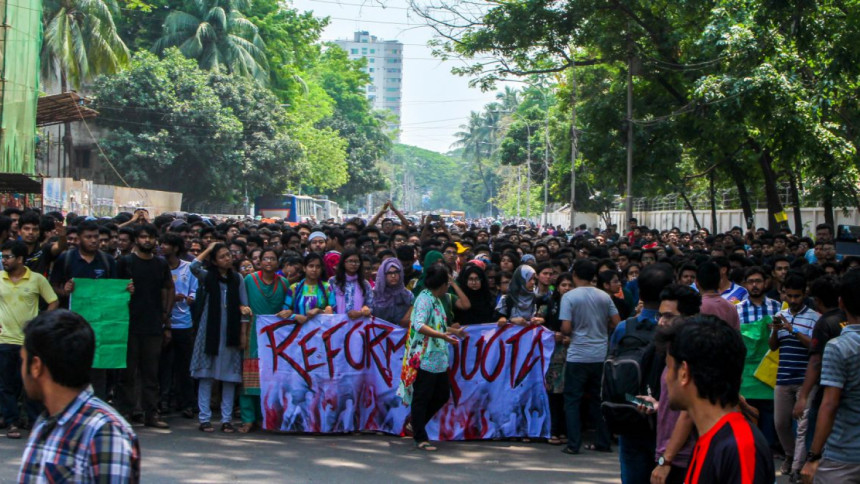 The student protests that swept the country weeks ago were not just about the quota system in public jobs. As a whole, they should be interpreted as a major symptom of a much more complex disease: soaring youth unemployment that can have serious implications for the country's future.
The protests were not triggered overnight. Quite the contrary, they were the culmination of years of failed attempts of carrying out similar demonstrations. Due to their repeated failures, protesters realised that their motives are viewed by the ruling establishment with deep suspicion. That is why last time when they took to the streets on April 8 they came prepared.
They began their protests with Bangabandhu's portrait in their hands. "In Bangabandhu's Bangladesh, discrimination has no place," they chanted. They greeted the approaching police personnel with red roses. They tried to avoid being seen as challenging the status quo, conforming to the system to bring a change instead of revolting against it.
So, yes, they won this round, as the government grudgingly decided to scrap quotas. Despite this initial success, however, students may soon find themselves in despair—even on the streets, because they had picked the wrong punching bag to let out their frustration.
The Centre for Policy Dialogue (CPD) in its latest budget recommendations on April 17 noted that more than 34 percent of the youth labour force with tertiary education remained unemployed in the last fiscal year. In comparison, it was less than three percent in 2010, meaning the number of graduates who are unemployed has increased somewhat 12 times in less than a decade.
Millions of Bangladeshi youth are currently enrolled in higher studies, while the top tier of public service, known as BCS, offers some 2,000 jobs a year. So even if the quota system is lifted altogether, the likelihood of obtaining a desired government job for so many students would increase just a tiny fraction of one percent.
On the other hand, the majority of existing jobs in the private sector does not come with good employee satisfaction. Yet the growth of low-end jobs also appears to be declining due to multiple factors directly or obliquely associated with governance.
According to World Bank data, new jobs added by apparel and textile industries, the largest low-end jobs providers, have fallen to some 60,000 in 2010 from over 300,000 annually in 2003. The Wall Street Journal pointed out that jobs in Bangladesh's garment industry increased by 4.5 percent in contrast to export increase of 19.5 percent from 2013 to 2016.
This scenario could worsen in the ensuing years, as the Financial Times has reported that a looming credit crunch in the banking sector due to "years of corruption and poor loan practices" might translate into a serious crisis in garment and textile industries, potentially affecting the global supply chain. Already, Islami Bank, the country's largest private bank, has stopped lending any further due to shortage of cash.
Waseem Khan, a researcher at Exotix Capital, a frontier markets investment bank, was quoted by FT as saying, "The more worrying sign for me is that no steps are being taken to change the governance risks/incentives, which will imply, even if we are not there yet, that we are heading towards that direction steadily."
So if the government fails to stop the banking crisis from affecting the apparel industry, the industry's image and credibility in the global market would be severely hampered, further restricting its ability to create employment.
The amount of money taken as loans has increased so much that it caused a liquidity crisis in banks, but these loans did not translate into investments. In fact, investment in the private sector has stalled for three years. Debapriya Bhattacharya, distinguished fellow at CPD, asks: Where is this huge amount of money going?
This money is perhaps being taken out of the country through, for example, overly priced imports, CPD experts say. Also, the private sector may have felt that it would be wise to withhold the money for now rather than invest it. Either way, the experts say, current political uncertainty is to blame.
The government would point to the soaring GDP growth to argue that the economy is actually doing fine, only to omit the fact that this does not necessarily paint the full picture. Economists have credited public spending and investment for this excellent growth, but symptoms are increasingly evident that public initiatives alone would not suffice.
Awami League in its electoral manifesto had recognised the problem, promising to create two million jobs a year, but all available data suggests that the expansion of the workforce has outpaced jobs being created.
PricewaterhouseCoopers predicted that Bangladesh would become one of the three fastest-growing economies over the period to 2050 in terms of purchasing power parity (PPP). However, it cautioned that for Bangladesh and other emerging economies to live up to their potential, they should be "able to generate enough jobs for the young people in their countries." Failure to do so would not only limit growth, the report says, but could also cause political instability—a prognosis that has begun to appear real in Dhaka.
In a nutshell, Bangladesh has plunged into a vicious cycle: the increasingly shrinking political space has created long-term political uncertainty, resulting in vacillations among investors. The poor handling of the banking sector is about to beget a full-blown crisis that has every possibility to spill itself over into other areas of the economy.
These factors, among others, have led to a scenario in which jobs that are being created are neither enough nor satisfactory. And the students and jobseekers are already out on the streets, claiming their first casualty, the quota system. At which point they will stop is hardly predictable, but World Bank's Zahid Hussain has a name to call this phenomenon: "a social time bomb."
If the government does not change its course, it's difficult to see a way to prevent "the bomb" from exploding in the near future. And if it does change, however, it can start by disciplining the banking sector and resisting alleged outflow of money—which might upset many of its powerful supporters—and, of course, ensuring a free and fair poll to signal broader political stability. But 23 million newly eligible young voters, many of whom are frustrated jobseekers, must have complicated the equation for the ruling party.
---
Nazmul Ahasan is a member of the editorial team at The Daily Star.
---
Follow

The Daily Star Opinion

on Facebook for the latest opinions, commentaries and analyses by experts and professionals.
To contribute your article or letter to The Daily Star Opinion, see our

guidelines for submission

.
---