Redefining maleness in a man's world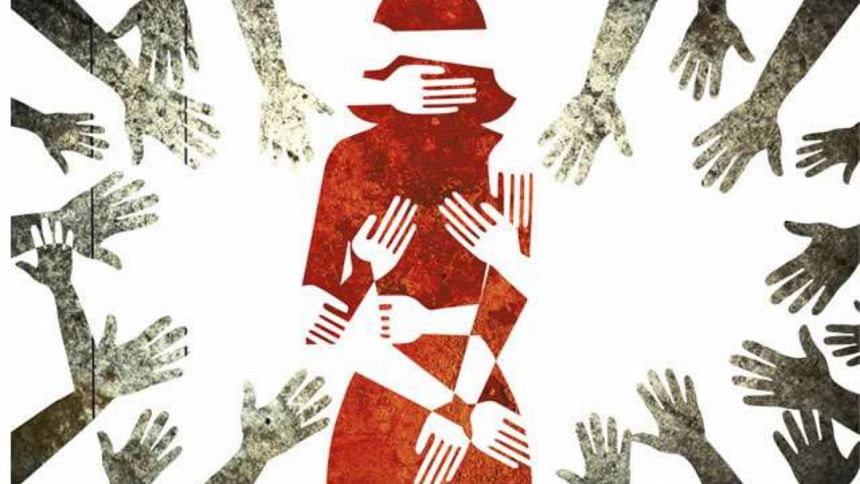 The myriad stories of sexual assault that flood my Facebook feed are reflections of the sexism and misogyny that are deeply ingrained in our social fabric. These are inescapably omnipresent in every walk of life palpable in women's invisibility. It seems that women do not exist, and even if they do, they are very few in number, sending a clear message that the public space is for men to occupy.
Every time I visit Dhaka, I wonder, "Why there are so few women on the streets?" Is it the invisibility of women that makes the street unsafe for us? Perhaps it does. In other cities of the world that I have visited, I found equal presence of men and women on the streets. I do not feel unsafe taking a walk even after midnight, when I am abroad. There is no one to gawk at me, no one to utter rude remarks.
At my new home in Europe, no one even bothers to stare at women in bikinis, let alone assault them sexually. However, in my home country, I feel unsafe—unsafe to walk alone, or take the public bus. I am afraid even if I am wearing a burqa, a sari or a salwar kameez—what if I get assaulted? Who will protect me?
The police refused to file Nusrat's case saying it was a "no big deal". Only after a nationwide campaign protesting her murder was the police officer sacked and her case brought to the court. Sadly, she found no justice when she was alive. In this country, rapists and sexual predators are usually allowed to go scot-free. Instead, I have seen victims being blamed for violating the rules of invisibility and for taking control over their bodies.
The victims of the 2015 Pahela Baishakh sexual assault, allegedly committed by some members of the ruling party's student wing, were criticised for wearing makeup and saris and for taking part in the Baishakh celebrations, while the perpetrators were not brought to justice.
Tonu was accused of similar charges, for not covering her face; and Rupa, for travelling late at night. In all the cases, the perpetrators have been allowed to walk free, while the victims were blamed. There simply was no strong political will to punish the rapists. This is how the law of our land works—letting criminals walk free.
Neither the society nor the state is there to protect victims of rape or sexual assault. On the contrary, there have been incidents where the police have assaulted rape survivors. State institutions are essential for the implementation of laws. But according to a TIB report, our law enforcement agencies are the most corrupt in the country. So, where do we seek help when the state and society turn their back on us?
In our gender-segregated society, rape and other forms of sexual assault are normalised as boys are introduced to women through commercial Bangla films and pornography. A majority of teenage boys grow up perceiving women through the lens of pornography, where women are treated as sex objects to satisfy the male fantasy. Among male circles, women are repeatedly referred to as maal (commodity).
Perhaps the root of this problem lies in the way we educate our sons and daughters. We are preoccupied with the daughter-guarding mindset putting unprecedented restrictions on their mobility and sexuality from childhood. The female body is strictly regulated by the binary construction of appropriate and inappropriate attire. I have been to places where women are skimpily clothed, but no one bothers to scrutinise their bodies. However, in conservative Bangladesh, where a woman is dressed from top to bottom, she is frequently subjected to sexual harassment. The safety of bikini-clad women in European beaches and the vulnerability of burqa-clad women in our country show that attire is not responsible for a woman being raped; it is the people's mindset that is.
On the opposite side of the spectrum, sons are brought up with unlimited freedom of mobility. They are allowed to explore their mobility and sexuality without much restriction. Parents do not regulate their sons' pornography watching habits or restrict them from using degrading words to describe women.
A friend of mine complained that her husband's "friends" used to send him pornographic images until she blocked them on Messenger. These men are all married with young children of their own, yet they continuously do it. What can we expect of such fathers? Can they teach their sons to respect women? In our society, men are allowed to smoke, stay out late, and party; their pre-marital or extramarital sexual relationships are overlooked by parents and society because "boys will be boys."
A few months ago, outrage sparked on social media over the tragic suicide of a husband, committed after the discovery of his wife's extramarital affair. There have been far more female victims who silently suffered because their husbands had affairs—no protest ever took place for them. When a disabled woman is repeatedly raped for months and goes through the horror of abortion, it is considered unfortunate, but men do not take to the streets demanding punishment for the rapist. These are the double-standards within which our society operates.
Decency upholds an individual's self-esteem, and "maleness" needs to be redefined as a man's ability to accommodate modesty. We need to teach our boys that the strength of a man is reflected in his self-control, not in assaulting women. In seventeenth-century London, public violence caused by men significantly dropped because of society's changing perception towards violence and masculinity. Assaulting women is not a manifestation or proof of one's manliness, it is an expression of transgressed behaviour. We need to teach our sons to be modest — something we have been preaching to our daughters for centuries; only then can real change happen.
Namia Akhtar is a postgraduate student studying political science at the South Asia Institute of Universität Heidelberg.
Email: [email protected]