Promoting Brand Bangladesh abroad
How Bangladeshi student groups across the world can play a pivotal role in upholding our traditions and culture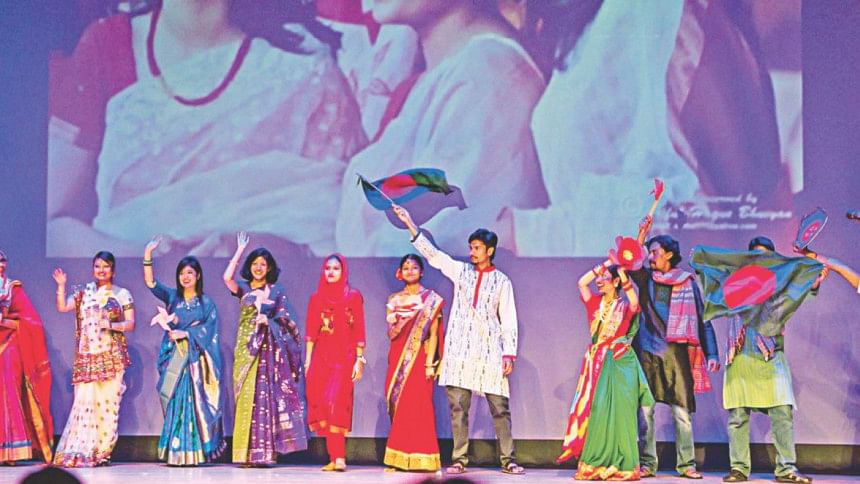 When a country has a population of over 160 million people, it is only natural for pockets of ever-growing expatriate communities to spring up across the world. A large component of such communities, especially in countries and cities with prospect for academic enhancement and immigration possibilities, tends to be students. Whilst it is true that the emigration of human capital towards countries such as Canada and Australia tends to have long run repercussions for Bangladeshi society in terms of permanent skill outflow, we cannot and must not ignore the role such individuals can play in promoting Brand Bangladesh across the world. A key mechanism to do so are bodies and organisations which represent Bangladeshi students across foreign universities and colleges.
As a Bangladeshi student at the University of Toronto, I have the privilege and honour of studying at an institute which embraces multiculturalism wholeheartedly. I am associated with several student groups, of which the Bangladeshi Students' Association (BSA-UTSG) takes precedence. Today, the BSA-UTSG has a membership list of over 1,000 members and alumni, with their primary aim being to promote, protect and preserve Bangladeshi culture at the university and the wider Toronto community. Over the past 20 years, this organisation has introduced core issues affecting Bangladesh, through the cultural lens of theatre, dance, music and other art forms. In doing so, this organisation has kept the Bangladeshi community at the university united in their quest to hold on to the values which we cherish as a nation. From addressing contentious issues such as corruption, inequality and mental health to encouraging Nazrul Sangeet, the university has also allowed this club to showcase contemporary problems and achievements in Bangladeshi society with the level of freedom and intellectual momentum needed to bring about large-scale awareness. In its totality, the BSA-UTSG has bridged the gap at the university community about the understanding of Bangladesh, and promoted a message of charitability, awareness and cultural dynamism needed to promote Bangladesh for what it is.
The above is just one single case. In Canada, top institutions such as Ryerson University, York University, McGill University and the University of British Columbia, amongst others, have given student groups from Bengali backgrounds an avenue to promote an understanding and practice of Bangladeshi culture. International students in these institutions have a space of comfort and togetherness—a relief amidst a stressful academic life. For many students who suffer from homesickness and depression, these groups give them a sense of belonging in a foreign community. As such, these student groups have played a profound role as a conduit for other students to learn about new cultures, whilst reminding them of their roots. Whether it is hosting BSA football tournaments, or coming together to celebrate Pahela Baishakh, each Bangladeshi student group has tried to introduce the best of what we have to offer as a country. As such, it was no surprise when the Ontario Provincial Legislature unanimously voted to make the month of March "Bangladesh Heritage Month" across Ontario; the BSA-UTSG was recognised in parliamentary remarks for their contribution to Canadian society. Given all this, the importance of expatriate socio-cultural clubs cannot and should not be ignored.
The only organisation in Bangladesh which has indeed successfully institutionalised the relationship between international students and alumni is the American Alumni Association (AAA). As an organisation which has tried to create a network of educated professionals, the AAA is a perfect example of how a strong structural basis can simultaneously support the promotion of Bangladeshi student enrolment at universities across the US and ensure widespread awareness of keeping our Bengali roots intact. So, what is the government's role in supporting such ventures?
Well, for starters, international students from Bangladesh require consular services across major cities which are popular destinations for higher education. It is laudable that the Bangladesh government has decided to open permanent consular service facilities in Toronto and other such major cities. Second, it is important for the state, whether it be through High Commissions in the respective countries or members of civil society, to encourage expatriate student groups to continue doing what they are doing.
A friend of mine in the Indian Students' Society at the University of Toronto was able to invite the Consul General of India to a debate about the demonetisation of the Indian rupee. The debate was heated as well as enlightening. But it made one wonder why Bangladeshis cannot have open discussions on core national issues with active participation from political individuals? Is it not time for government officials and Bangladeshi student groups to initiate processes of dialogue and intellectual arguments in international communities about issues affecting Bangladesh?
The likes of Professor Rehman Sobhan and Dr Kamal Hossain gave us an intellectual basis for our liberation struggle, following a global academic experience. Then why is it that we do not see expatriate students tangibly contributing more to public life in Bangladesh nowadays? In all certainty, if the state does not recognise the efforts of such small groups and communities in promoting and preserving Bangladeshi culture abroad, then it is difficult to imagine that these students will bring back innovative ideas to their homeland.
We need to institutionalise a greater network of international alumni with current students to enhance the professional experience of those in the tertiary education sector. Supporting and recognising such student bodies must take precedence if we are to appreciate their efforts and help them continue in their path of showing the global community what our history, values and beliefs are. For far too long have Bangladeshi expatriate communities been divided along the lines of partisan politics and personal disagreements. These communities can be part of the journey of Bangladesh by rising to the leadership of promoting Brand Bangladesh to our foreign friends and partners.
---
Mir Aftabuddin Ahmed is a student of economics and international relations at the University of Toronto.
---
Follow

The Daily Star Opinion

on Facebook for the latest opinions, commentaries and analyses by experts and professionals.
To contribute your article or letter to The Daily Star Opinion, see our

guidelines for submission

.