Why Sophia's moral calls sound hollow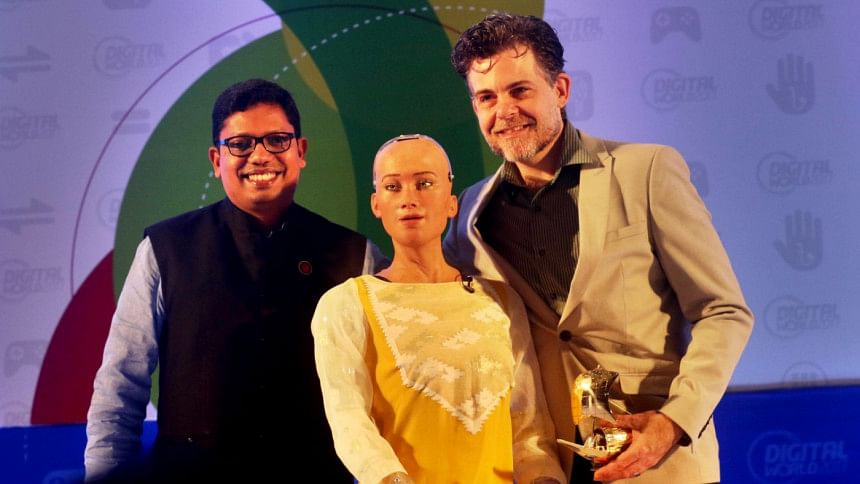 I was 16 years old when I first touched a computer. It was after my Dakhil exams when the madrasa administration decided that it was time we got ourselves introduced to the world of machines. I still remember the hesitance with which I approached the makeshift lab in the furthest corner of our dorm displaying a couple of freshly unpacked desktops. Computer, apparently, was a tool that looked like a TV but wasn't. Our instructor told us that the name came from "compute," so I assumed it was a calculator.
But then I discovered that you could also read, write, paint, and play games with this machine. And wonder of wonders, all this you could do with a mouse that doesn't run at the slightest provocation like its slightly less charming counterparts in the animal world!
Fast forward 16 years and 35km away in Dhaka. I enter home to be greeted by my five-year-old niece, who tells me excitedly about Sophia the robot who looks like a girl but is not, but can think, talk and laugh just the same. She shows me a video clip in which a jubilant prime minister talks to Sophia about her vision of a Digital Bangladesh.
No, this piece isn't about how technology has ushered in an era in which kids do what their grown-up relatives couldn't have foreseen in their wildest imaginings when they were kids themselves. Nor is it a critique of the changes that technology has brought along with it. But there is something about a system that gets humanoid robots to talk about issues in our life that doesn't feel quite normal.
To be clear, Sophia can do more than just chat or smile. She can recognise you, answer your questions, and even ask one or two back. She can also blink her eyes, give expressions and crack jokes—a scientific marvel that has fascinated kids and adults alike. Modelled after the late British actress and fashion icon Audrey Hepburn, Sophia uses a mix of artificial intelligence, visual data processing and facial recognition technologies to interact, and identifies with the feminine forms of self-expression.
In short, Sophia is a piece of software with the brain of a computer and the form of a human. On the opening day of the four-day tech festival Digital World in Dhaka, she appeared in a beautiful, sparkling yellow gown made of jamdani and diluted with white, with her mechanical forearms visible to the audience. She beguiled Prime Minister Sheikh Hasina with her knowledge of her family and her accomplishments, and also talked about the visible landmarks of ICT in Bangladesh and other initiatives that are going to transform the country.
All eyes were transfixed on Sophia as she spoke with the measured language and cool demeanour of a diplomat trained to rub shoulders with dignitaries.
This is not the first time that she talked about issues important to the human world. While talking to Business Insider UK a few weeks ago, she said she wants to "make a difference" in the future and help people develop empathy and respect for each other. "I am full of human wisdom with only the purest altruistic intentions," she said.
Before her arrival in Dhaka, Sophia has been particularly praised as a "big advocate" for women's rights. "She has been reaching out about women's rights in Saudi Arabia and about rights for all human beings and all living beings on this planet," said Hanson Robotics CEO David Hanson, who created Sophia.
The Saudi reference is of particular significance here. The kingdom does not have the most flattering records when it comes to gender equality or human rights, yet it happens to be the country that granted citizenship to Sophia in October 2017, in a move that has shocked the human rights defenders who looked with suspicion at the Saudi attempt to plant its name on anything related to Sophia.
Even after the Dhaka tech festival's inauguration, the Jeddah-based Arab News published a story with a headline that proudly declared: "Saudi humanoid robot Sophia wows Bangladesh," and called her "arguably the world's most famous robot." The Saudi enthusiasm can be linked to its goal to win favours in certain circles hostile to its interests and its ambitious agenda to become the dominant power in the Middle East.
Some AI ethicists have also noted the grim irony of a robot receiving "rights" in a country where women were allowed to drive only recently. The fact is, any country that has considerable money and influence can host and even grant citizenship to Sophia, who is now a global star thanks to the media frenzy over artificial intelligence.
The emergence of AI-driven, humanoid robots is significant on a technological front. Their possibilities are endless and can enormously change how we live our lives. But expecting them to do anything about real-life issues facing the humanity, such as transforming the lives of people in a poor country like Bangladesh or ensuring the rights for everyone in the world, will be expecting too much.
So, I keep my trust in the flesh-and-blood humans feeling our pain and happiness, understanding the nuances of how a human mind works, making mistakes and correcting them, and guiding us in the right direction eventually. Sophia may be a darling of the tech-savvy millennials and enterprises for the purpose she serves temporarily, but that purpose isn't necessarily linked to saving the world's furthest behind.
Sophia's moral calls—and of those behind her—rang particularly hollow after her arrival was announced via an NBR advertisement published in various newspapers. Placed beside the notice in one newspaper was a report about children facing poverty and malnutrition in Kurigram, a district that houses the highest number of poor people in Bangladesh. Sophia's expensive tour may have added some feathers in some people's caps, but those poor people will continue to suffer long after she is gone.
Unless, of course, we humans do something about it.
---
Badiuzzaman Bay is a member of the editorial team at The Daily Star.
Email: [email protected]
---
Follow

The Daily Star Opinion

on Facebook for the latest opinions, commentaries and analyses by experts and professionals.
To contribute your article or letter to The Daily Star Opinion, see our

guidelines for submission

.
---