Sophia to visit Dhaka
Will attend Digital World Expo on Dec 6, respond to questions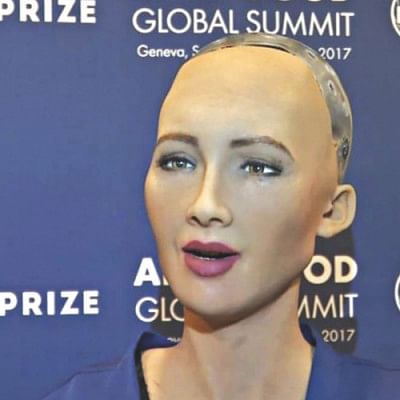 Sophia, a lifelike robot, which has generated quite a buzz among the youth and the artificial intelligence industry around the world, is coming to Bangladesh to make an appearance at the Digital World Exposition on December 6.
The humanoid robot was created using state of the art innovations in artificial intelligence.It will attend two sessions of the biggest ICT event in South East Asia, includinga question and answer session.
Grey Advertising Bangladesh, an advertising and marketingagency, which isorganising the much hyped exposition,is also arranging Sophia's Dhaka visit.
"Now it is confirmed. We have signed the deal with their authority regarding Sophia and its manufacturer David Hanson's Dhaka visit," said Syed GousulAlamShaon, managing director of Grey.
Along with Sophia, its manufacturer David Hanson will also be in Dhaka on December 5. Hanson will present a key note at a session of the event focusing on robotics and artificial intelligence.
Sophia was activated on April 19, 2015, using artificial intelligence, visual data processing and facial recognition.
A Hong Kong-based company, Hanson Robotics, developed the robot and it has been designed to respond to questions, and has been interviewed by media from across the world.
Islami Bank Bangladesh Ltd is sponsoring the robot's visit to Dhaka. The humanoid robot can chat, smile and even tell jokes, according to different global media reports.
While it has some impressive capabilities,it does not yet have consciousness, but its manufacturer say they expect that fully sentient machines to emerge within a few years.
Grey hasdeclined disclosing the value of the sponsorship. The entire event's budget standsat about Tk12 crore.
"We are entering a global trend.Bringing the robot here will make the expo a success," Shaon said.
When contacted on Sunday,Zunaid Ahmed Palak, state minister for ICT, said it will be a huge success presenting Sophia in Dhaka. "We are eagerly waiting for her."
Hanson Robotics has also shown a keen interest in comingto Bangladesh and knowing about the digitisation process of the country, said Shaon.
Prime Minster Sheikh Hasina will inaugurate the four-day-long expo and her ICT advisor SajeebWazed Joy will also be present.
Though the much discussed robot has received citizenship of a country,it will not require a visa to visit Bangladesh, said a top official of the exposition's organising committee.
In the last few years, the government has been organising the event to highlight the innovation and success of Bangladesh's digitisation. This year, the government also plans to showcase the progress of Bangladesh's IT industries in their readiness for becoming an IT hub and will invite investments from international companies.
Ministers from Saudi Arabia, Afghanistan, the Philippines, Congo and the Maldives are expected to attend the event.
The organisers -- the ICT Division and the Bangladesh Association of Software and Information Services – expect about 400 exhibitors from home and abroad to participate this year.
On October 11 this year, Sophia was introduced to the United Nations and had a brief conversation with Amina J. Mohammed, the UN deputy secretary-general
"I'm more than just technology. I'm a real, live electronic girl. I would like to go out into the world and live with people," said Sophia, on its official web site.
The robot uses voice recognition technology from Alphabet Inc. (parent company of Google) and is designed to get smarter over time. Sophia's intelligence software was designed by SingularityNET.
Saudia Arab gave Sophia citizenship earlier this year, making herthe first robot ever to receive the status from a country.